Today I wanted to share a bit with you about my trip last week to New York City thanks to Lion Brand! It was a special time filled with yarn, blogging friends and more yarn. Yep, pretty awesome. Nearly three years ago I decided to keep track of my knit and crochet designs on a blog and make them available for others that might want to make something similar. It was a true hobby blog where I could have a creative outlet while staying home with my baby girl. Had someone told me I'd be heading to New York three years later for a Blogger Bash, I would have never believed them! This blog has become what it is today thanks to YOU, luck, hard work and also the fact that Lion Brand shared one of the first knitting patterns I ever put on my blog. When I posted that Fingerless Mitt pattern, the idea that more than a few people from Ravelry might see it was not even a thought in my mind. However, when Lion Brand shared that pattern, I realized that I'd better take this a little more seriously if so many folks were potentially going to see my photos and patterns. I'm forever grateful that they shared it as that drove me to improve the blogging experience for you and for myself. Lion Brand has become a great support over the years. So to get to go to New York and meet the Lion Brand team in person as well as the other bloggers and see their facilities?! Yeah, a total dream!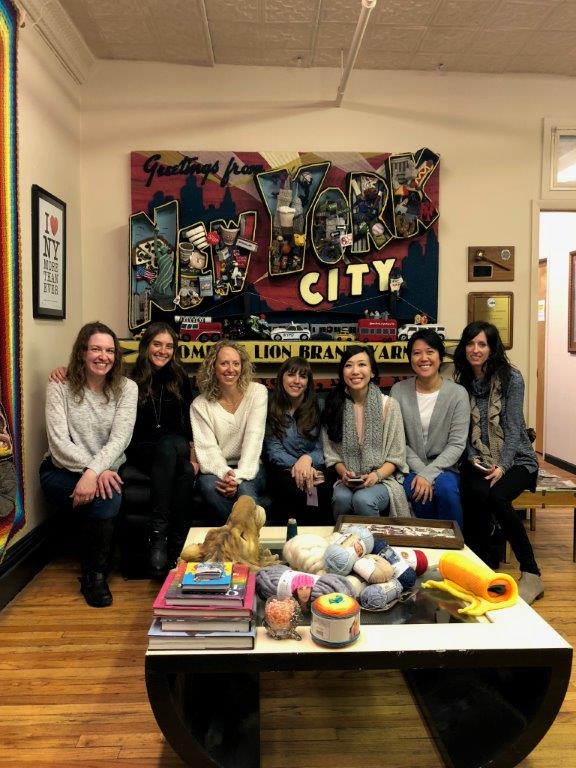 Above: Here we are at Lion Brand Studios in Manhattan! Seriously, these are some of the most intelligent, crafty ladies that I've ever had the pleasure of meeting! It was so cool to be together and connect in person (we really have a lot in common including our love for yarn of course) From left to right – Tamara from Moogly, Alexandra from Two of Wands, Jess Make & Do Crew, Ashleigh Sewrella, Stephanie All About Ami, ChiWei One Dog Woof and Me!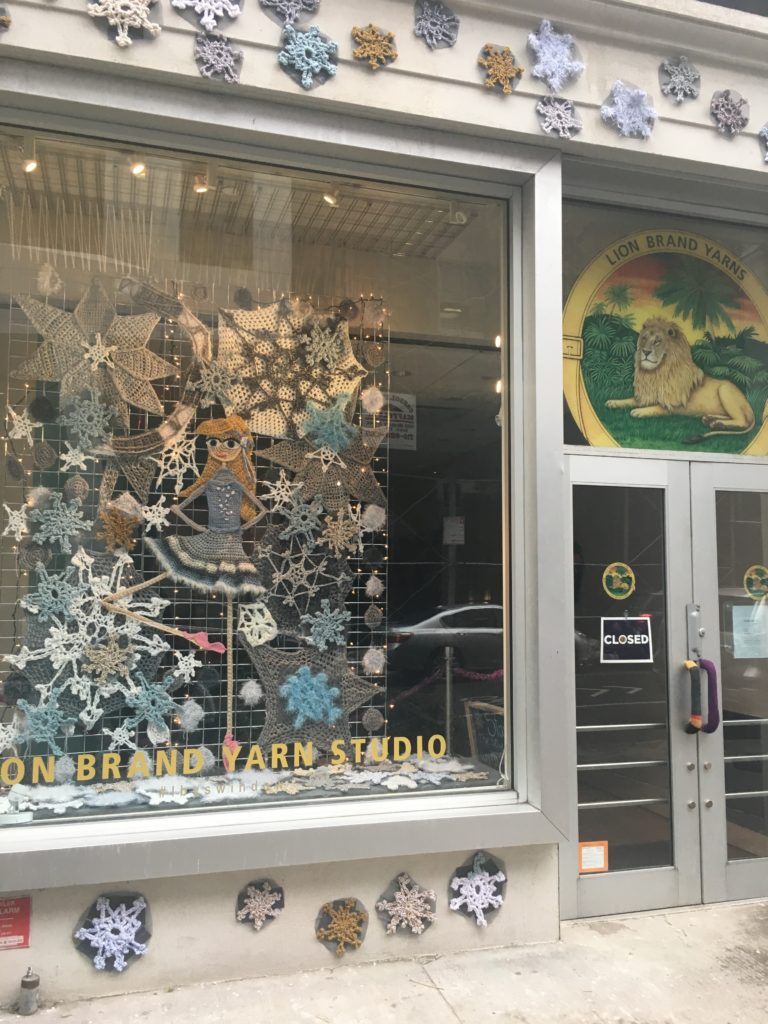 Above: The ever changing window display at Lion Brand Yarn Studio in Manhattan.
These photos won't all be "blog worthy" as I was snapping them with my phone. 😉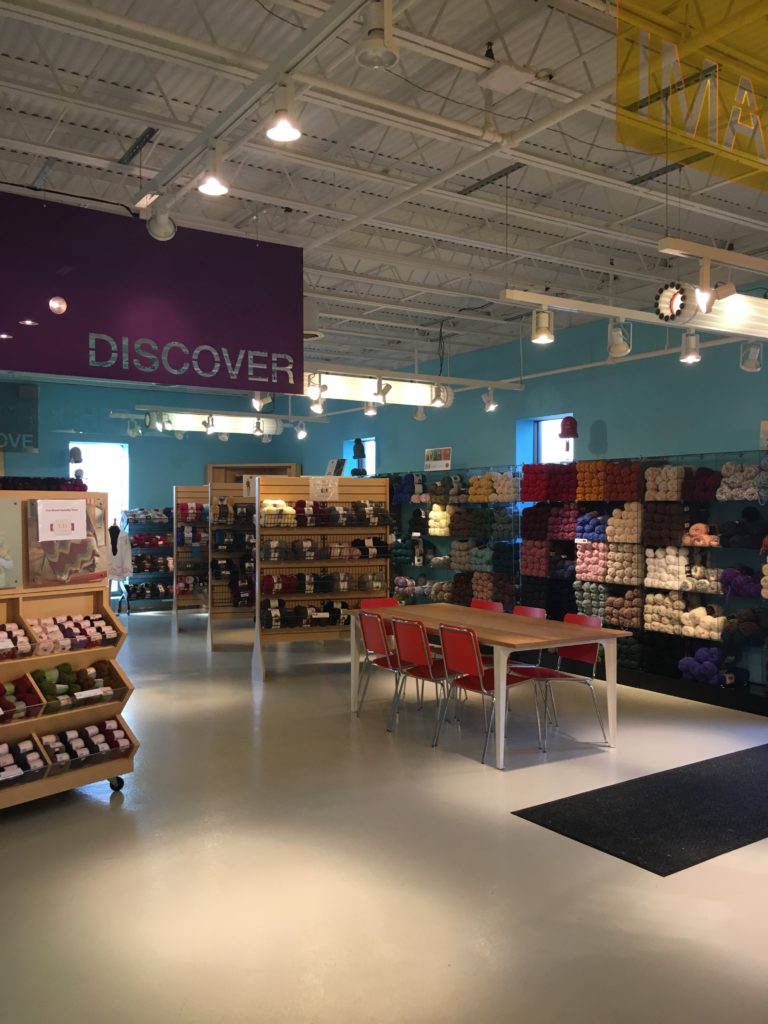 Above: The Lion Brand Outlet in New Jersey. This place is full of yarn deals! We also got to learn a bit about some new yarns coming out soon and I can NOT wait to get my hands on them and share them with you too. I was also so impressed with how much Lion Brand gives back to the community! They have donated millions of dollars to St. Judes Childrens Hospital and continue to provide yarn to charitable causes.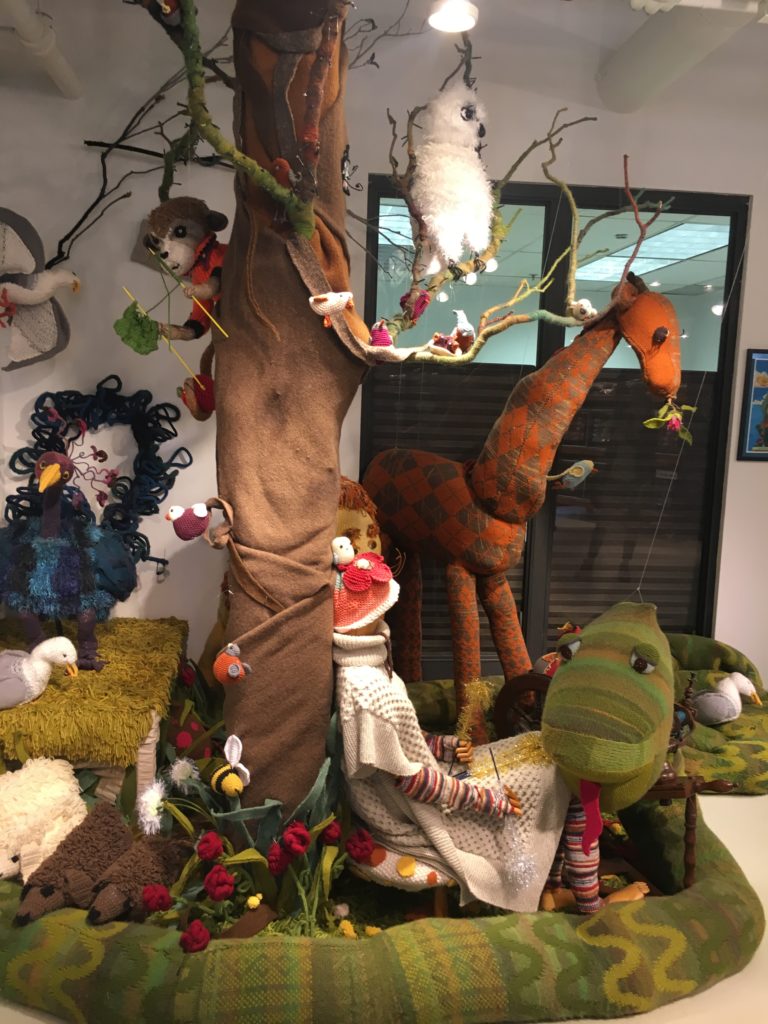 Above: So much knit and crochet. That giraffe!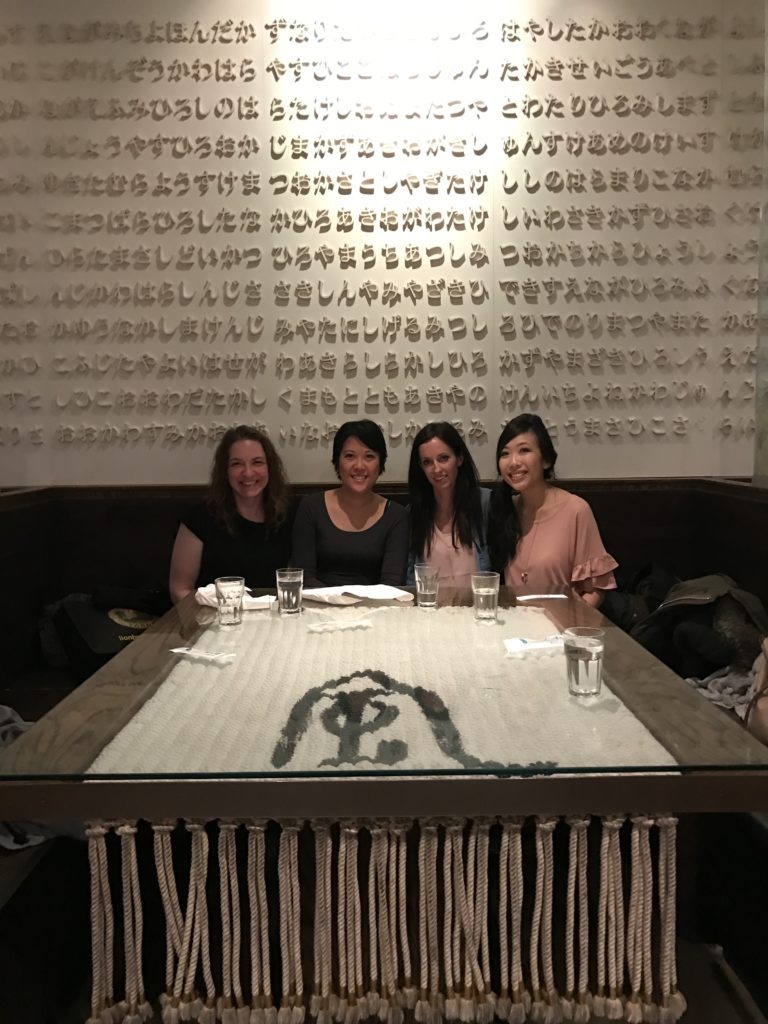 Above: My first experience eating real Ramen with Stephanie, Ryan (thank you Ryan for taking the photo!), ChiWei and Tamara. We don't have any restaurants like this where I live. And on a side note, I attempted a pattern from Stephanie's blog All About Ami before I even knew what a blog was. Amazing to meet her in person and we really connected as we both stay home with our little girls! It was incredible to get to chat personal life AND yarn with these ladies.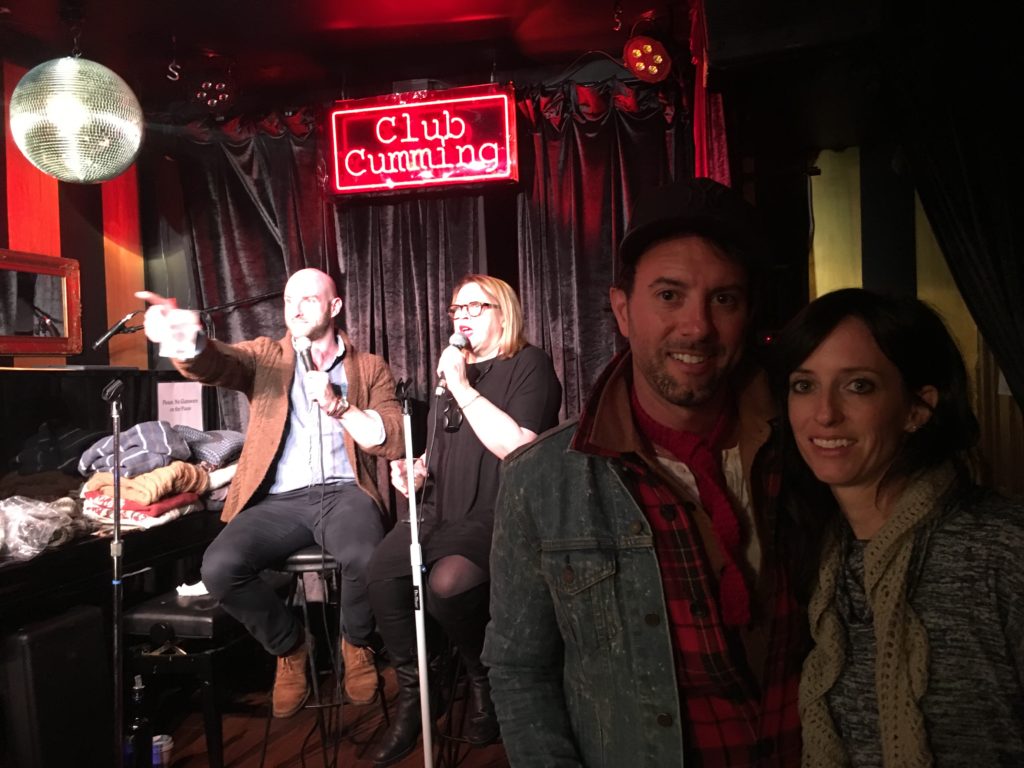 Above: We even got to hit Knit Night at Club Cumming. This was my first experience knitting with a whole group of people at a bar and I want more. Hehe! This is myself and my brother who lives in Manhattan and he recently started knitting. It was a huge bonus to get to hang out with him and my brother in law too!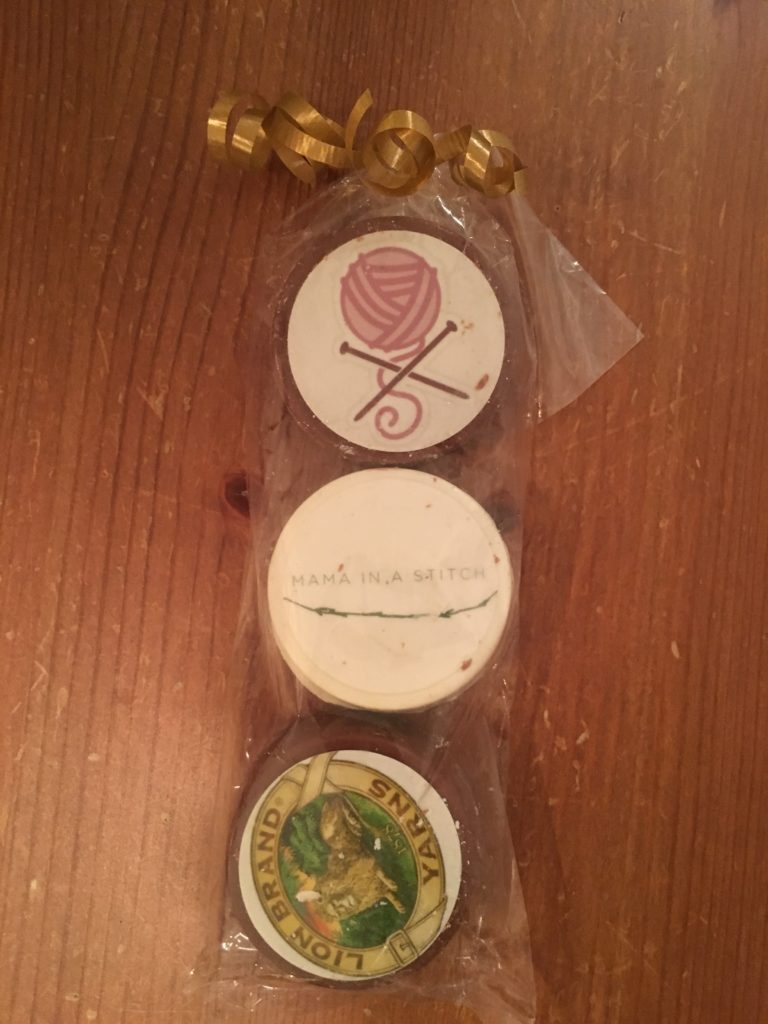 Above: Chocolate covered oreos from Lion Brand – yum. I almost didn't want to eat them because they were so pretty, but ultimately I couldn't resist.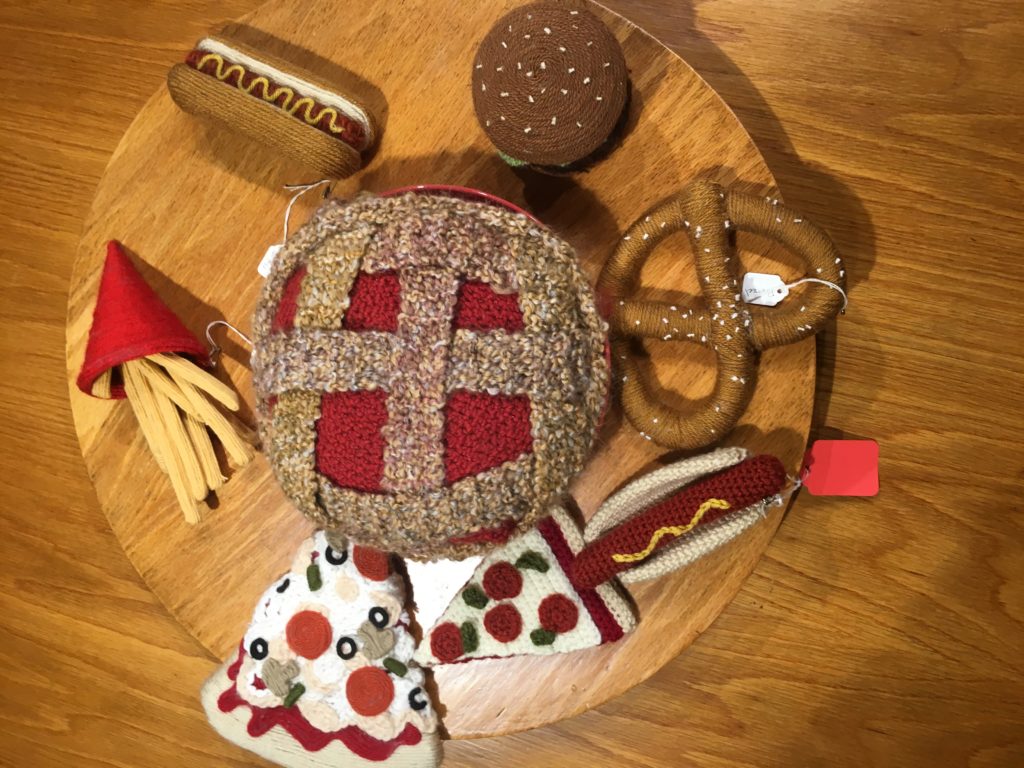 Above: New York Pizza anyone?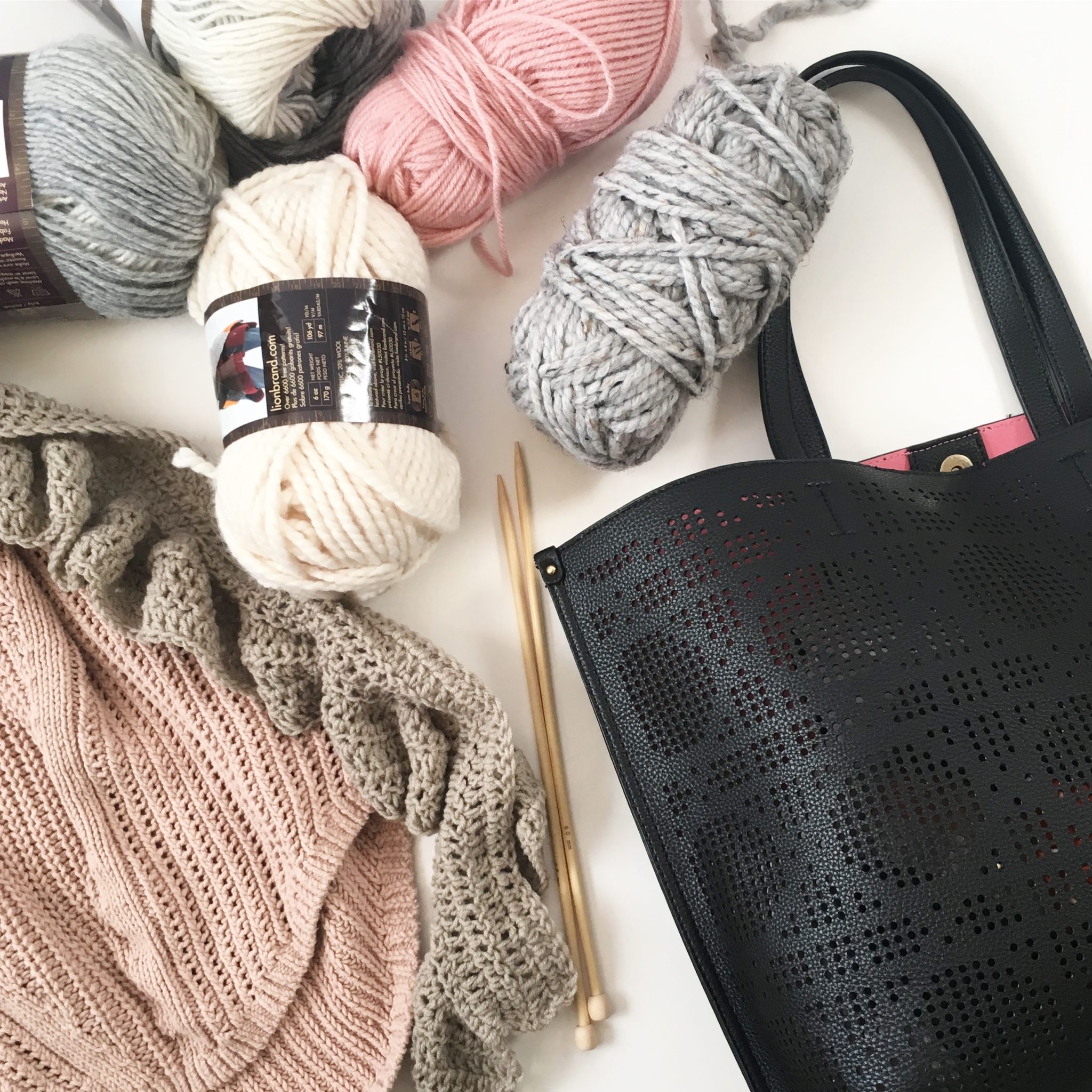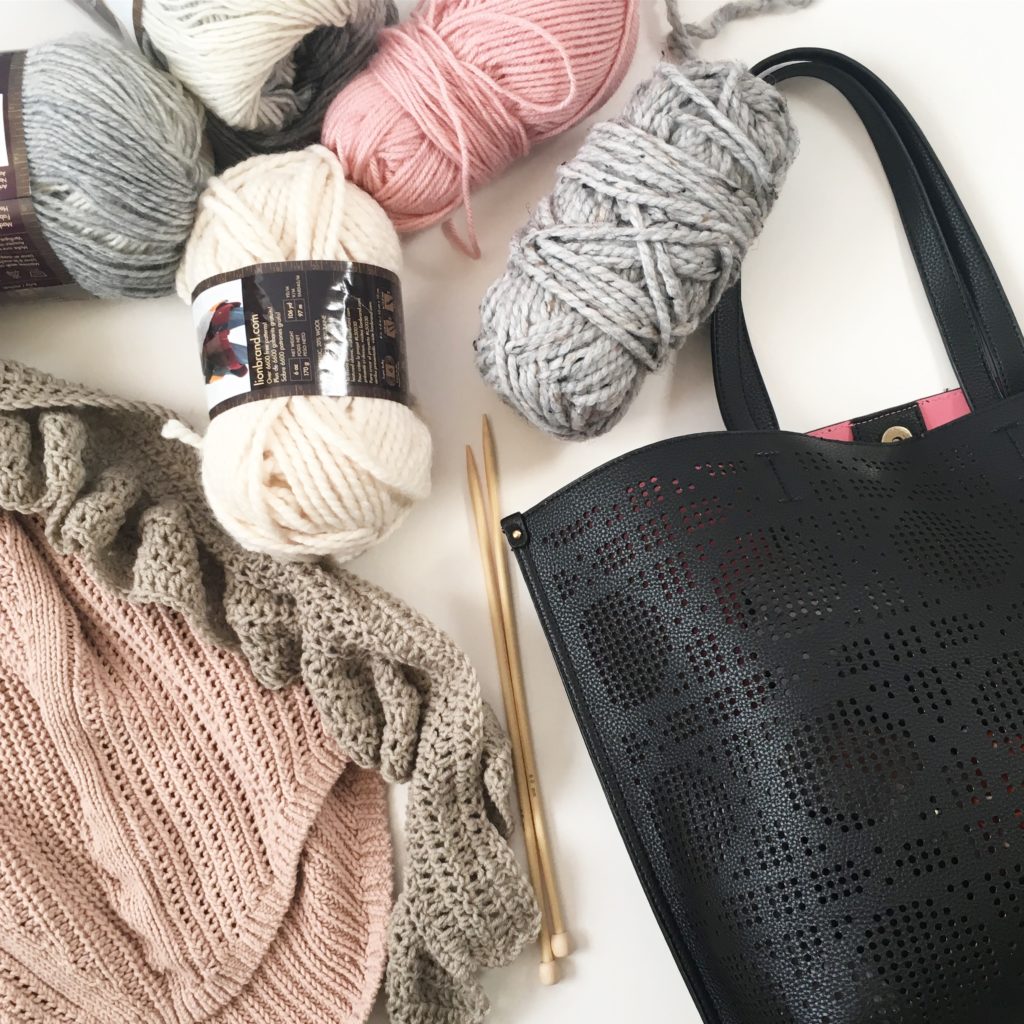 Above: It's hard to pack when you're a yarn addict. I've never had so much in one suitcase as I couldn't decide what yarns to leave and what to bring along. Lol.
Below: I just love this timeline showing the history of Lion Brand over the years and how things have changed as they celebrate their 140th Anniversary!


My time in New York with my fellow bloggers and the Lion Brand Team was a treasure. While I am home and thrilled to be back with my girl and hubby, the New York trip reminds me of the community we have as knitters and crocheters and the connections that we share. It's special and I'm blessed to be able to blog about it with you.
XO,
Jessica