How To Start A Blog – Knit, Crochet or Craft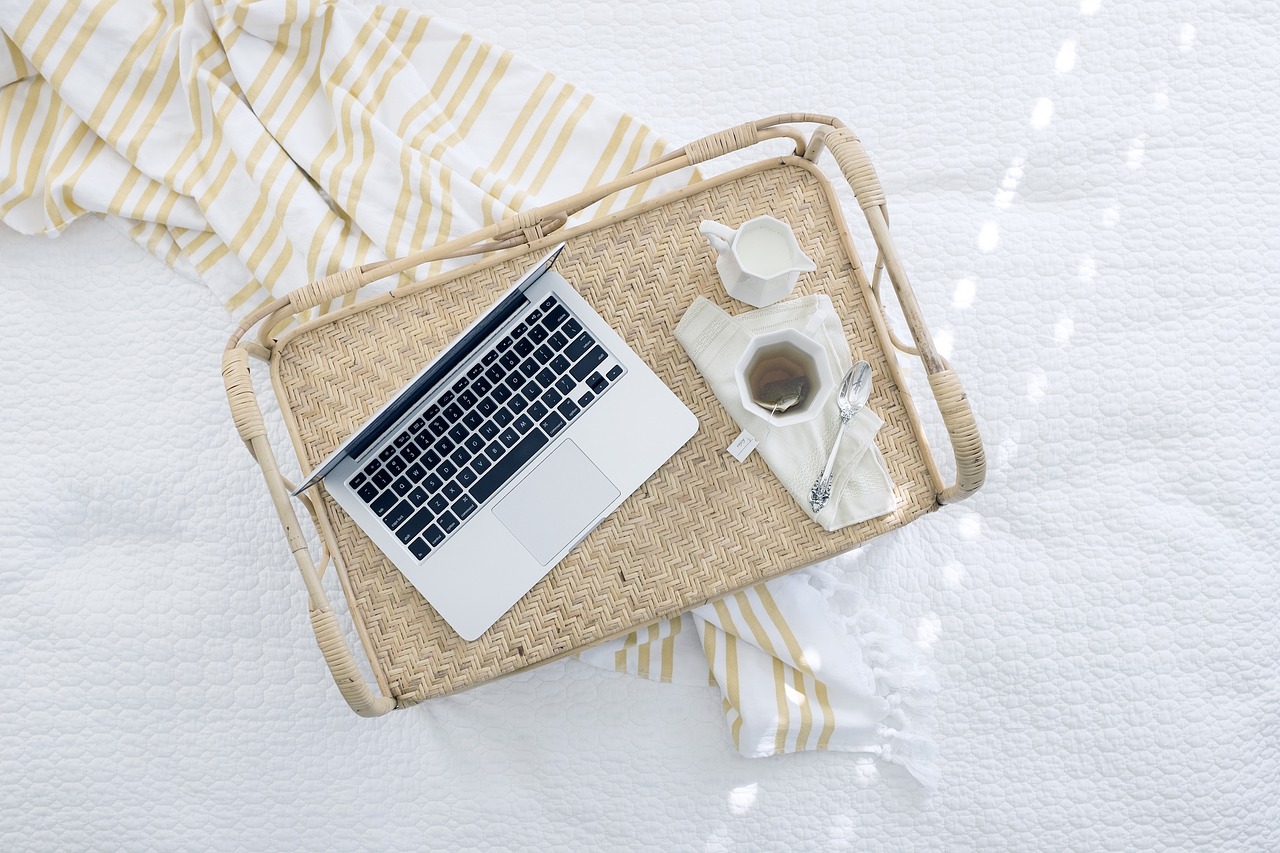 How do I start a craft blog? I remember incessantly searching this question on google a few years ago. I also remember thinking that if I ever figure out this "how to blog" thing, I'd let you know about it. So here goes!
Below, you'll find a step by step guide on how to get your blog started as well as tips from my personal experience on how to feel successful. 🙂 I'm ready to shoot straight with you about starting a blog. It's amazing and it can be done by anyone (tech dumb dumb here), but it's not always easy. I'm going to break it down into steps so you can do this and give you my personal insight throughout this blog post. Starting a blog was one of the best decisions I ever made in my life. You can do it too, and it can be a hobby or even become a job. Sound good?!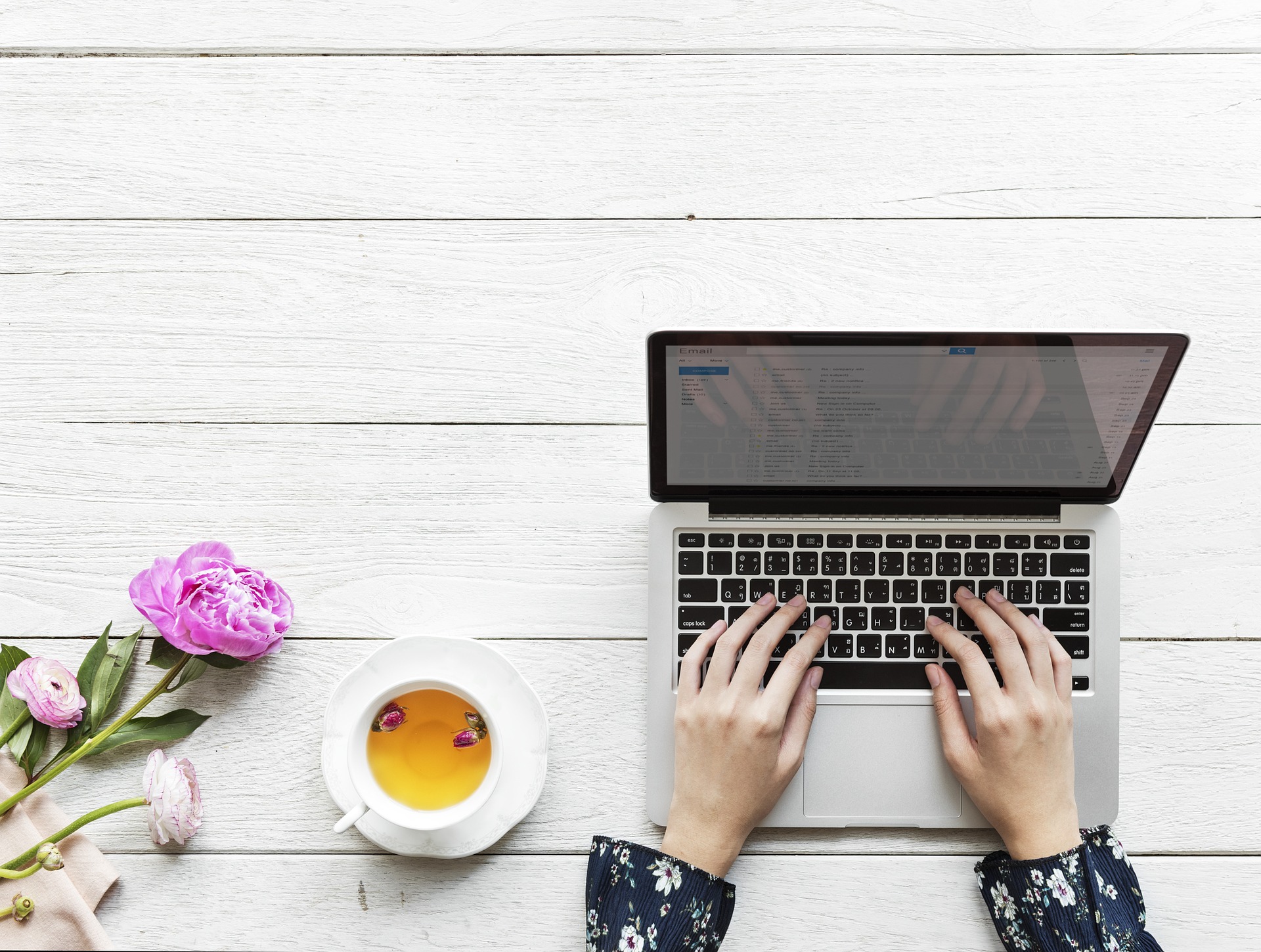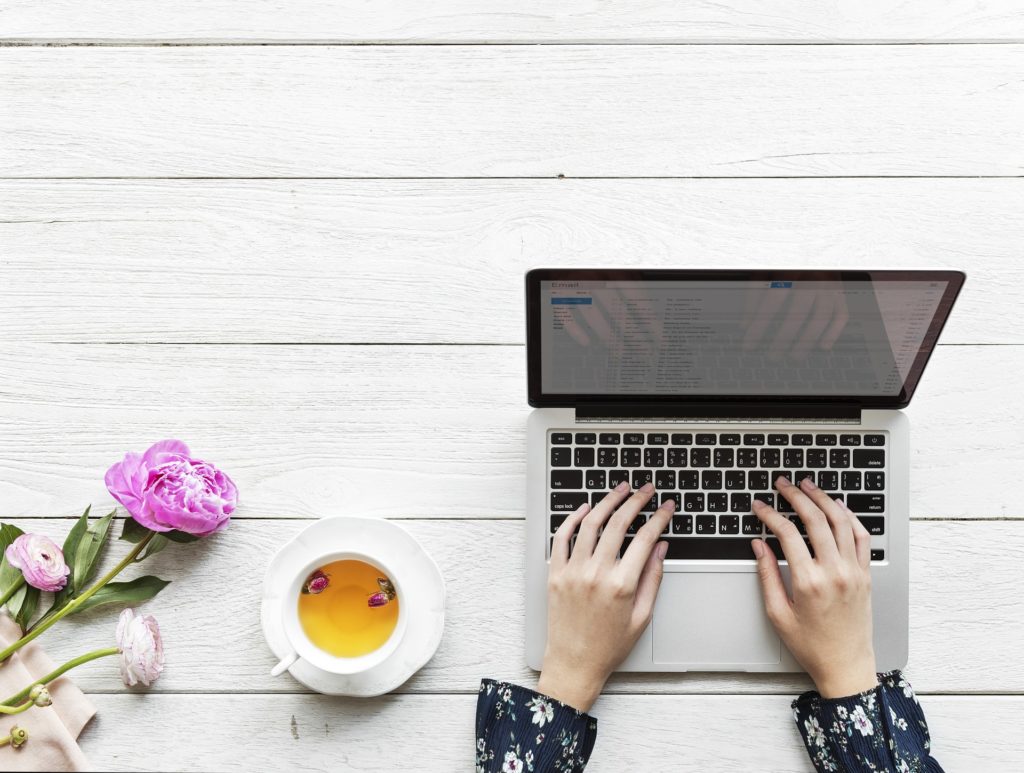 You'll find bullet points at the bottom of this post on "Starting A Blog – Honest Tips" so check that out too!
How To Start A Craft Blog In 5 Steps
1. Pick What You Want to Blog About
You can blog about anything! Most likely you enjoy knit and crochet or crafting if you're reading my blog. However, the options are endless from travel, food, parenting, pets, to fashion and more. The most important part in this step is to PICK WHAT YOU LOVE. Do you love eating dumplings? Figure out how to blog about it! Hehe!
2. Choose and Purchase Your Domain Name
Yay! You get to now choose a fun name for your blog and buy your domain. You can check if anyone already has the name you want at BlueHost (here) which I've also linked to below as an option for hosting. Your domain is basically your website's name. So my domain is https://www.mamainastitch.com/ for example. From there, you will want to also check that name's available on Instagram, Facebook, and Pinterest. If you would like to blog for free (read more about that option in Step 3), you can skip purchasing hosting or a domain until you head over to one of your free platforms. However, if you're thinking about the option of making money on your blog at some point, this paid option is the way to go. Once you find out if your name's available, you'll pay for your domain and/or hosting through BlueHost or another service if you so choose.
3. Choose a Host for your Blog – this is basically where your website lives in cyberspace
As for choosing a host, here are my recommendations and thoughts. Hosts seem to change in their quality standards quite often so you want to stay on top of things as you go. First of all, Bluehost (HERE) has a cheap plan and it's what I used to get started as they have a super budget friendly option. I started with Blue Host but once my site got larger I found that I needed to switch hosts and now use Big Scoots (HERE) (who have done amazing work for me!). You can read more about my thoughts on hosting in my "Honest Tips" at the bottom of this post.
If you go with the Bluehost option, you'll choose a plan. The screen looks something like this: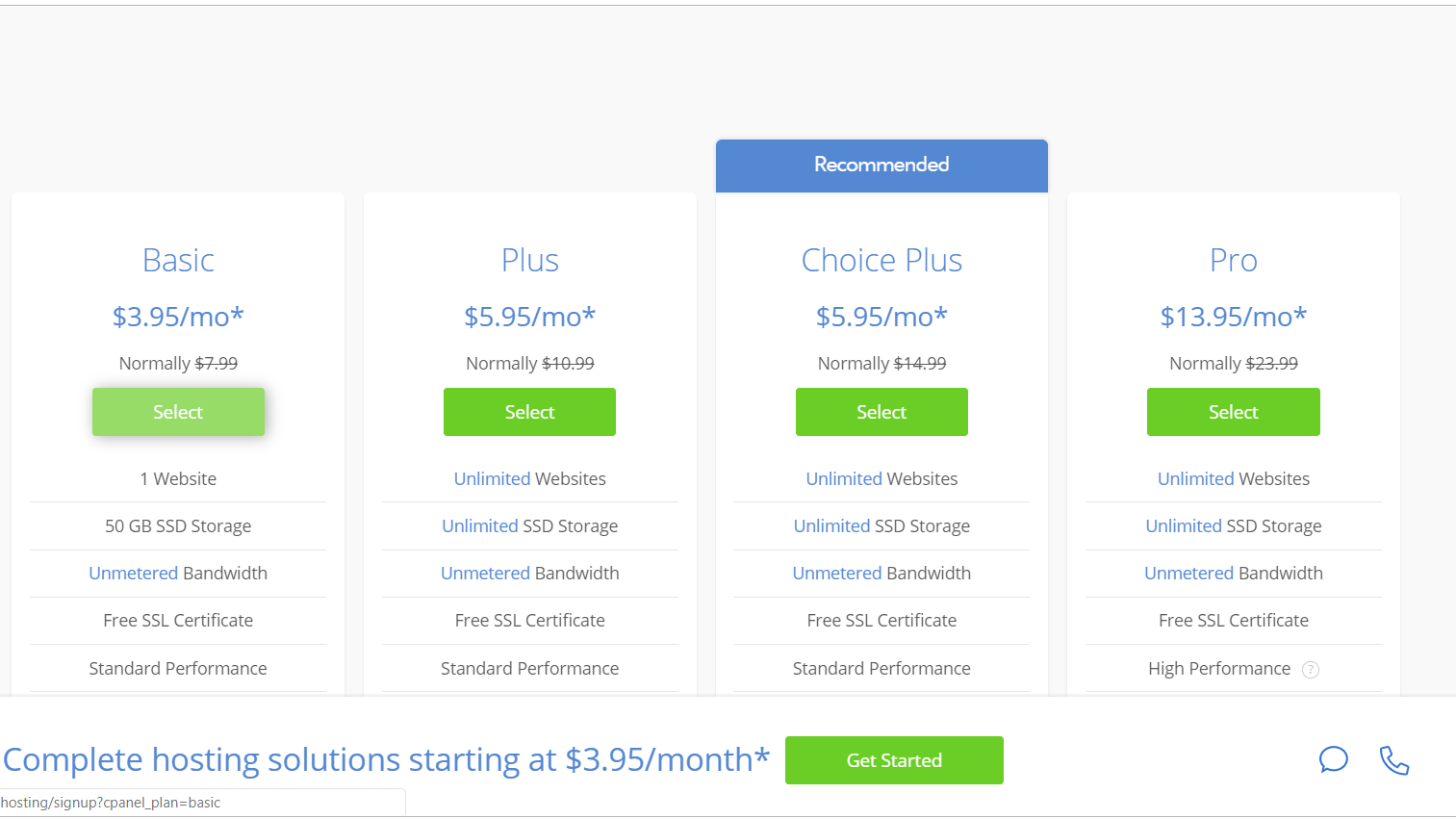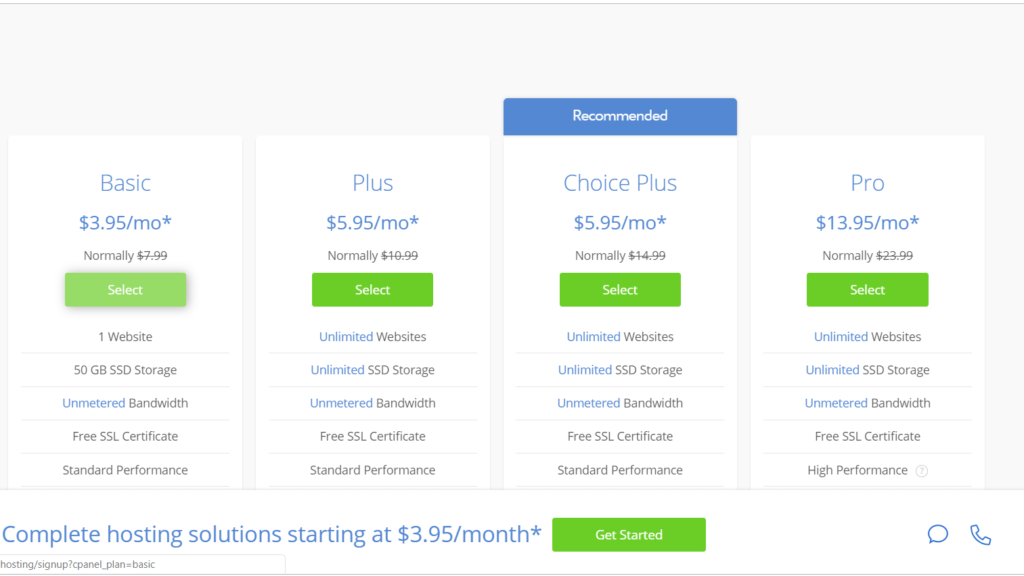 Then you can get your domain registered! The screen will look something like this (below) Enter the domain name that you choose.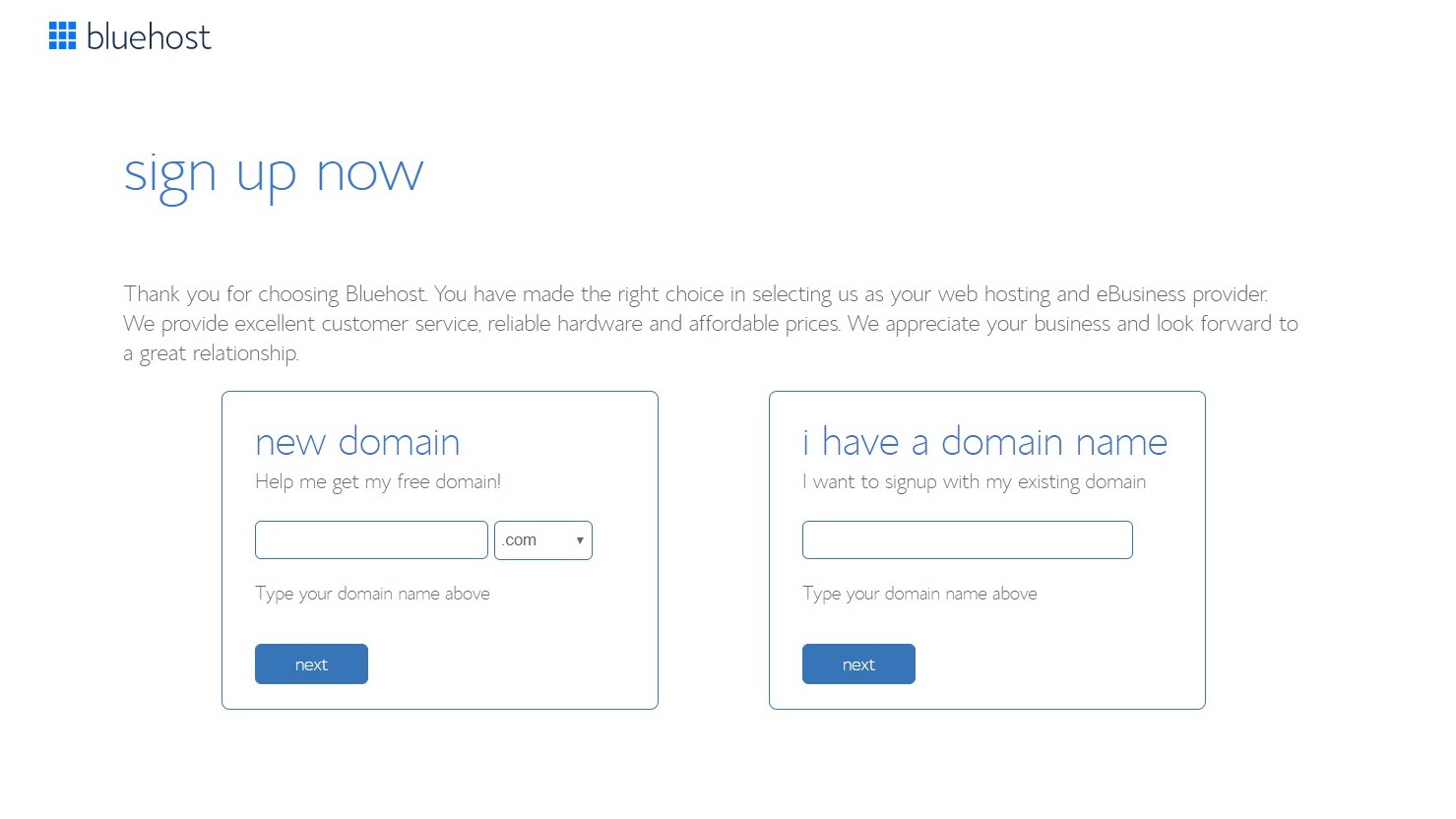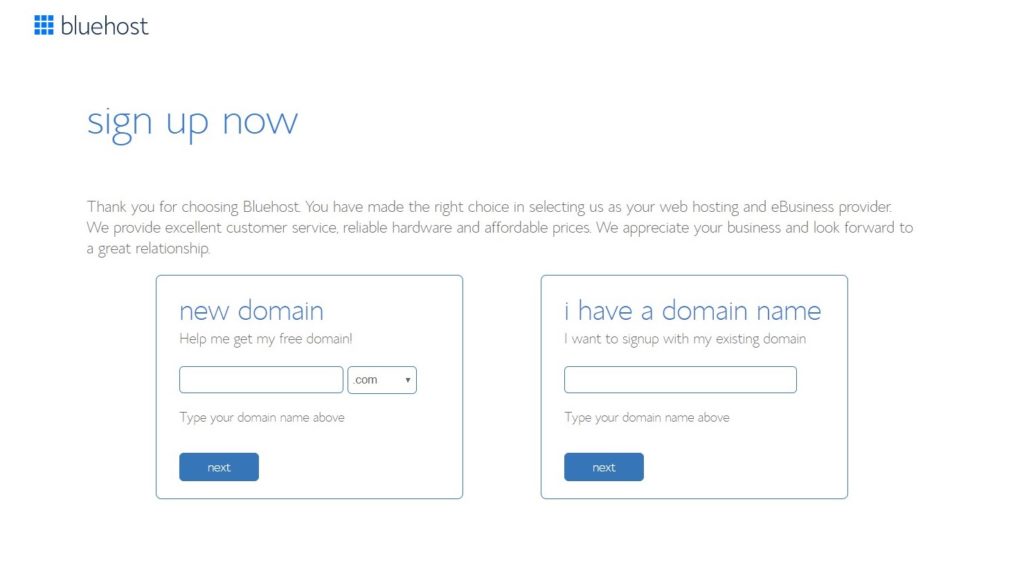 Another point to note is that Bluehost automatically installs WordPress (you'll read about this in step 4), so this makes it pretty simple!
Last but not least, the very easiest way of all to start a blog is to start a hobby blog on Blogger (here) or another free platform. This options is completely free! This is how I originally started as I didn't initially intend for my blog to grow the way that it did. You won't find this option mentioned in a lot of "How To Blog" blog posts because the blogger can't make money on an affiliate link when you click over to Blogger. And yes, I will make a commission if you click and purchase through most of the links in this post, but not this one. Blogging for free is a perfectly fine, wonderful way to blog. Now, if you want to potentially make money someday, it isn't the best way to get started. There are some things to consider before going "free" with the free Blogger option or any of the other free options.
There's a small risk of not having total control of your blog if something happens.

Your website address will have a long ending to it after your website name like (IWantToBlog.blogspot.com) – which makes it seem less like a real website

It's difficult, if not impossible, in some cases to place ads on your site which is how many folks make money on blogs
4. Choose a Blogging Platform & Theme
This is where you can pick pre-made awesome designs for your blog so that it looks all beautiful with flowers, nice fonts, or whatever you desire. I believe that BlueHost has free themes for you, so this would be the easiest route and you wouldn't need to go elsewhere to find a theme at this time. You can always change themes down the road if you so choose. You will find many free themes and paid themes as well on several sites around the web. I like Angie Makes designs for gals getting started and they are who I used when I began. They also had great customer service so that's nice for those of us who are tech challenged – hehe!
For a platform, I definitely recommend using WordPress.com. This is the gold standard in blogging and it's what I use! (And remember that BlueHost will automatically install WordPress)
Here are other platforms you can check out as well if you'd like:
WordPress.org (self-hosted)

WordPress.com (online)

Blogger

Tumblr

Medium

Squarespace
5. Start Writing, Creating and Posting!
Now comes the really fun part! It's time to start sharing what you love online. At the same time, there's a learning curve. You can learn a lot from googling how to do specifics in WordPress. If you're a tech dumb dumb like me, there's no shame in googling how to do things on your site. Now, get writing, photographing and doing what you love!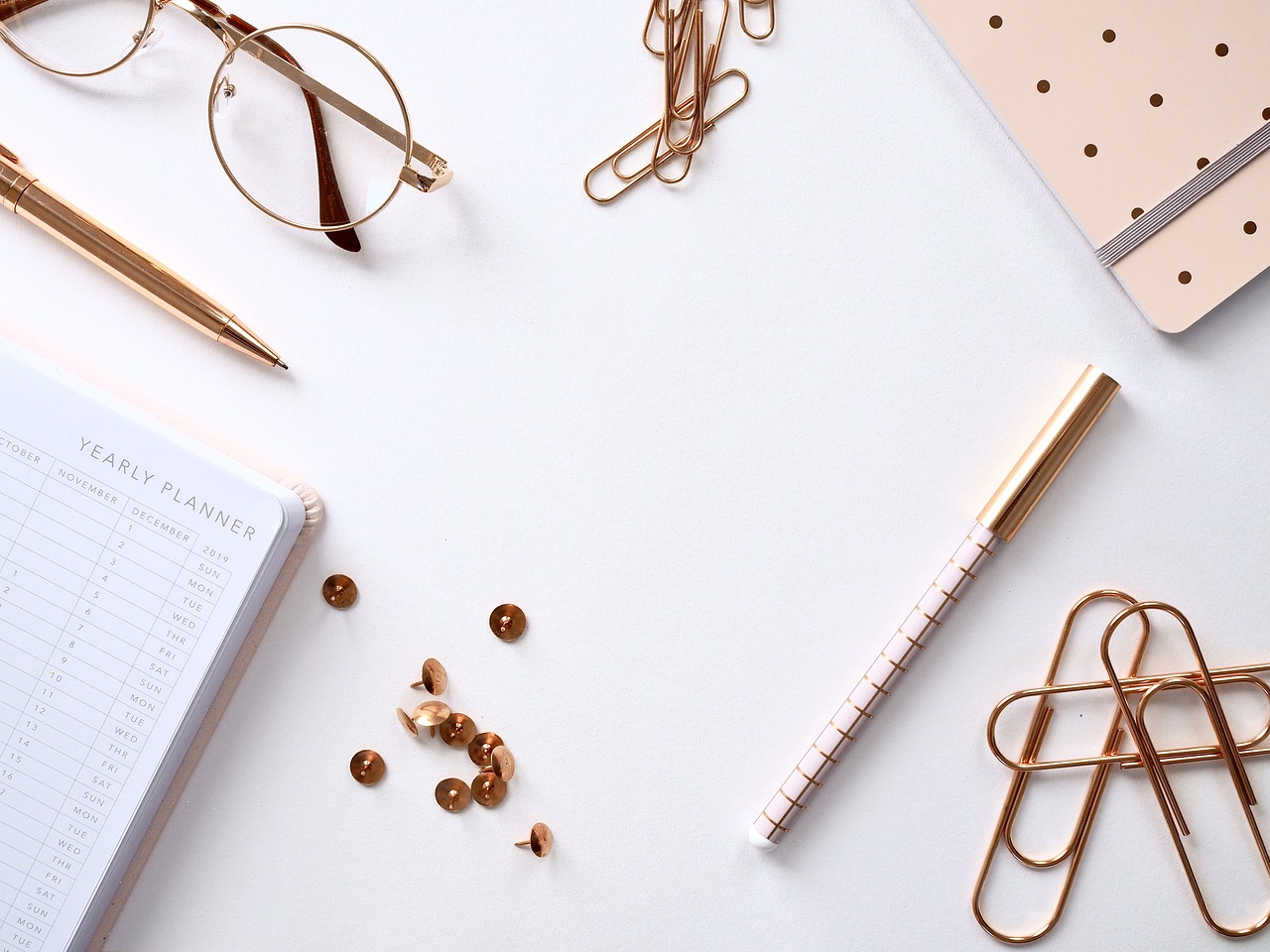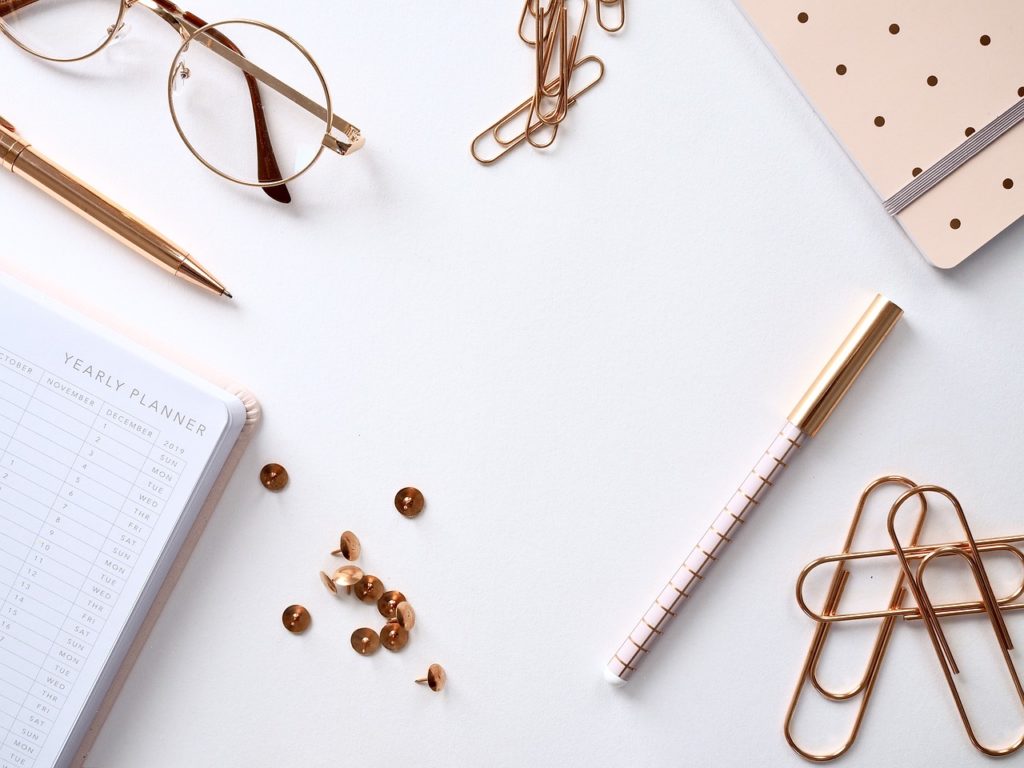 THAT'S IT!! Now you've got a blog!
My personal tips and advice about starting a blog…..
When I began, I didn't have the first clue how to start a blog or even what a blog REALLY was. Not being from a technical background it seemed difficult and terrifying. My hope was to find a step by step guide on what I needed to do in order to get this blog started. There happens to be a ton of blog posts about starting a blog, but I felt compelled to write my own as I've got a unique prospective as a tech dumb dumb who started 4 years ago. I'd like to tell you exactly what I'd tell my friends and family if they asked me for advice about starting a blog. Also, I'd like to note that getting your blog up and running in Five Steps, for example, is a lot different than actually doing all the steps you'll need in order to grow a blog or make money on a blog. However, with this post, I'd like to let you know how to get your blog up on the web and move toward your goals! You can do it as a hobby or for business, even if computers and technology aren't your thing.
I believe the main reason that my blog has become what it is today is because I was obsessed with it. Yes. I was, and am obsessed with designing, knitting, crocheting and sharing my knitting and crocheting with wonderful people. They inspire me and I'm super honored because apparently my blog sometimes inspires them. It's a passion of mine and I believe it helped that I wasn't starting my blog for the money. If you don't love what you're blogging about, you'll most likely quickly burn out. If you've got something in your life that you are passionate about, and can be crazy obsessed with, go with THAT. All bloggers are different, but that's what worked out for me. 🙂
Below: I love art, design and am obsessed with knitting and crochet. That's why I blog about it.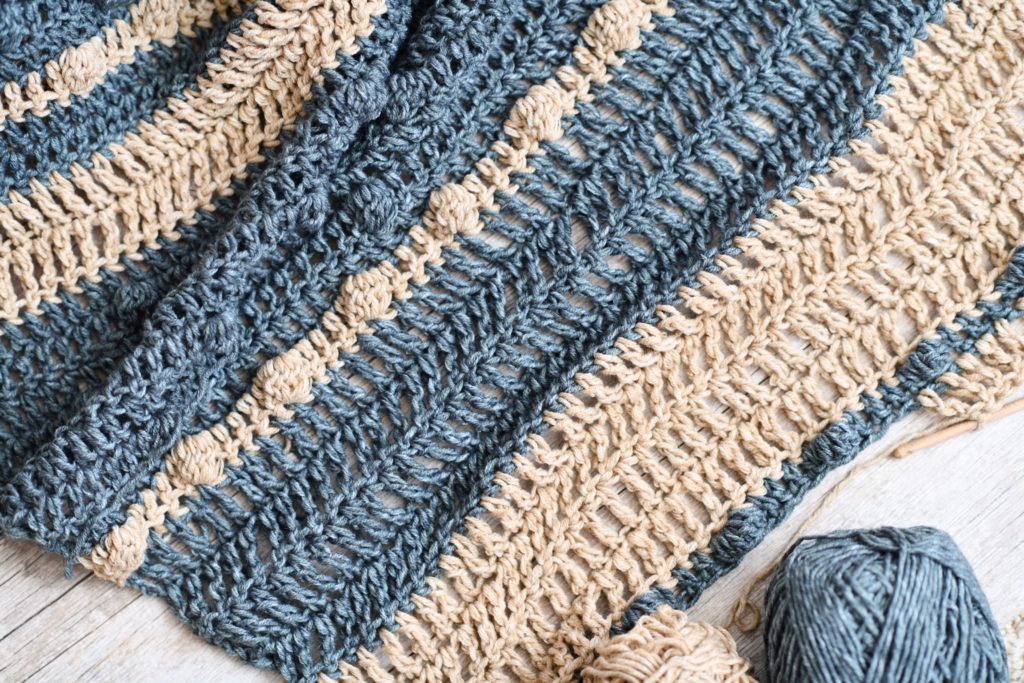 Lastly, if you're not techy, get ready to make best friends with google search and your tech support and customer service peeps. I did a ton of google searching in order to learn things and I also probably annoyed tech support and customer service of my hosts, etc. There's no shame in reaching out for help!
I want you guys and gals to live your blogging dreams but I believe honesty will get you there. If this tech dumb dumb can do it, ANY of you can!
"Starting A Blog" Honest Tips
1. Secret #1: Blogging isn't easy. Even starting a blog isn't super easy. The whole "Start A Blog In No Time" type of thing just isn't the case for most people. My mind was numb the night I started my blog as I tried to figure out downloads, imports, how to's. Maybe for some it's just simple as pie, but for me and most of the bloggers I know, this just isn't the case. Did I figure it out? YES! Is it one of the most wonderful things that's happened in my life? Absolutely!
2. Secret #2: Bluehost is a cheap way to start as a blogger but most serious bloggers don't use them for long. No doubt that BlueHost is easy on the wallet at first and that's why I suggest you can start with them. I used them when I started as well. Just be prepared to switch to someone like BigScoots if your experience begins to resemble mine. Their service went downhill as my blog began to grow and I've heard the same from many other bloggers. I want to be honest in this post and give you options so you can decide for yourself!
3. Secret #3: It's not a Make Money Fast Thing. There are a lot of blog posts out there that make it appear so easy to make money on a blog. You see the income reports, how to make money blogs, and it appears to be so simple. The truth is that some people make a little money blogging, some people make a lot of money blogging and some people make none. Be wise about and don't quit your job right away or go into debt (in my opinion – lol)! It's certainly possible for nearly anyone to make money blogging in my opinion, but I feel like there are three pieces of personal advice I'd give you in order to get there. #1. Pick something you are obsessed with to blog about #2 Don't do it for the money #3 Realize it takes time, commitment and a lot of learning. There are different approaches to starting a blog, but this worked for me, so I wanted to share it!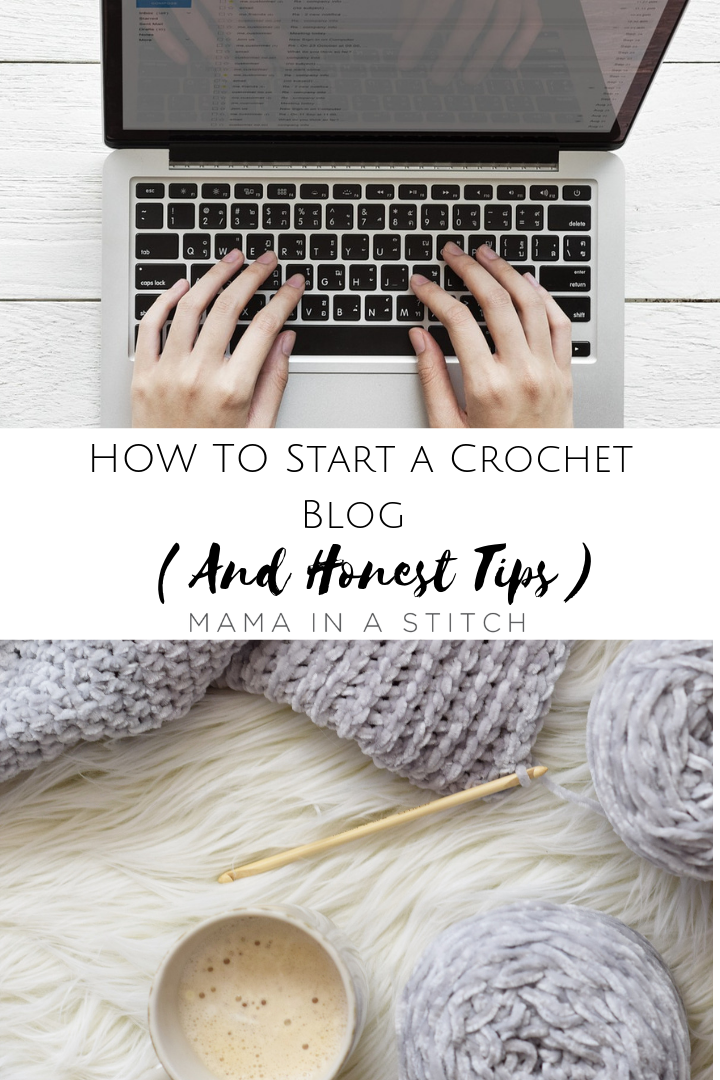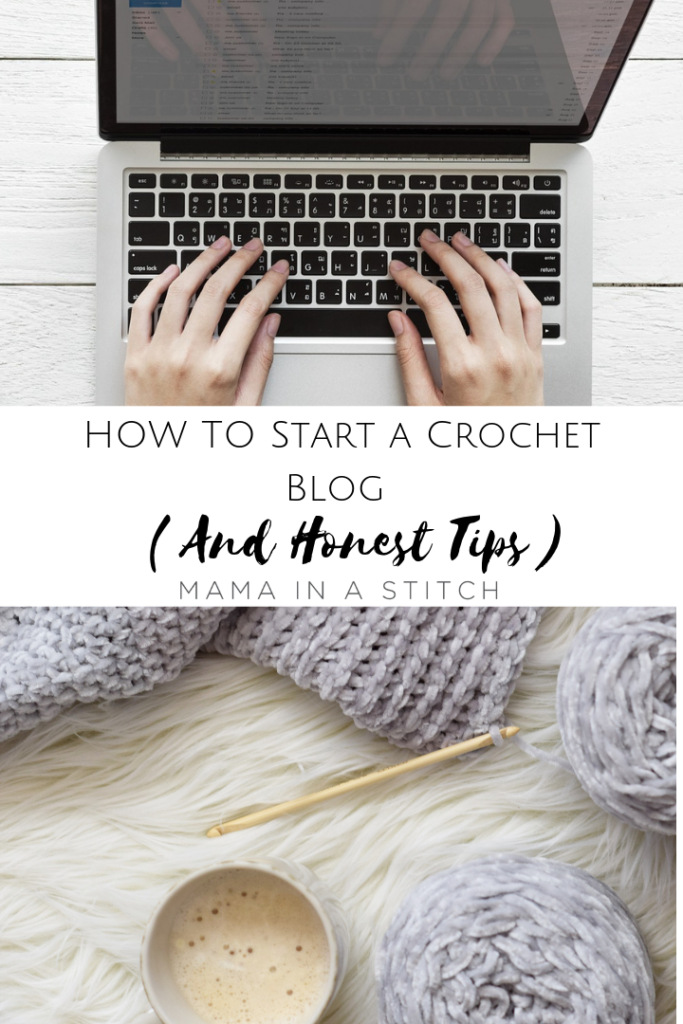 FAQ
Is it hard to start a blog?
It isn't super difficult to start a blog but there is a learning curve! Even what seemed basic to some and even some items in this blog post were hard for me to understand once I started digging in. If you are a tech person, it could be a breeze. If you're clueless like me, it ain't all that easy all the time. However, if I got a blog up and running on the interspaceweb (hehe), you can too.
How Do You Make Money on A Blog?
Bloggers make money in many different ways. Everyone is different but ads on the blog, affiliate sales, sponsored posts and selling a product are the most common ways that bloggers make money. My post here is intended to show you how to get your blog up and running but there are literally hundreds if not thousands of courses and books on how to blog for money. Getting a blog up on the internet and how to blog for money are two completely different things. It would take more than a blog post to go into that but hopefully this gives you an idea of how to start! If you'd like to know more, certainly let me know. Maybe I can do more blog posts about this.
How fast will I make money?
Overnight. Just kidding! Don't we wish that were true! This varies for everyone. Some people start their blogs with the intention to make money. They take courses, come up with business plans and dive in full force. Some people start as hobbyists and slowly build up a following and blogging knowledge. Either way, you might make money after 3 months, 1 year, 4 years or never. I'd say that the average length of time for most bloggers I know is over one year.
My personal advice is to start a blog for the love of blogging and doing what you love. This philosophy has allowed me to enjoy this blogging journey while making no money at all for a long time, which is the norm for most bloggers!
What if I'm not techy?
Ummmm, I'm the least techy person you'll find. Hehe! Maybe not anymore, but I was when I started. I used the customer support services available from my hosts and themes A LOT in the first couple of years. Don't be shy about reaching out to the tech support that each of these services provide.
How Much Money Do You Make & Will You Post Income Reports?
Who doesn't love reading those income reports? You see those pins come up on Pinterest "How I Made $9,000 Blogging" and you can't look away! Lol! It's a great way to learn about how these bloggers make their money and it's also a great way for these bloggers to get eyes on their blogs. However, I'm not going to do Income Reports as it's not what my blog's about. I was also raised not to talk about my personal income freely as it's not the money that's important, so it's hard to deviate from that. I'm so beyond grateful that I make money from designing and blogging now. I'm able to stay home with my daughter and didn't have to return to teaching (even though that was another amazing career). Is it all about the money for me? No. Are these reports helpful to read as a blogger to see where folks are making money on their blog? Yes. I give the income report creators serious kudos for sharing, it's just not something I've chosen to do on this blog of mine. However, if you'd like more info on how to run a blog, please feel free to let me know!
Like I mentioned previously, blogging has been one of the best decisions I've made in my life. You can learn the ropes and do what you love each day, whether as a hobby or as a potential career.
If you get through these steps, you'll start to enjoy your own blog!
I sure hope this helps you if you've been dreaming of starting a blog. You CAN do it!
Would you like to know more about how I've run my blog? Feel free to let me know!
XO,
Jessica