Easy Crochet Cowled Sweater Vest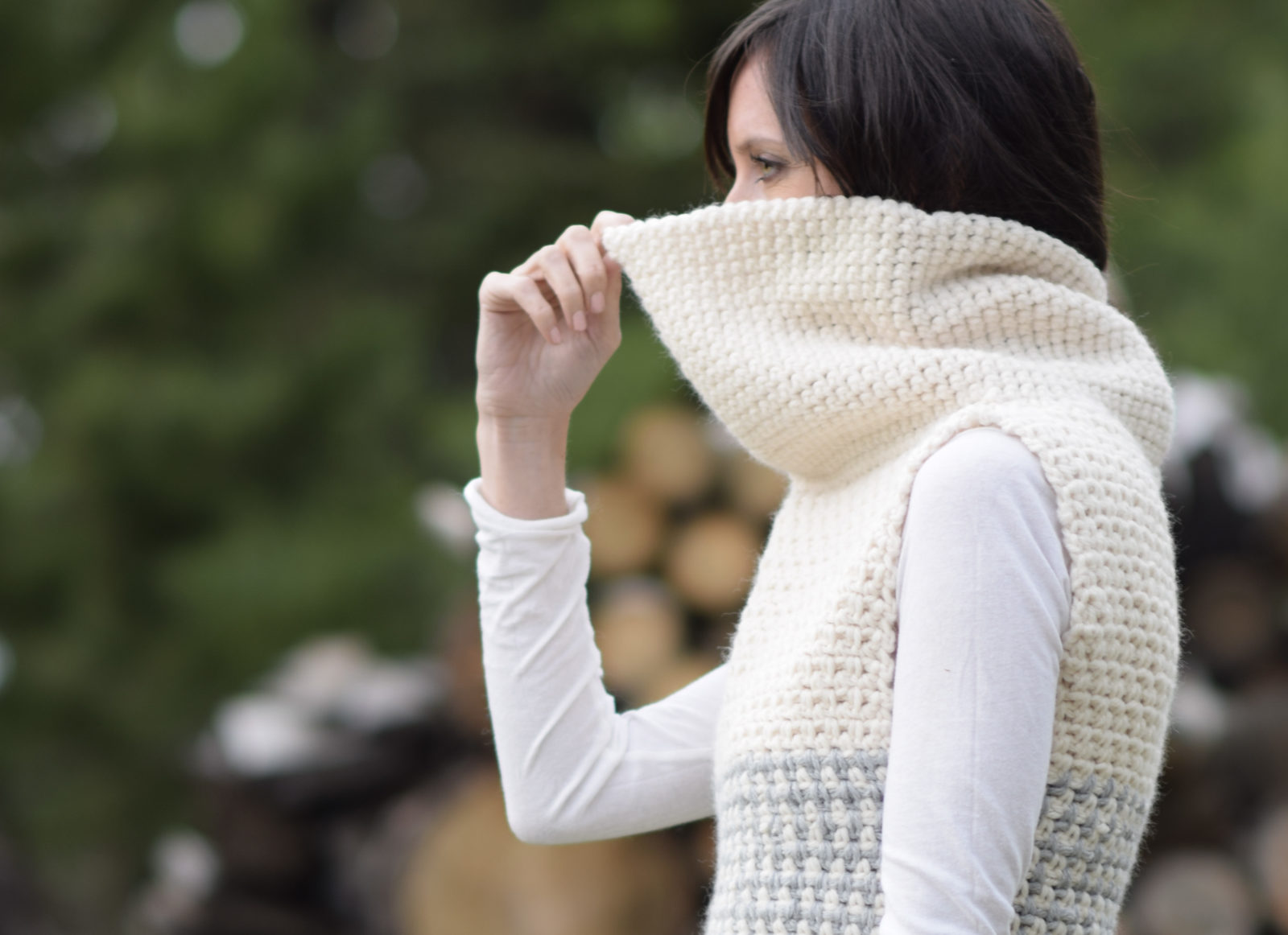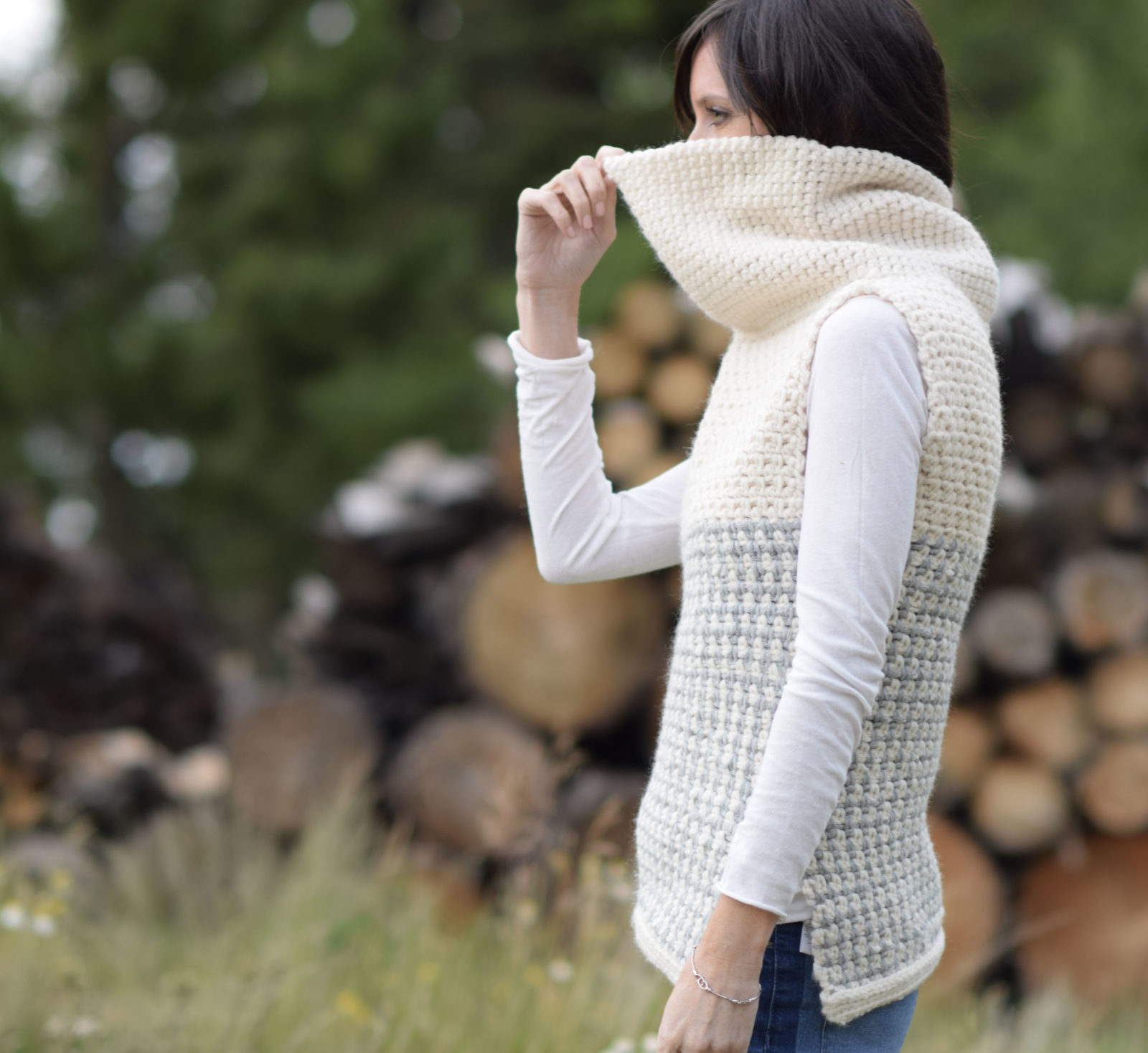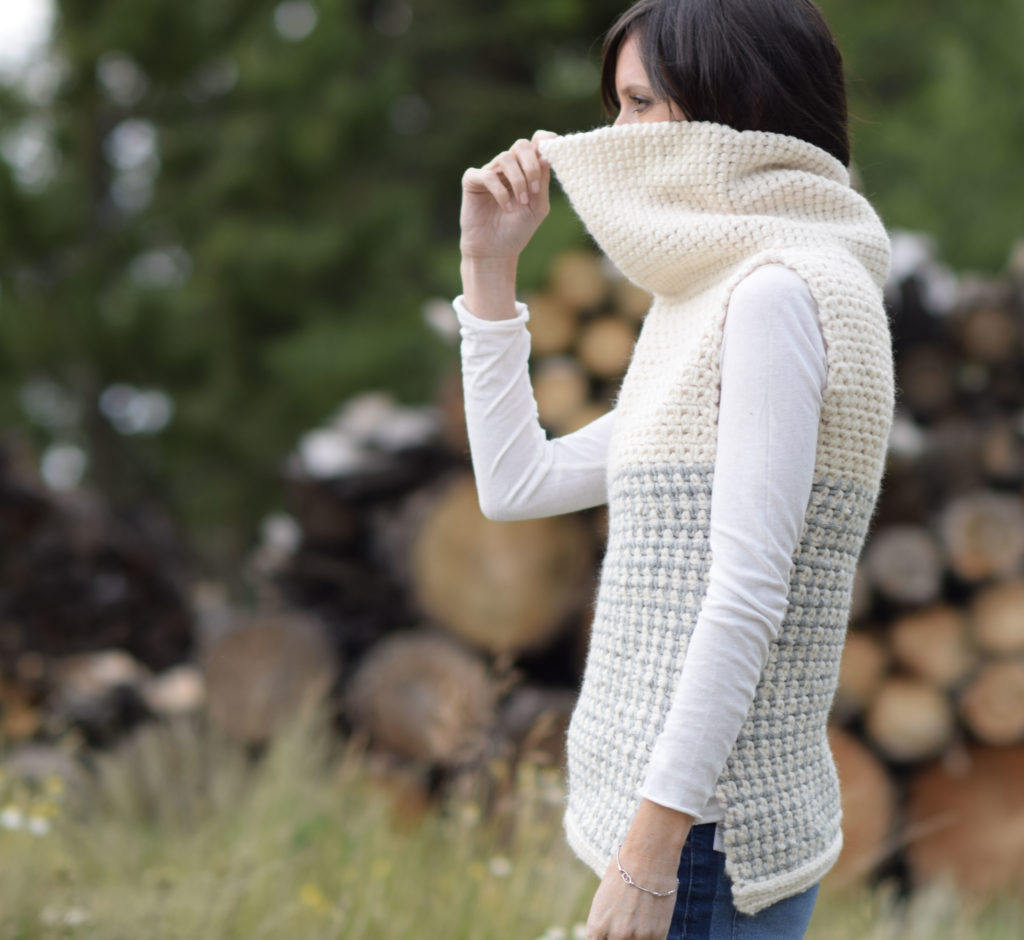 Hello friends! I've been wanting to design something like this crocheted cowl vest since last year when I saw a similar sweater in a store front during my visit to New York City. It looked like the coziest, most comfortable thing to wear in the winter. What I love most about this vest is the large cowl neck that's super simple to create and adds a lot of warmth and coziness. It's also super easy to make since it's essentially two rectangles that are seamed and the turtleneck is added at the end. Once again, it's made with one of my fave stitches, the granite stitch which gives it almost a knit or woven look. The chunky yarn really seems to make the stitches "pop" and the wool is warm for cold days. The color options are of course endless with this crocheted vest! For fall it would be stunning in a rust or a taupe color, don't you think? What colors would you use?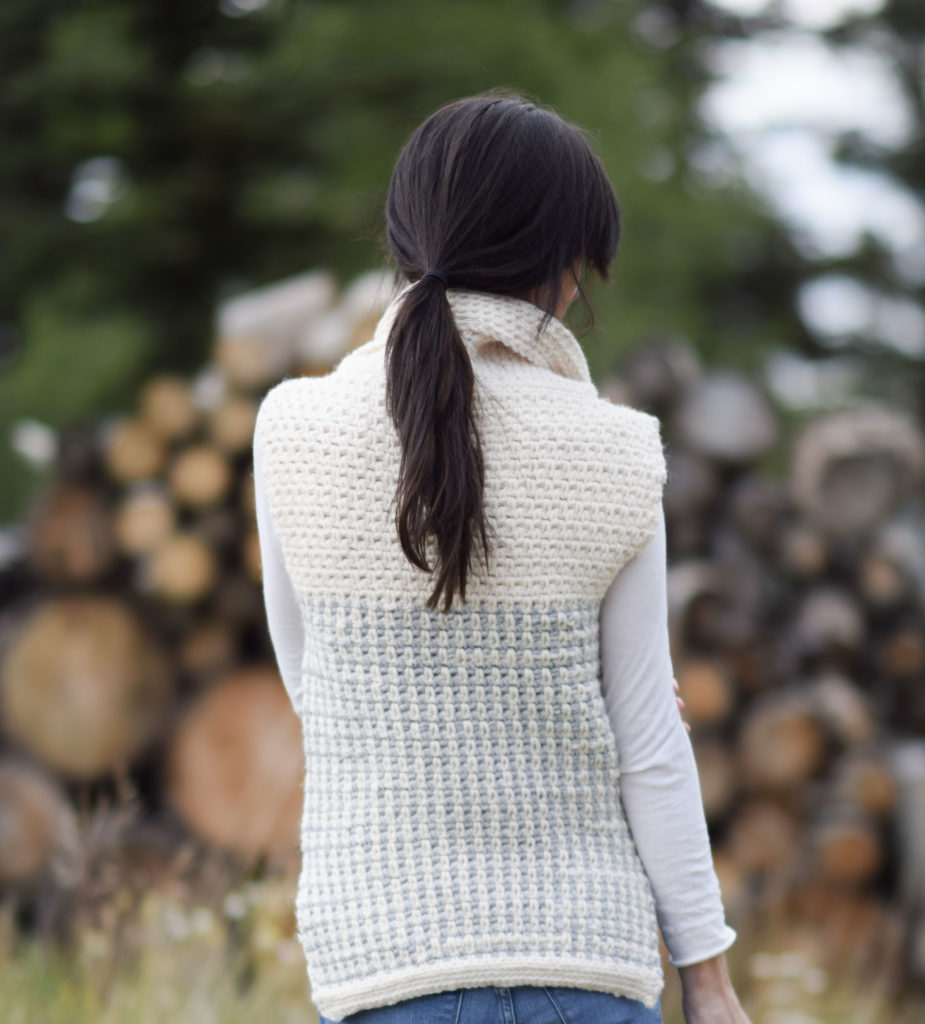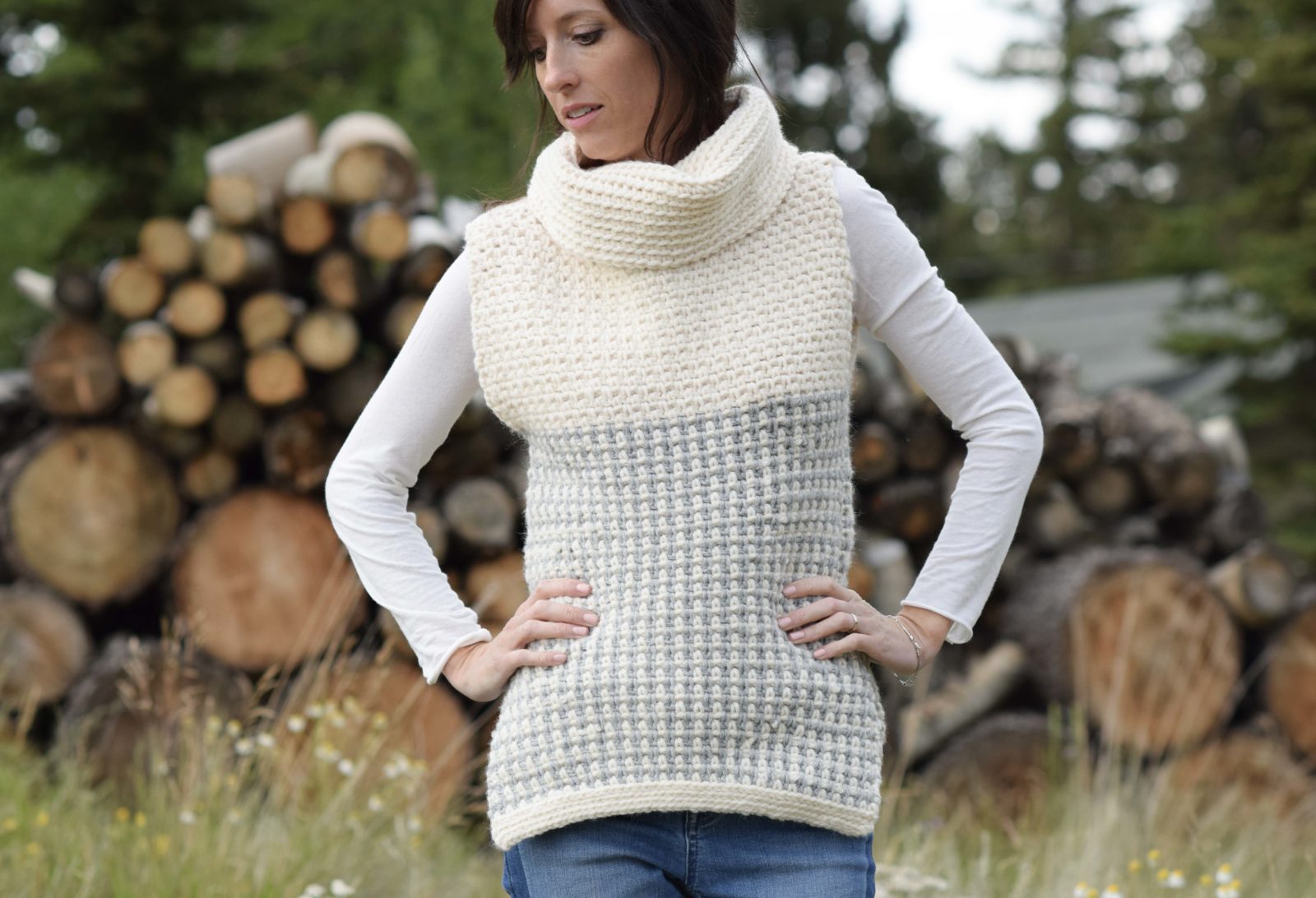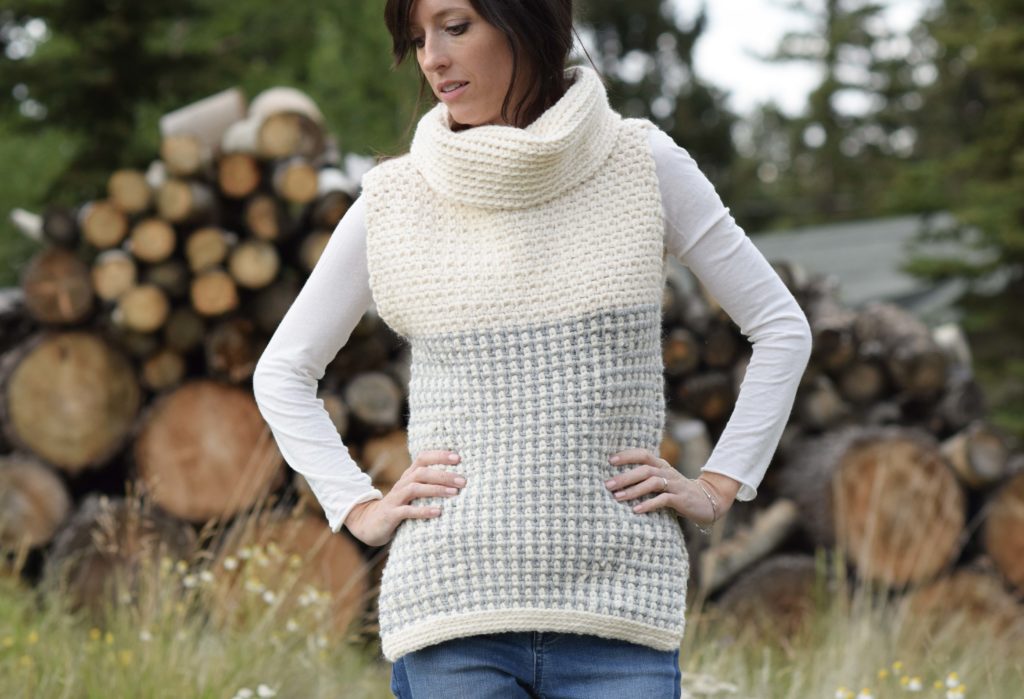 The bottom edging is made with several rows of simple slip stitches which appear to be knit. The entire vest is simple to make with basic crochet stitches and no complicated shaping. (You know me, I don't like shaping or tons of counting stitches)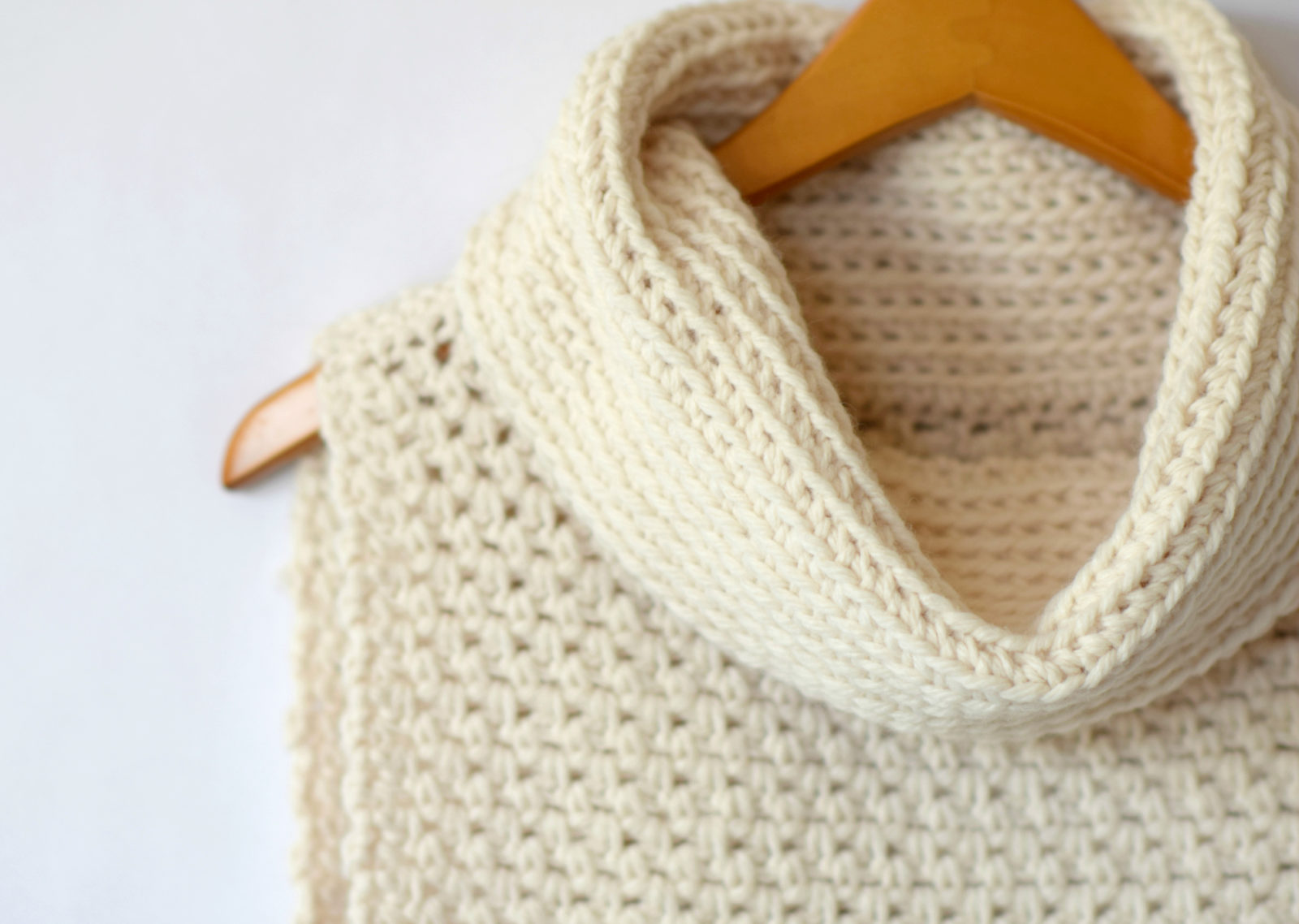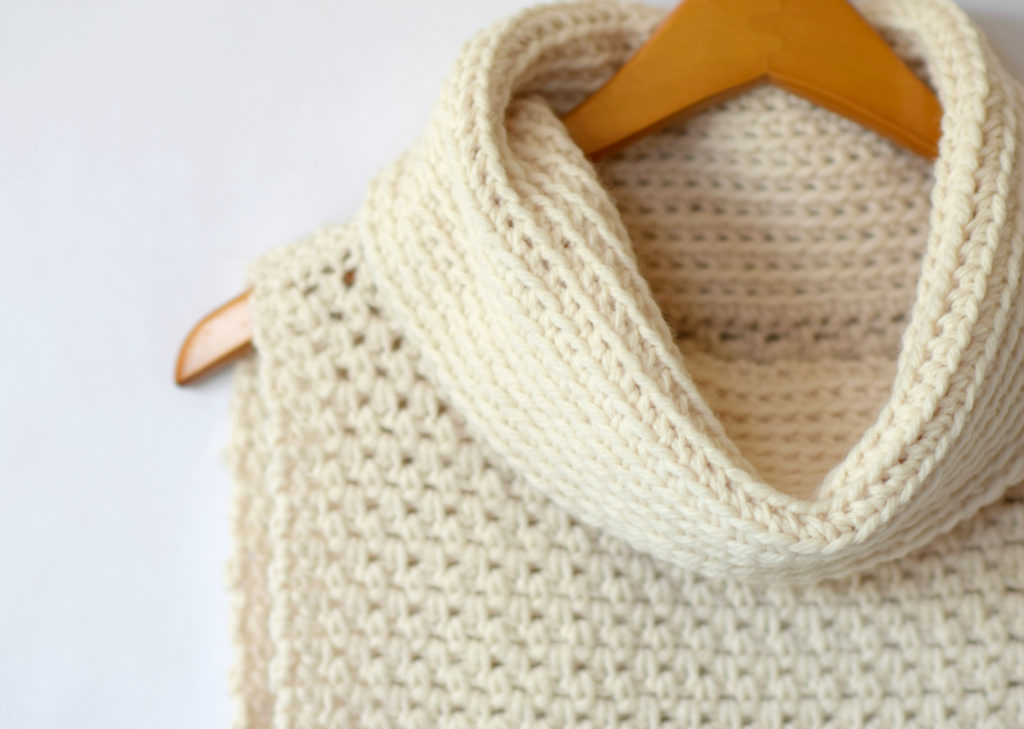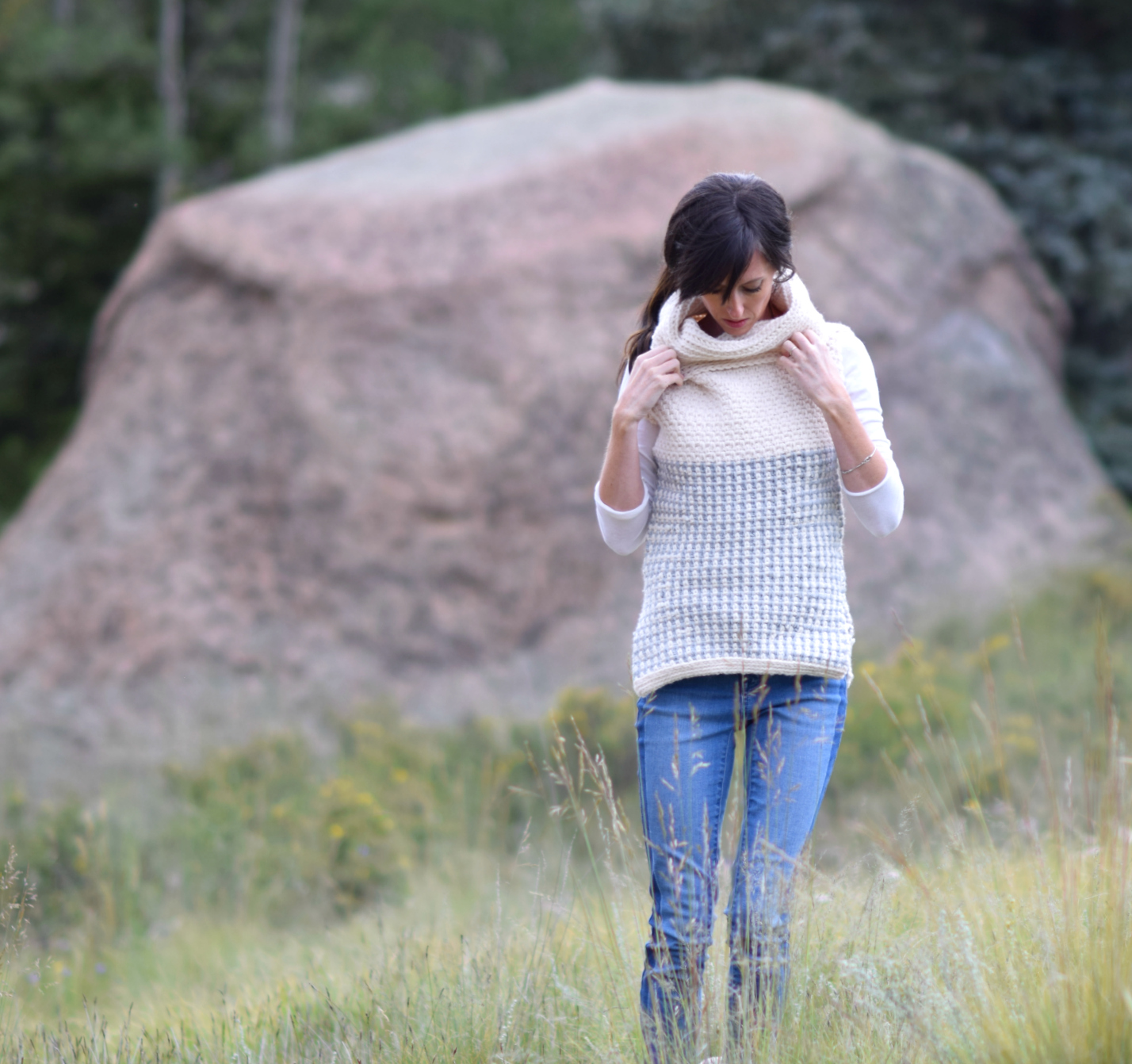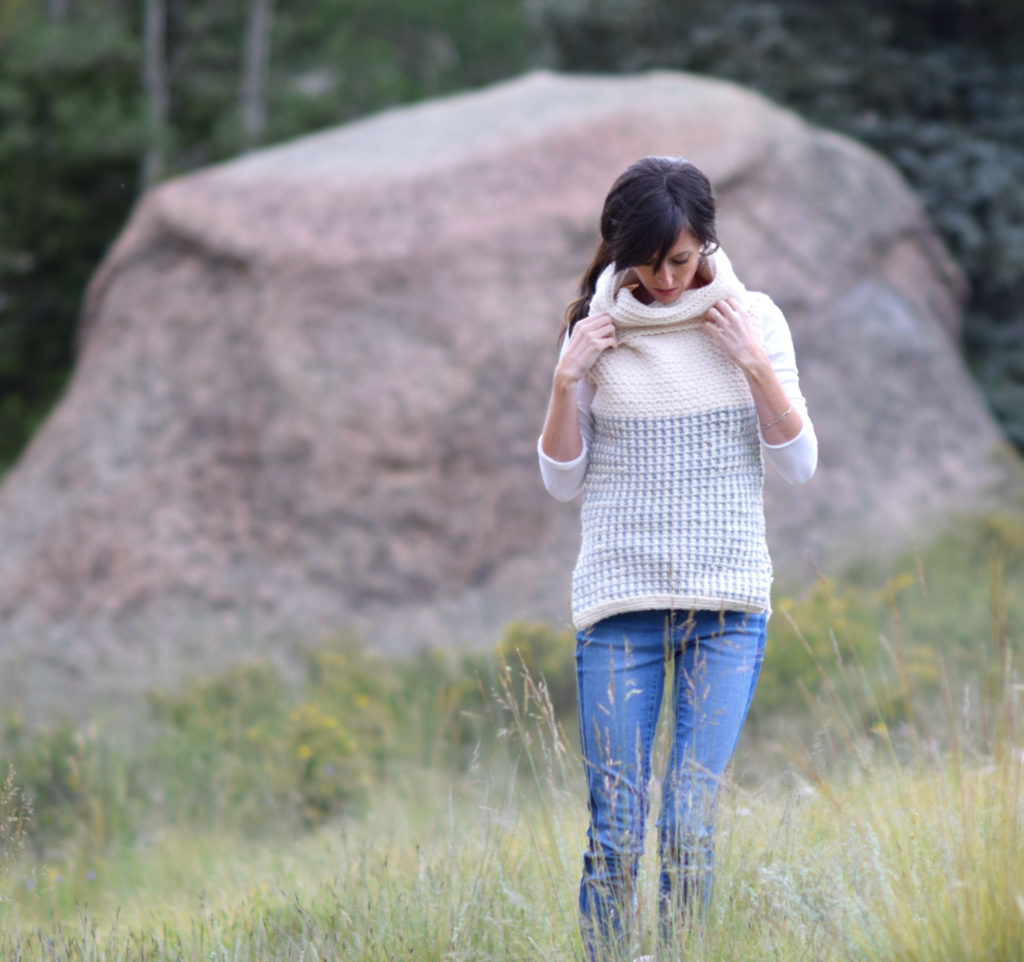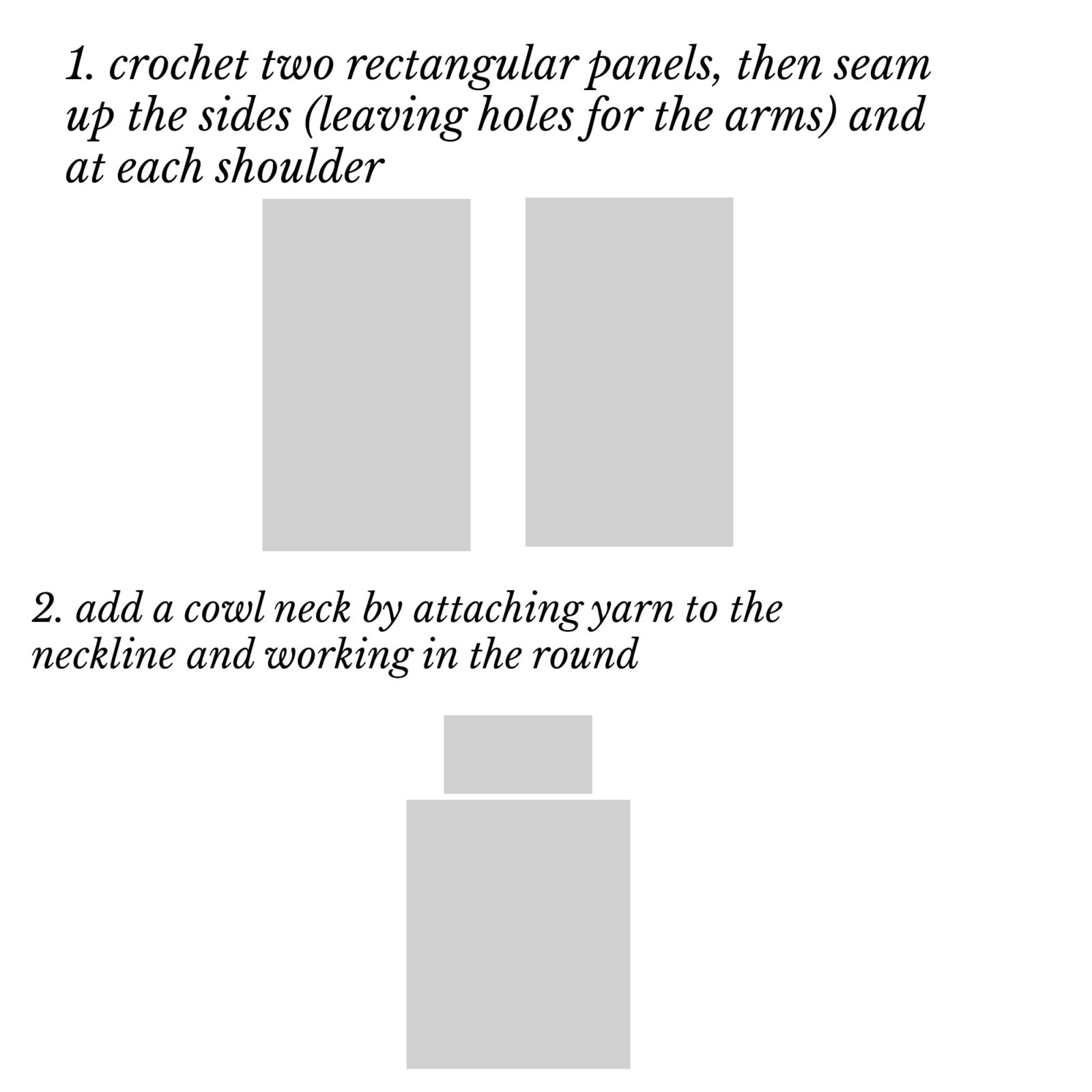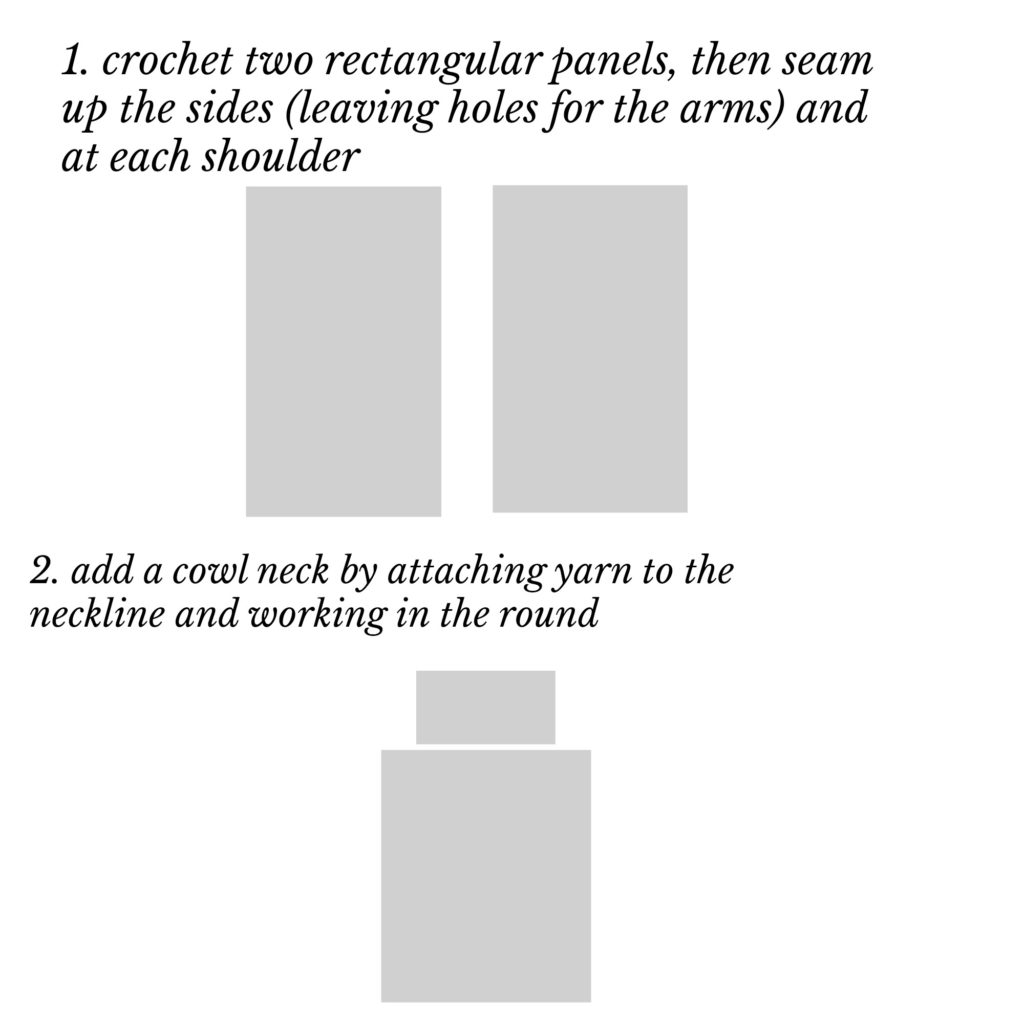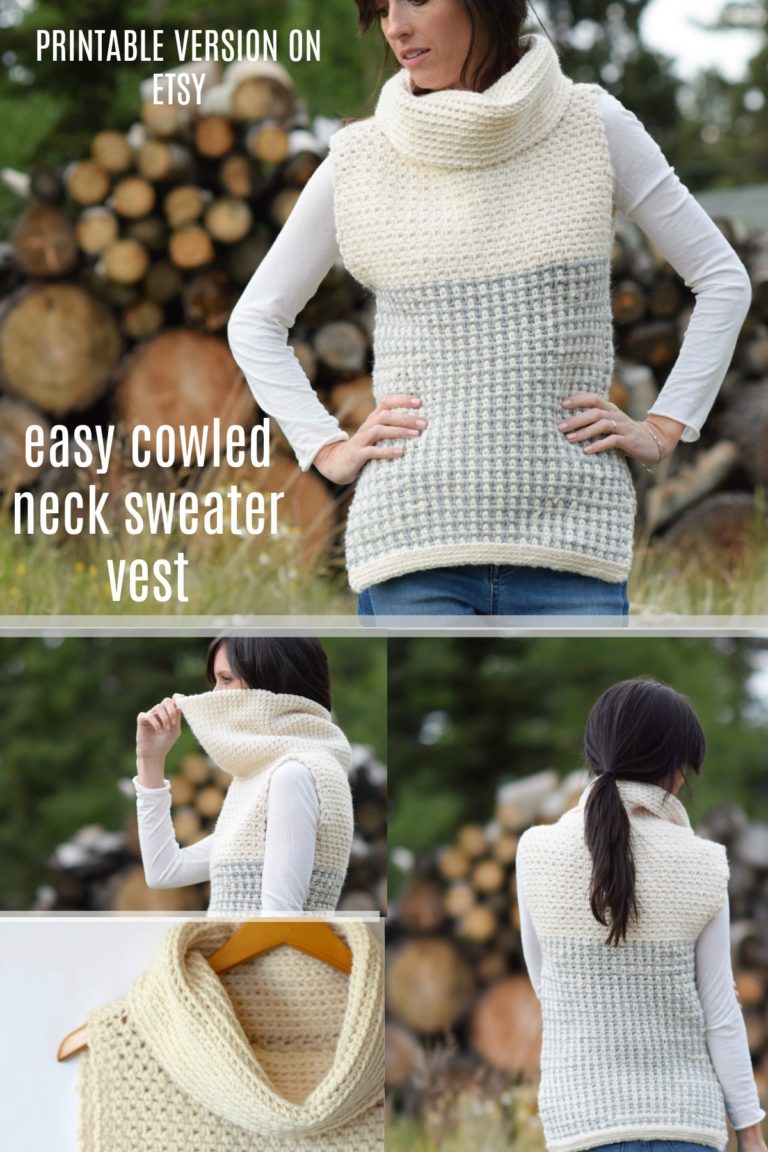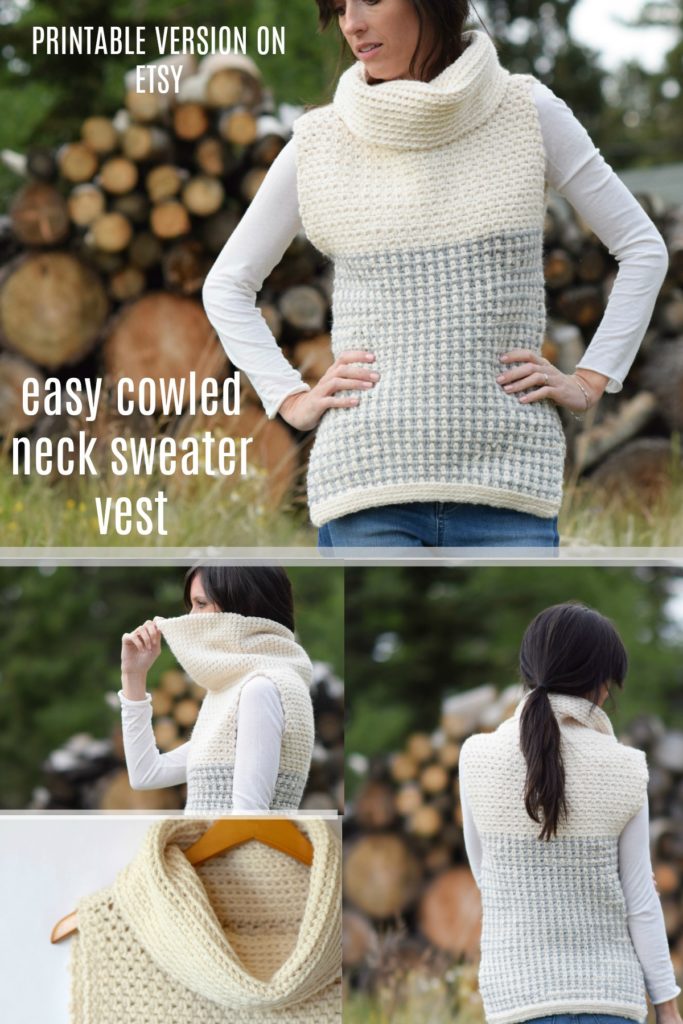 Explanation: This beautiful cowl neck crocheted vest will keep you warm and on trend this fall and winter. The construction is super simple and the stitch pattern stunning. Enjoy!
Level: Easy + (You should be very comfortable with basic crochet stitches)
You will need:
Size K 6.5mm crochet hook
Size L 8.0 mm crochet hook
Lion Brand Yarn Wool Ease Chunky Yarn (*Approximate Yarn Needs) in Fisherman 4 skeins & 2 skeins in Silver Grey (140 g/skein) (Pattern uses approximately 528 g) If you make this in a solid color only, you need 4 skeins only **PLEASE NOTE: I made a boo boo and don't have exact amounts of yarn for each color listed. The entire sweater uses exactly 528 grams (4 skeins will do it if you make a solid color), however I've only listed a guesstimate of how many Grey and Fisherman skeins you will need.
Scissors
Tapestry Needle to weave in ends
Abbreviations and Skills needed:
ch – chain
sc- single crochet
sk st – skip stitch
blo– through the back loop only
ch sp – chain space
Gauge Approximation: 3 stitches per inch & 2.75 rows per inch
Bust Size Circumference Approximation:
XS/Small 32" inches
Pattern is written for a XS/S size
**However, if you would like to modify it for a larger size, you can refer to the following:
Medium: Add 6 chain stitches to starting chain of each panel
Large: Add 12 chain stitches to starting chain of each panel
X Large: Add 18 chain stitches to starting chain of each panel
Note: You may need to purchase more yarn for larger sizes. In addition, for the sizes Large – XL, ensure your piece is at least two inches longer than the pattern indicates for the XS/Small size by crocheting for more rows and more length. By adding the chain stitches above, your piece should measure approximately these sizes around the bust:
Medium 36" inches
Large 40" inches
XL 44" inches
Notes:
This sweater is crocheted with the granite stitch (aka moss stitch). If you have never used done this stitch, you may want to practice on a small swatch before you attempt the vest. Simply follow along with the tutorial on my blog. You can find the full picture tutorial on how to make this stitch on my blog here: https://www.mamainastitch.com/how-to-crochet-the-granite-or-moss-stitch/

This sweater is worked flat and is made by creating one front panel and one back panel which are then seamed. It is worked from the top down.
You may also choose to forgo the striping and make this a solid color. This will use only 4 skeins of the Lion Brand Wool Ease Chunky yarn.
*Crochet loosely if you want a more relaxed fit as the stitch work can get tight.
*You will crochet the cowl neck in the round, so you should be familiar with crocheting in the round.

Crocheted Cowled Sweater Vest Pattern
Ch 49 with Fisherman (Pattern written for XS/S – Please see "Note" above on suggestions to adjust sizing for larger sizes)
Row 1 Sc in 2nd st from hook, *ch 1, sk ch, sc in next ch. Repeat from * across. Sc in last stitch of row.
Row 2 Sc in in 1st sc, *ch 1, sk st, sc in ch sp below. Repeat from * across. Sc in last stitch of row.
Repeat row 2 for approximately 8" inches (You are simply making single crochet stitches in the chain spaces below across the row)
**At this point, you should consider measuring your piece across to see if it will fit across your bust. Make adjustments if needed by either changing your hook size or your tension. Two of these panels seamed should fit around your bust comfortably.
Striped Section:
Change color to Silver/Grey
Repeat row 2
Change color to Fisherman
Repeat row 2
Continue this pattern, alternating the color Silver/Grey and the color Fisherman for each row until your entire piece (from top to bottom, including both the solid Fisherman and striped sections) measure approximately 21.5" inches long.
Bottom Edge
Row 1 With Fisherman, slip stitch across row, ch 1, turn
Repeat row 1 until you have approximately 1" inch of slip stitch rows
Tie off and weave in ends.
Repeat this pattern to make the back panel of your crocheted top.
Seaming:
Side Seaming:
Lay pieces together in order to seam. Begin your seam 9" inches from the top of your pieces. (This 9" inches will be the opening for the arms) Seam from this point downward with a simple whip stitch. End your seam 6" inches from the bottom. This will create an opening of 6" inch opening at the bottom side of your top adding style and room for the hips. Repeat this on both sides.
Top Seam:
You will now seam at the shoulders. Attach your yarn to the outer edge and seam evenly inward on each side leaving a space in the center of approximately 11.5" inches. Tie off and weave in ends.
Cowl Neck Portion:
With your size L 8.0 mm crochet hook, attach Fisherman yarn to neck opening. **Work this section in continuous rounds. No need to join in the round or count rounds with stitch markers.
Round 1 Sc evenly around
Round 2 Sc blo evenly around
Repeat round 2, working in continuous rounds until neck cowl measures 8" inches tall. Tie off and weave in ends.
That is all there is to it! Two rectangles and an easy peasy neck.

I hope you enjoyed vest and let me know if you make one! And feel free to follow along as I share several fall inspired patterns over the next several weeks as part of my Cabin Fever Fall Collection! Thanks so much as always and have a lovely day my friends!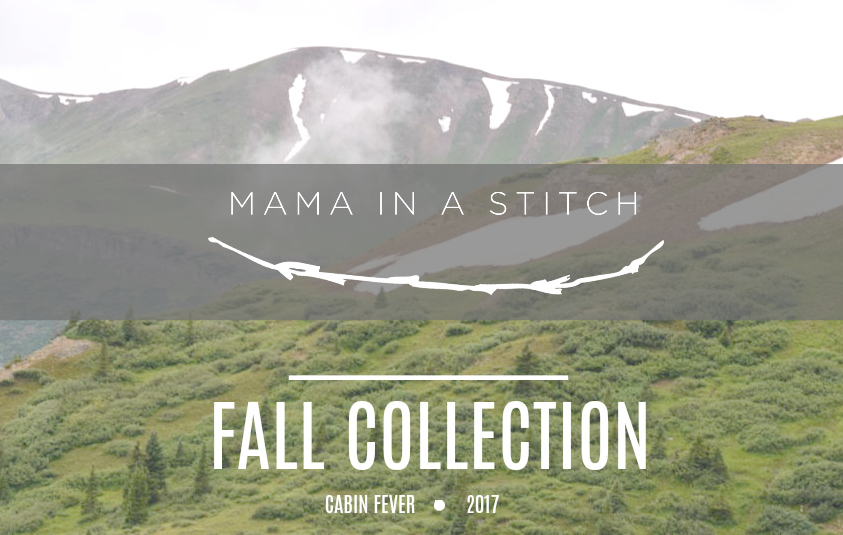 XO
Jessica
If you liked this, you might also like: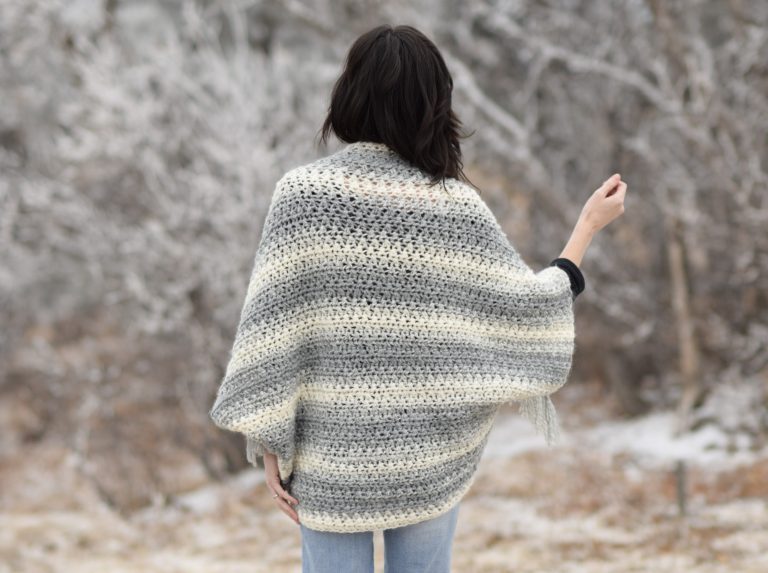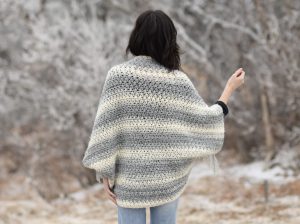 Light Frost Blanket Sweater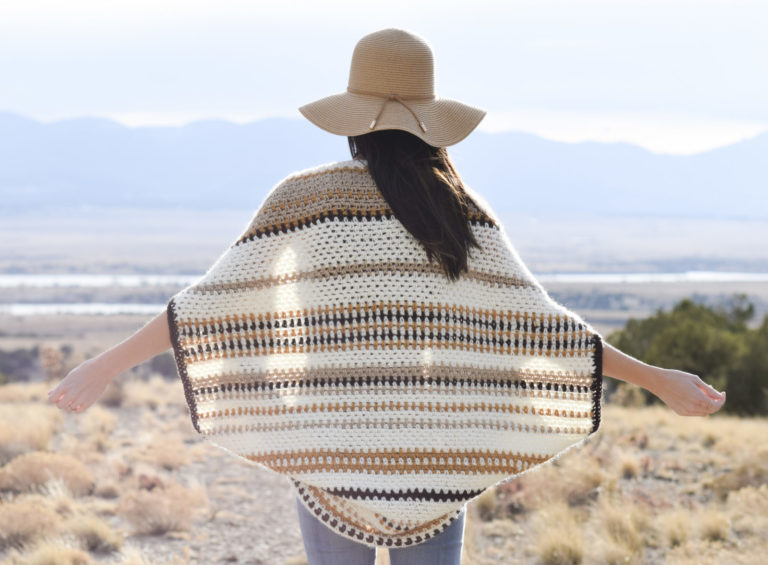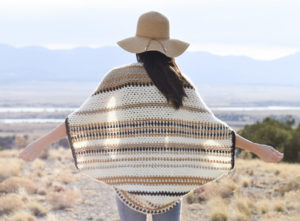 Baja Blanket Sweater