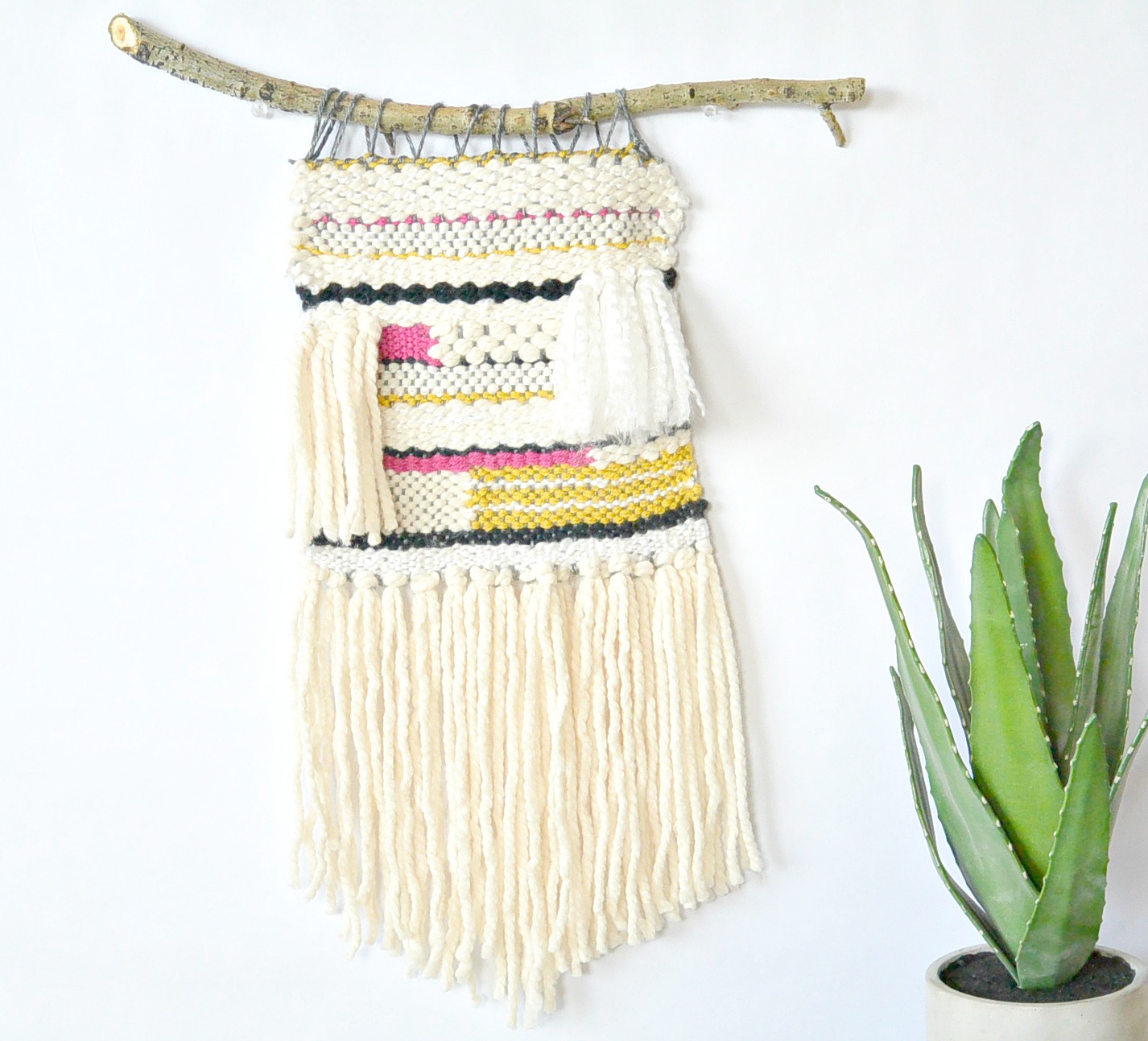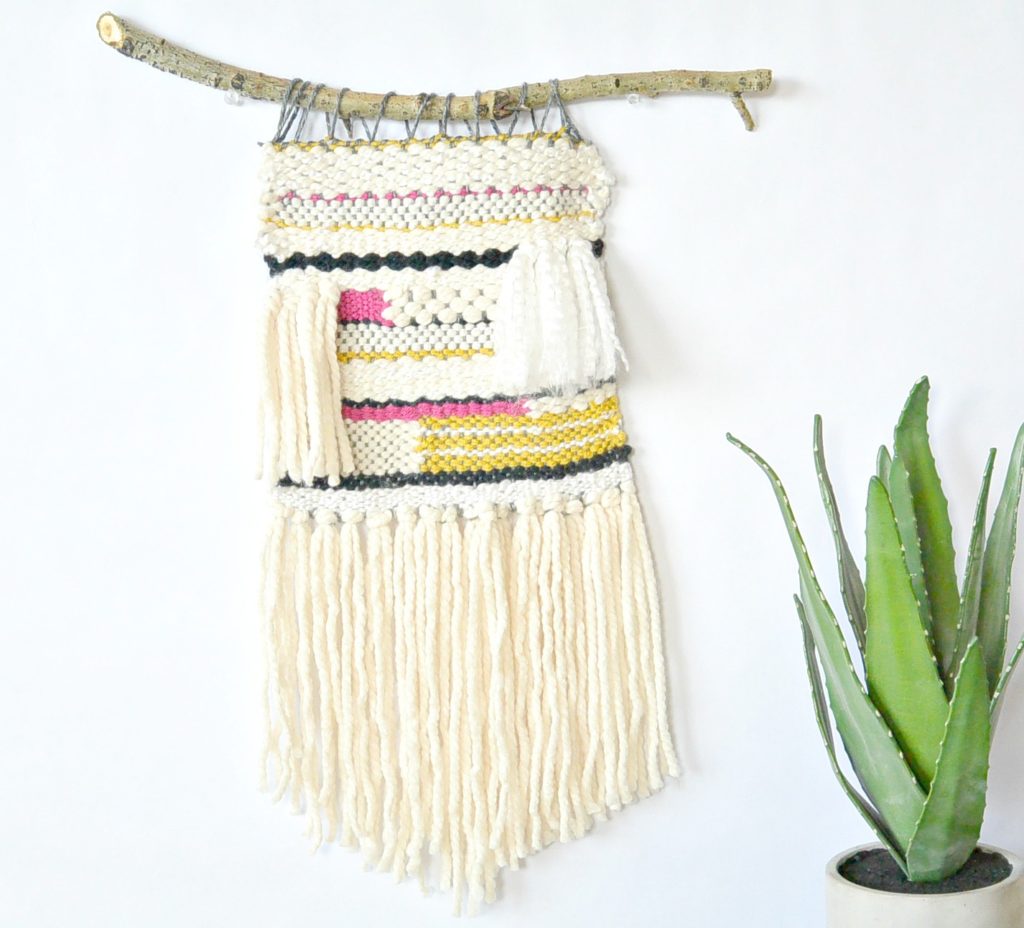 I've been itching to try out weaving for what seems like FOREVER, so I was thrilled when I heard that Lion Brand came out with a lap loom. Do you remember that little woven nylon potholder you made in elementary school? I loved that thing, so I had a feeling this weaving trend was right up my alley.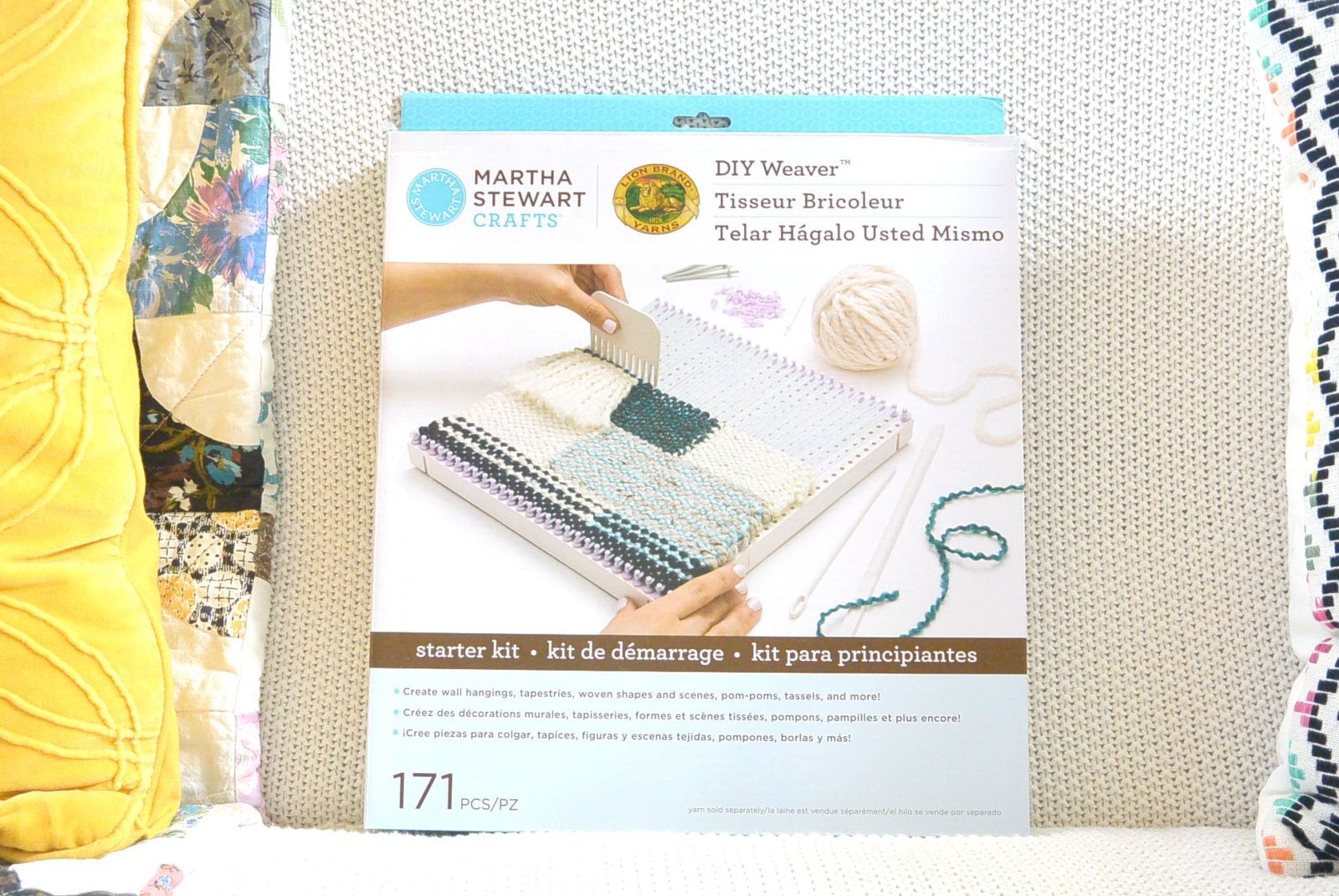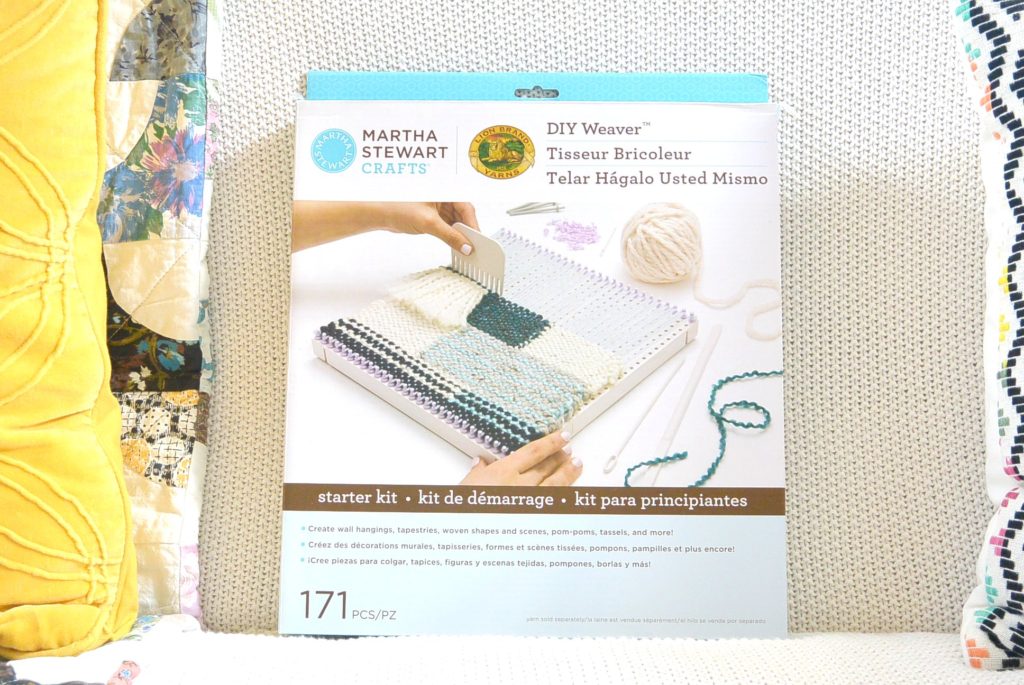 I decided on making a wall hanging because it would be small enough as to not be overwhelming for a first project. It would also look lovely hanging on my office wall. 🙂
Let's face it, the whole woven wall hanging thing is all the rage.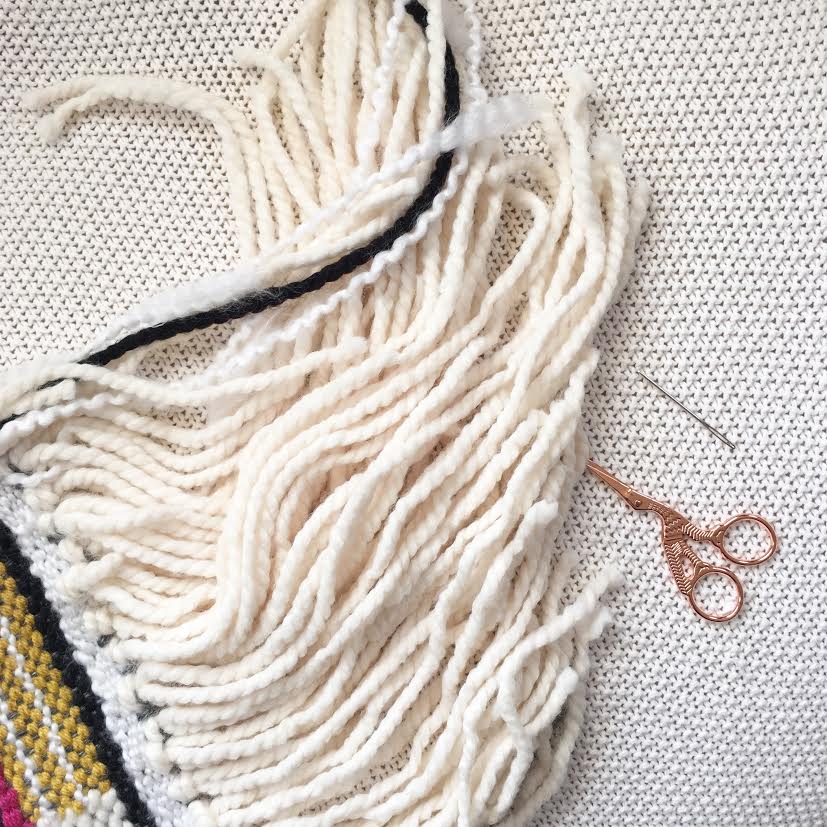 In this blog post, I'll share with you a bit about my project and I've also posted a HOW TO WEAVE ON A LAP LOOM TUTORIAL HERE that includes a link to a YouTube video to get you started.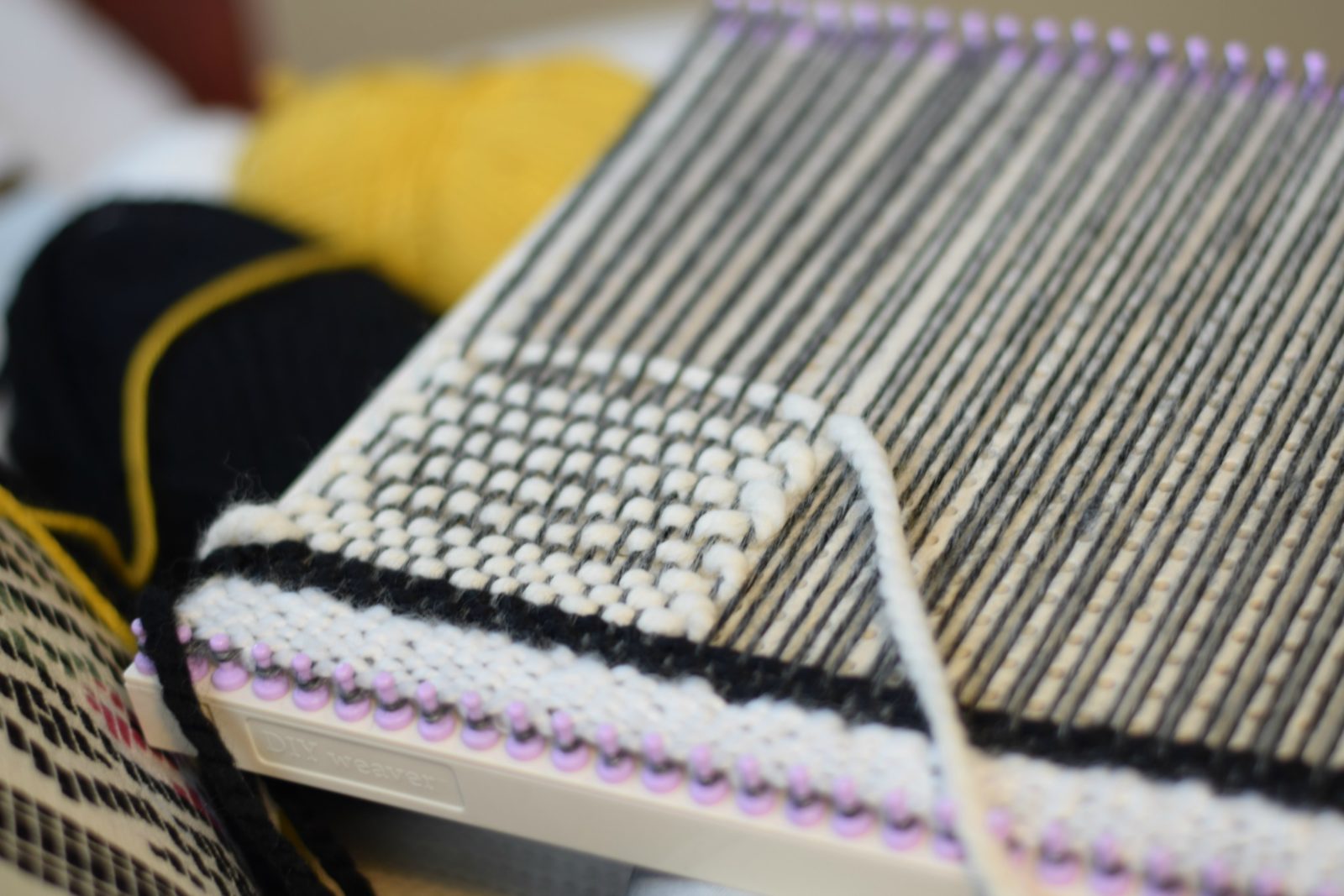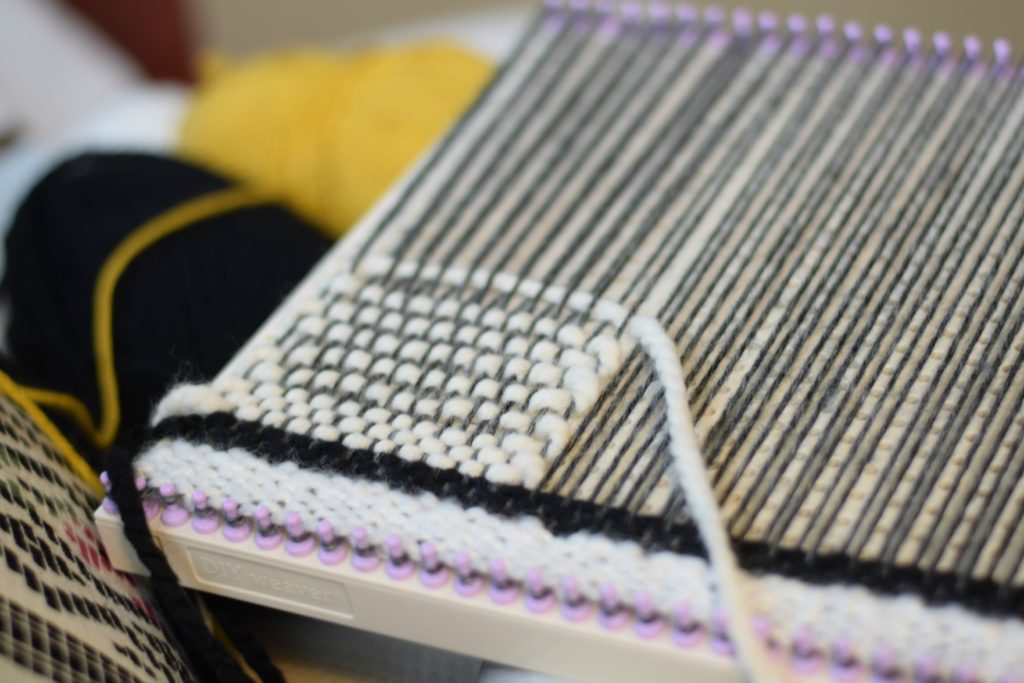 Weaving on this lap loom was a lot like the little loom that you remember from elementary school, only it's more sophisticated and can make a wide variety of projects. I simply followed the instructions in the booklet (included with the kit) on how to set up the loom. It was really easy, and while I usually need a visual YouTube video to learn something new, this book was everything I needed to be able to get my weave on.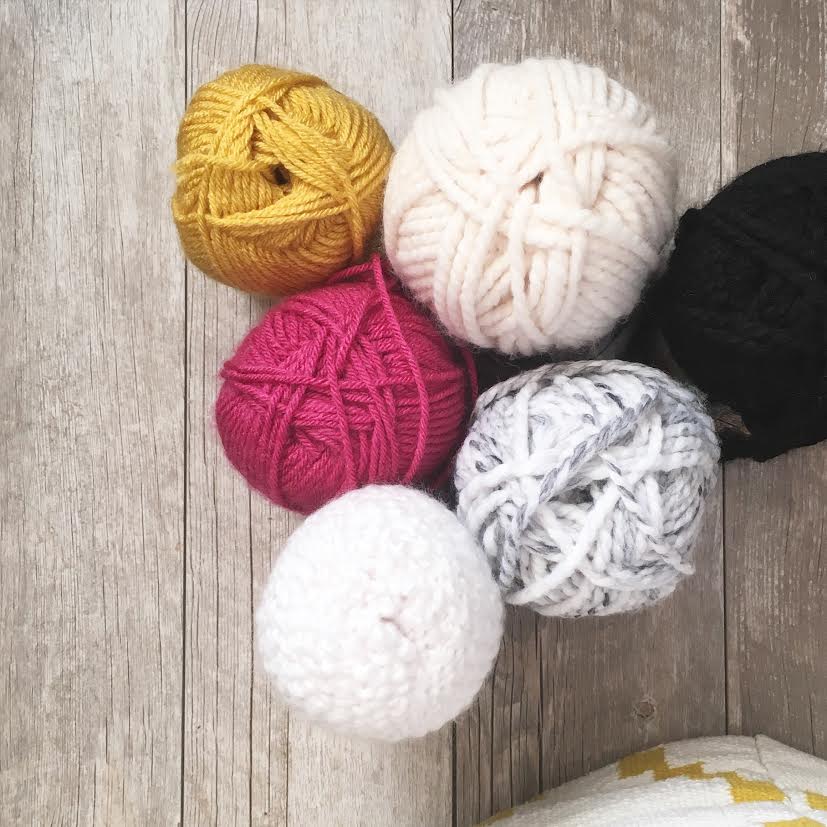 One of the things that I found fun about this weaving project was the ability to pick any color yarn in any weight that I wanted. You can get really creative with your choices. Pick colors that match a certain room in your house, or let your child pick their favorite colors for their bedroom.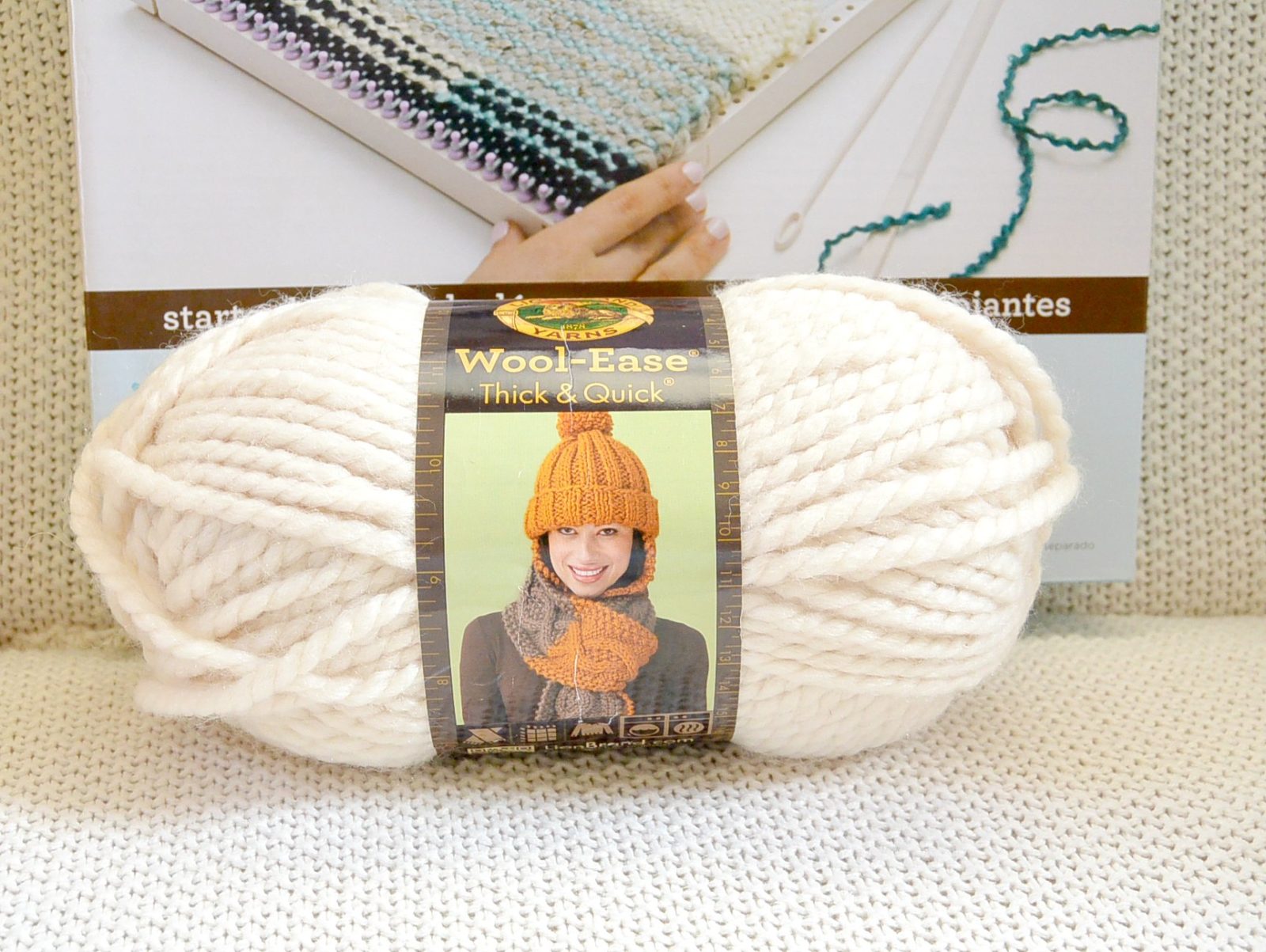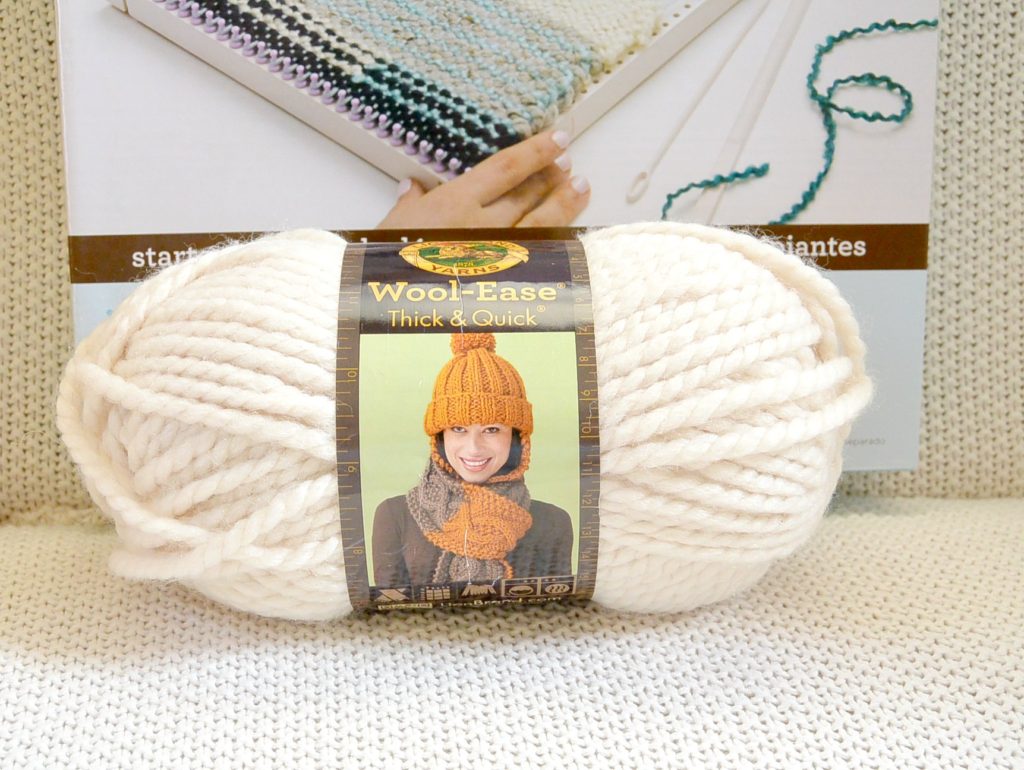 For this wall hanging I used:
Lion Brand Yarn Vannas Choice in Raspberry & Mustard
Lion Brand Yarn Wool Ease Thick & Quick in Fisherman & Black
Lion Brand Yarn Homespun in Hepple White
Lion Brand Heartland USA in Mt Rainier (for the weft)
1 Lion Brand DIY Weaver Kit (It came with everything you need to make a wall hanging like this, and includes instructions and a pattern for a beautiful place mat)
1 Branch ( I cut mine off of an Aspen tree in the backyard – don't tell the hubs )
How I Made It:
By using super simple weaving methods that you find in the booklet, I really free handed this wall hanging. The main yarn that I used was the Wool Ease Thick & Quick in Fisherman. I varied my weaving methods, some rows going over and under one, some rows going over and under two (See more about this in my WEAVING TUTORIAL). For the thickest portion I held three strands of Thick & Quick yarn together. The fringe was added with more Thick & Quick Fisherman, and the Homespun. I pulled apart the ends of the fringe on the Homespun to get the super fuzzy look on that fringed portion.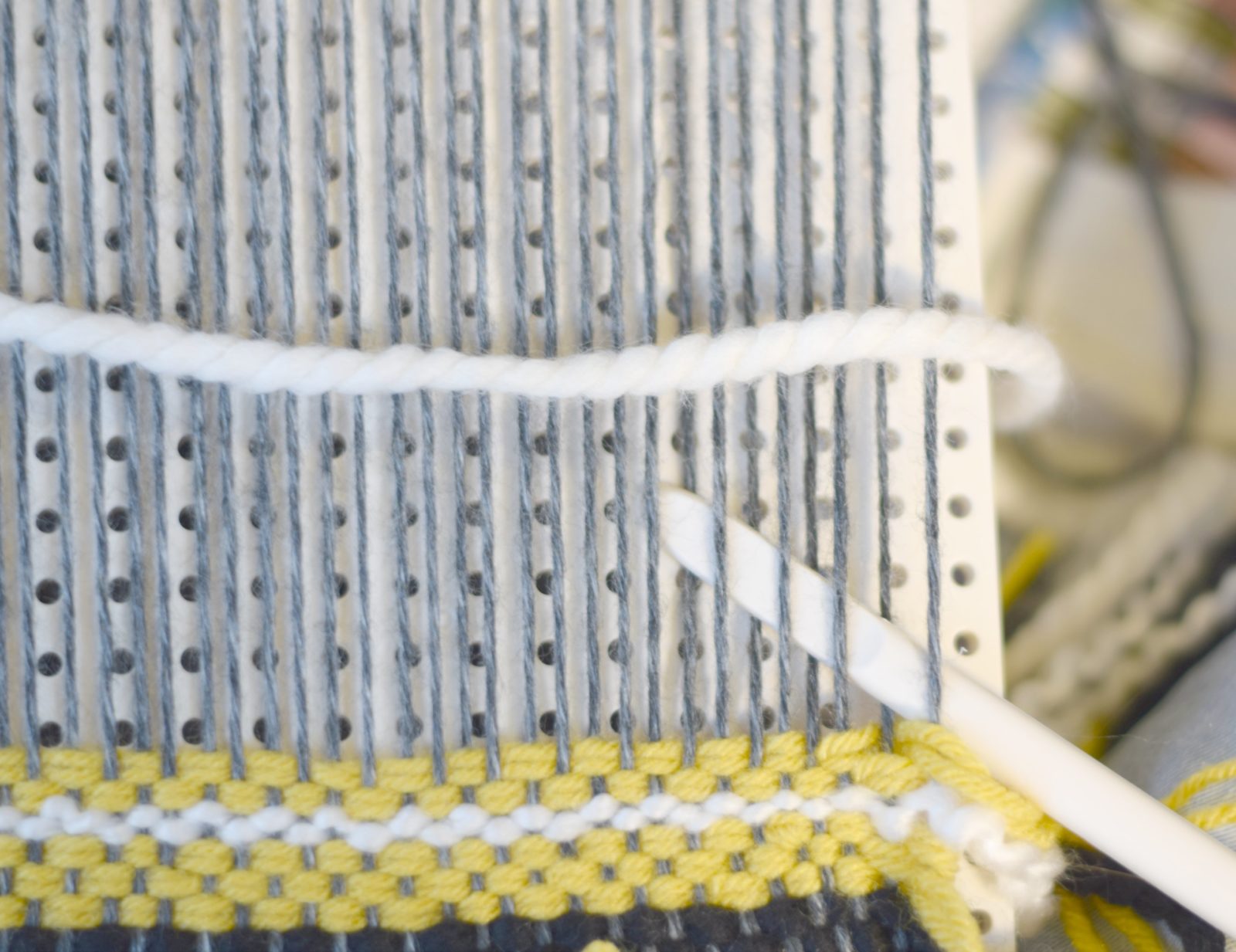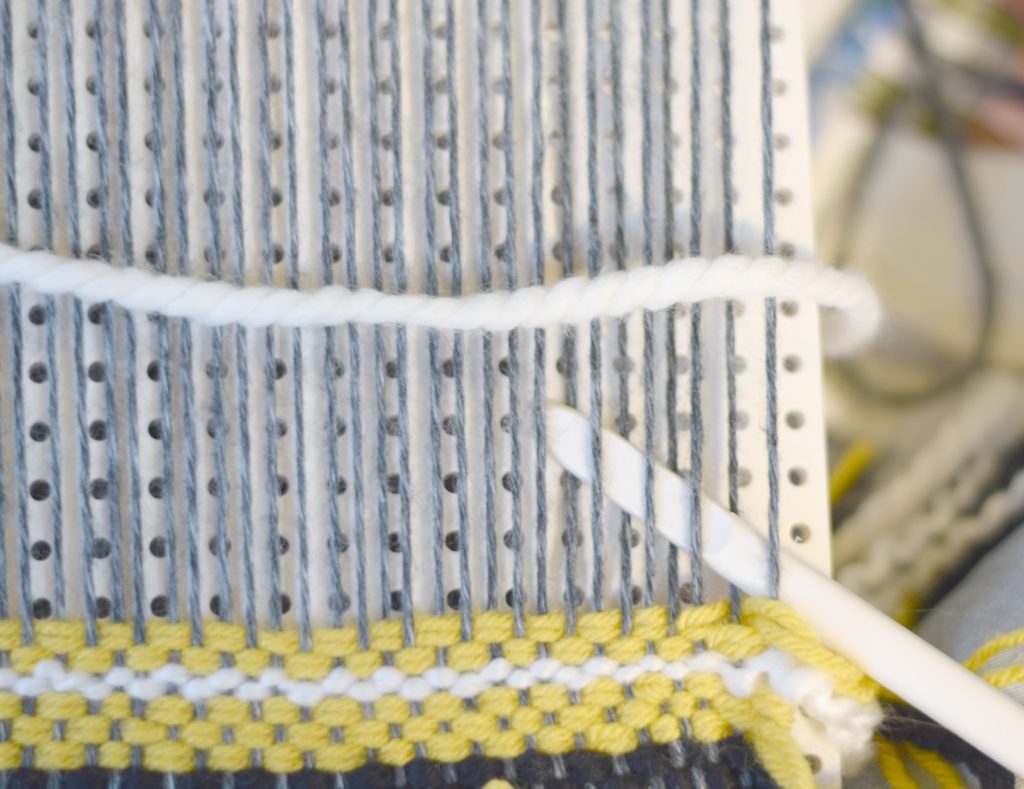 Once you're done with your work, you will simply take it off of the loom as directed.
I tied mine to a branch from my backyard. Voila!
I knew once I was working on this project that I had to go visit a family friend, Elaine Starrett, who is a weaver and a master of her craft. She has been weaving for over 30 years and makes everything from rugs to baby blankets. She said she has used several different fibers to make her rugs over the years. Everything from old jeans cut into strips, to old wool skirts have made up her gorgeous rugs. It goes to show that you really can get creative with weaving.
My conclusion from this weaving project is that it's yet another craft with which you can become addicted. The real fun is the ability to get creative and make it "your own". This lap loom is just perfect for me as I love the quick and easy projects (plus you can sit on my couch and watch Netflix while weaving). Perfection!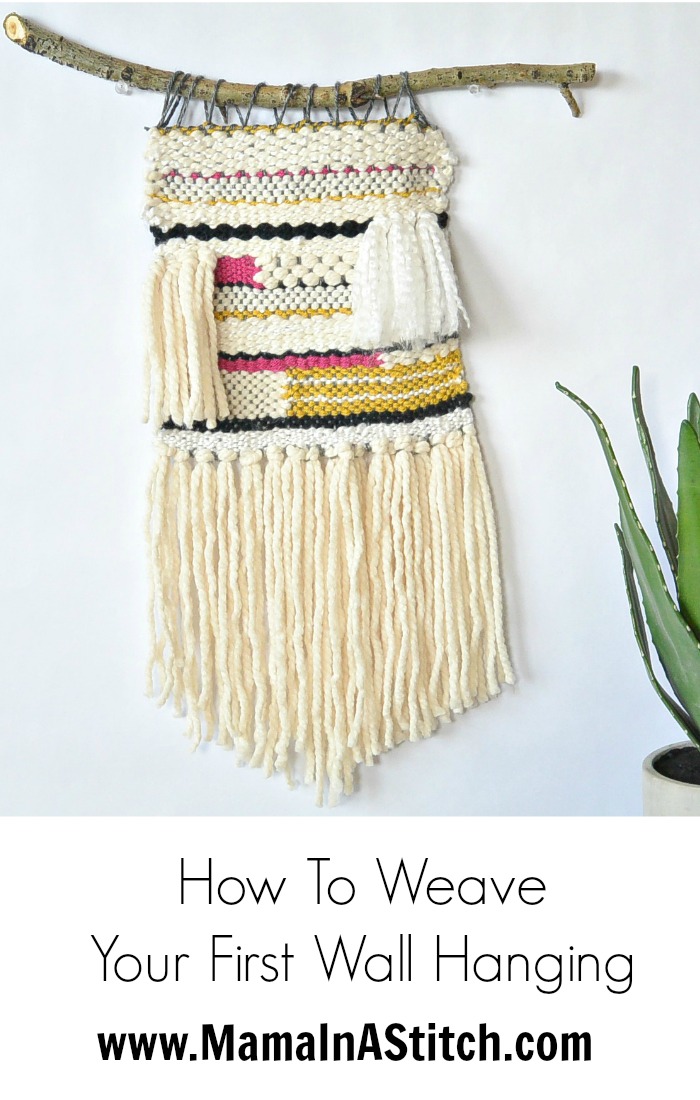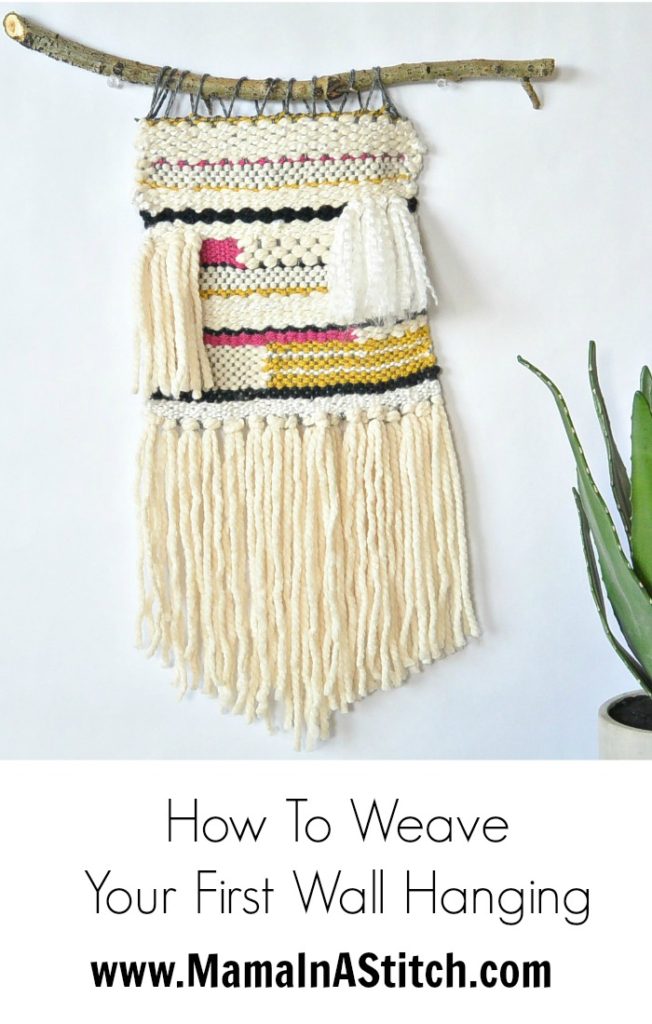 Be sure to check out my WEAVING PICTURE TUTORIAL HERE to learn more about how to get your weave on with a lap loom.
This post is sponsored by Lion Brand Yarn. All opinions are 100% my own.