Fall Cuddler Chunky Blanket Knitting Pattern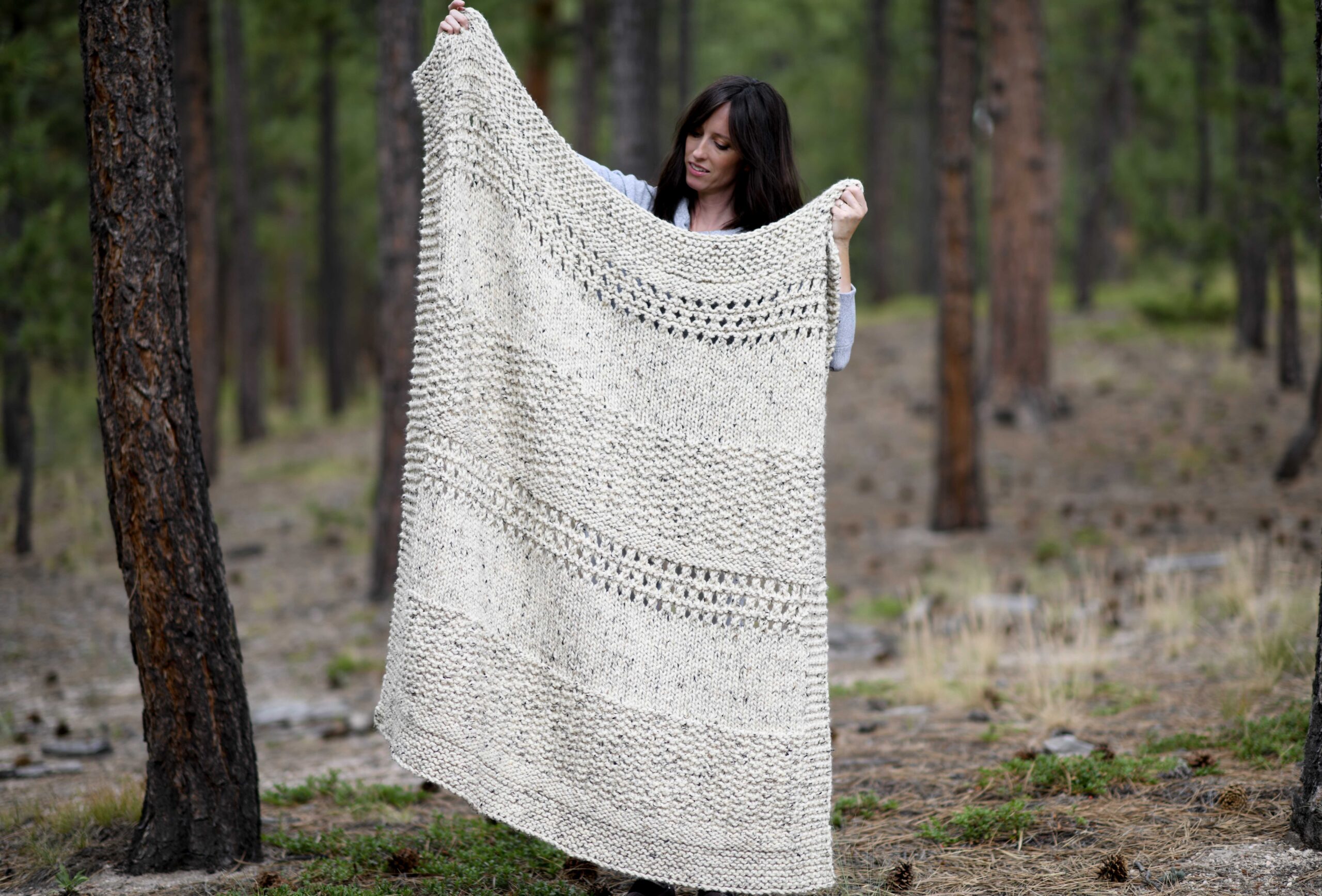 Today's knitting pattern is a cozy, beautifully textured knit Fall chunky blanket! The pattern for this Fall cuddler looks complex thanks to a variety of stitches. Thankfully, it's so easy that it's perfect for beginners. You can find the free pattern below, the printable from my Etsy shop HERE, or grab the kit from Lion Brand Yarn here! 🙂
I'm excited to share this chunky blanket I made – just in time for fall!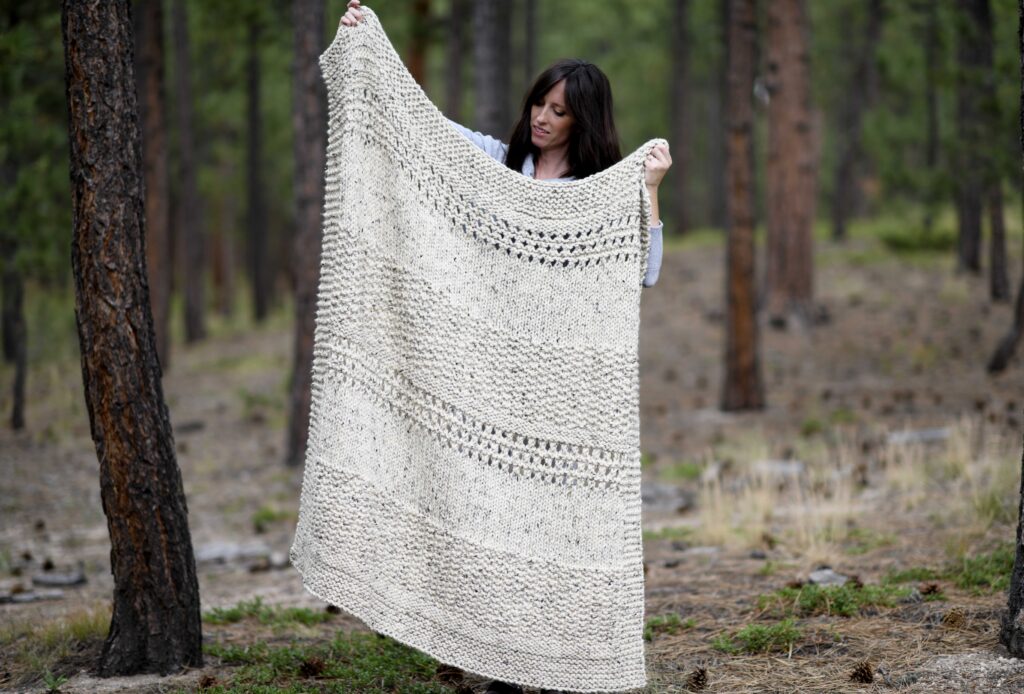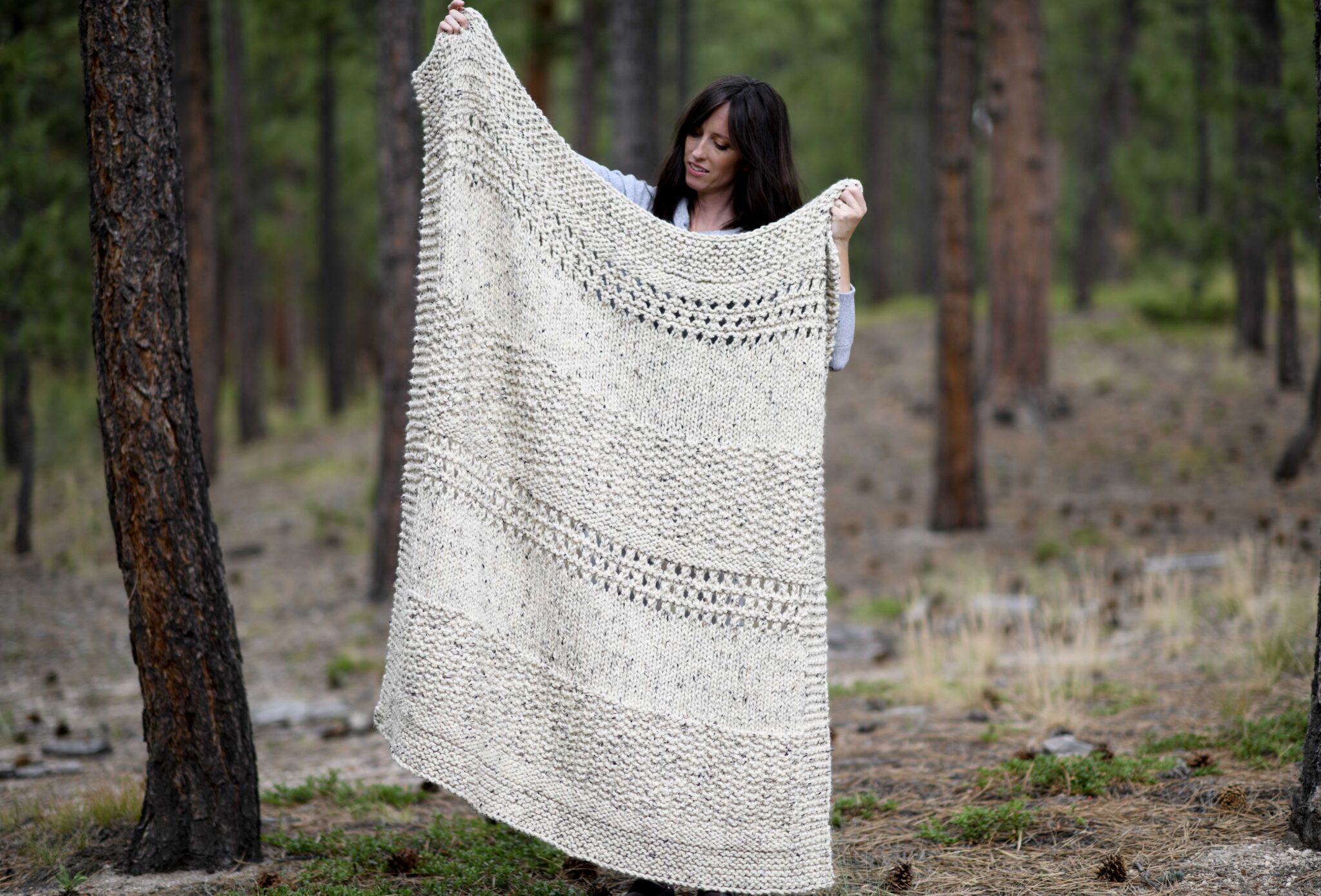 One of the features that I like about this blanket is that it looks great on either side. It's even reversible! You can work it up quickly since it uses super bulky yarn and larger knitting needles, which means it's doable to have it done in time for fall.
This pattern is one blanket that every knitter should make because it will look lovely, keep you toasty on cool evenings, and make a great DIY gift idea.
If you tend to get bored when knitting, this chunky blanket is for you. Fall throw blankets like this one are trendy right now but don't worry- you'll be able to use it for years to come!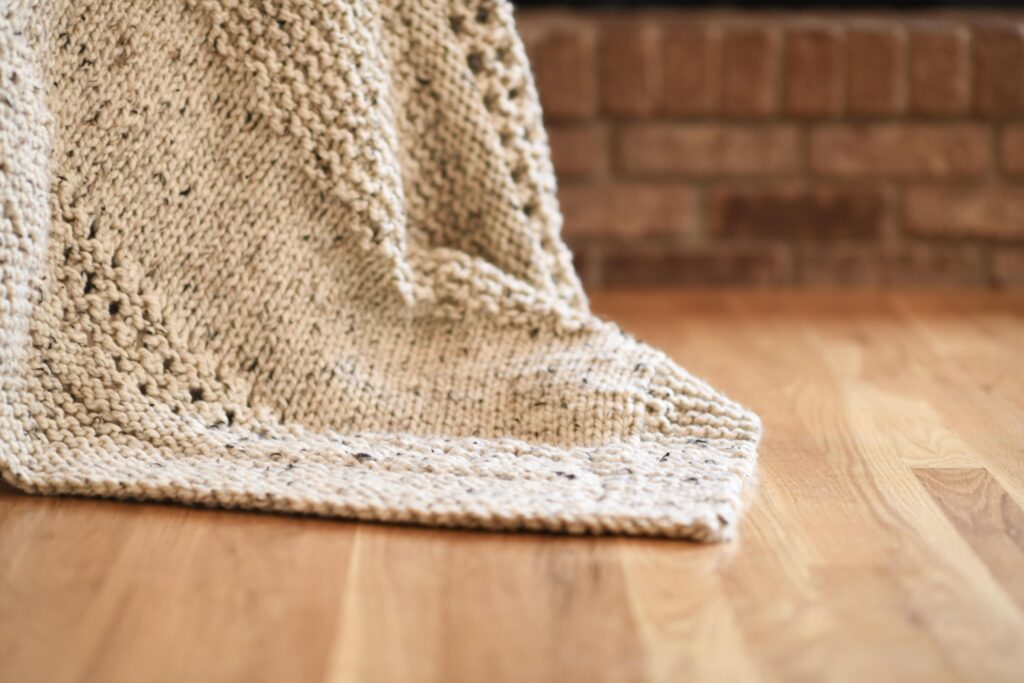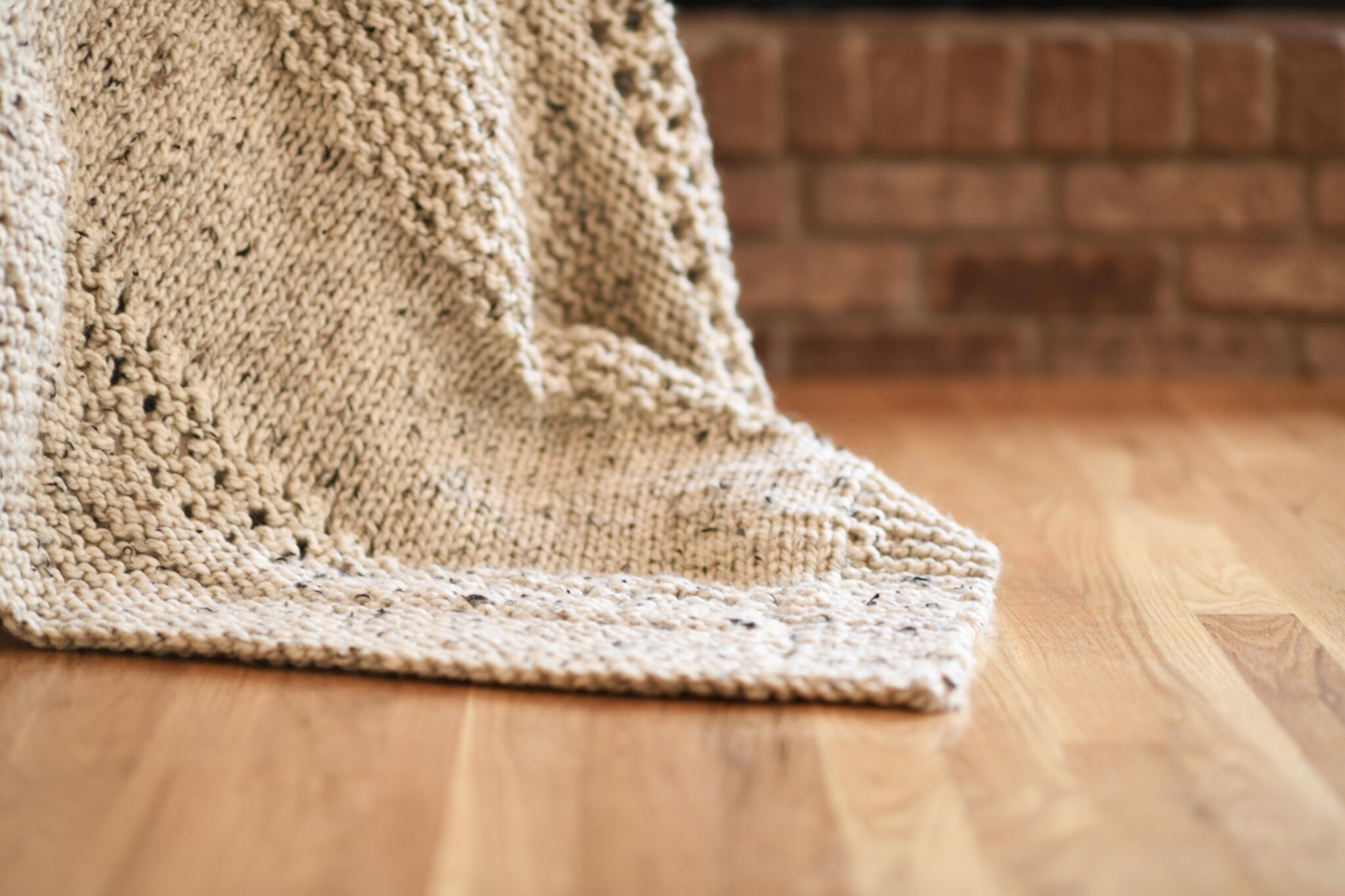 A Similar But Different Chunky Blanket
Last winter, I shared a squishy, textured blanket and wanted to make a similar style for this fall. Enter the Fall Cuddler! Inspired by cozy fall vibes, this blanket is meant for curling up on cool autumn evenings.
The pattern uses a variety of knit stitches which makes it appear more complicated than it actually is because every type of stitch is an easy one! Check out the free pattern below to see how it's made, or you can purchase the printable, ad-free version.
When I shared a photo of this chunky blanket on social media, some of you mentioned it reminds you of my Heirloom Blanket. I can see the resemblance!
The basic stitches that you will need to be comfortable with are knitting, purling, doing yarn overs, and basic decreasing. They are all super simple, trust me!
In case you haven't learned to knit yet, I have a couple of videos. Go check them out, and then come on back here once your comfortable with the basic two stitches!
How To Knit & Purl Video Tutorial
Here's a quick video I made showing how to knit (click HERE), and below, how to purl. If you need to learn the other basic stitches I mentioned above, head over to YouTube and search for the ones you need!
Yarn Over tutorial
Here's a great video I found that shows you how to do yarn overs.
Shall we get started?
See the free pattern below, or you may choose to purchase the ad-free printable PDF version from my Etsy shop. 🙂
How To Knit A Fall Cuddler Chunky Blanket
When choosing a color for this fall-inspired chunky blanket, I wanted to use a natural and neutral yarn. It felt right, so I went with it! It's been a while since I've used the Lion Brand Wool Ease Thick & Quick in Oatmeal, and it seemed like the perfect fall color option.
Keep in mind that you can choose any color that you like for this Fall throw blanket! Lion Brand offers this yarn in SO MANY colors, so you should be able to find one you love. But if you have a different brand you love, you can use any super bulky yarn you prefer.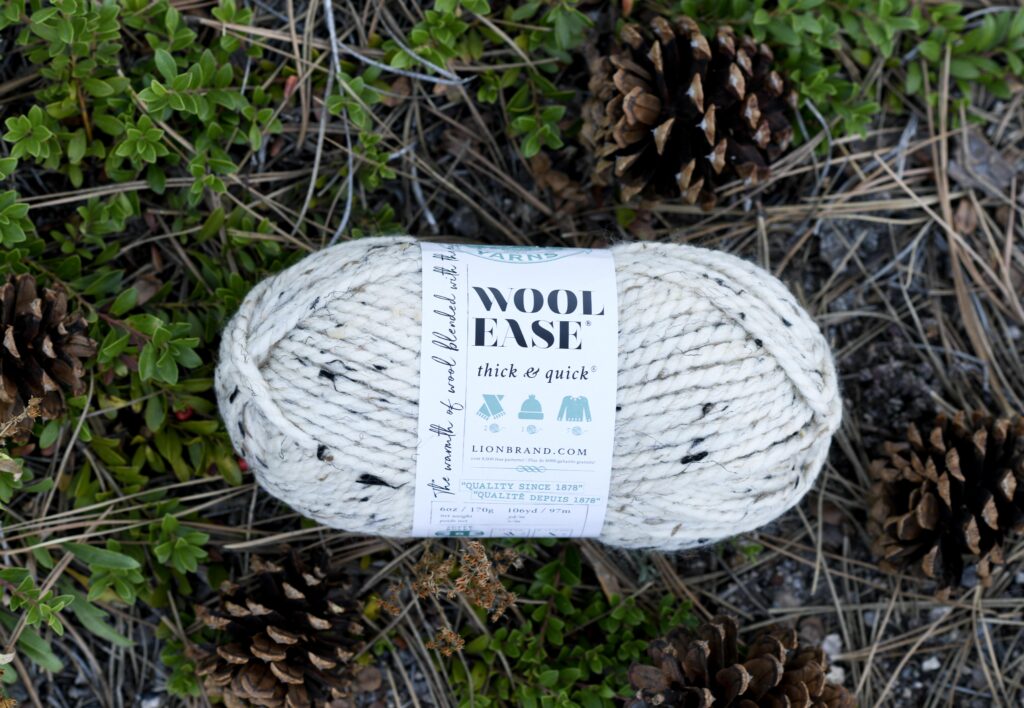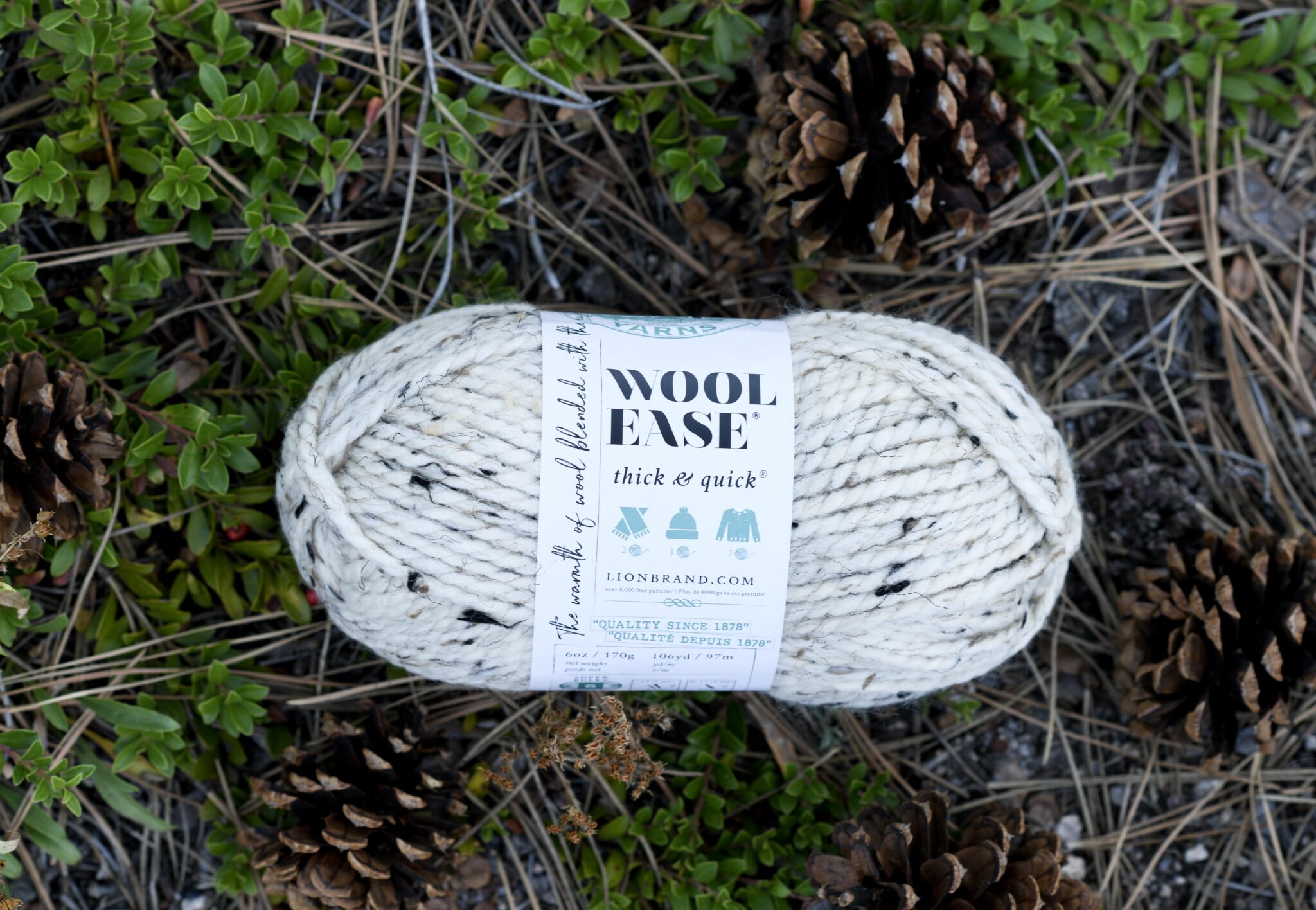 Fall Throw Blanket Pattern Description
Wrap yourself up in a warm, fall cuddle, otherwise known as a chunky blanket. A beautiful variety of stitches, textures, and lofty yarn make this blanket fun to knit and super cozy to curl up with. This blanket is easy enough for advanced beginners and basic enough for any level. Enjoy!
Materials You'll Need For This Fall Chunky Blanket Project
Size
Lapghan 45" x 45"
Gauge
Approximately 7 sts & 11 rows in 4" of stockinette
Abbreviations (US) & Skills
k -knit
p – purl
yo – yarn over
k2tog – knit two together (decrease)
st – stitch
sts – stitches
RS – right side
WS – wrong side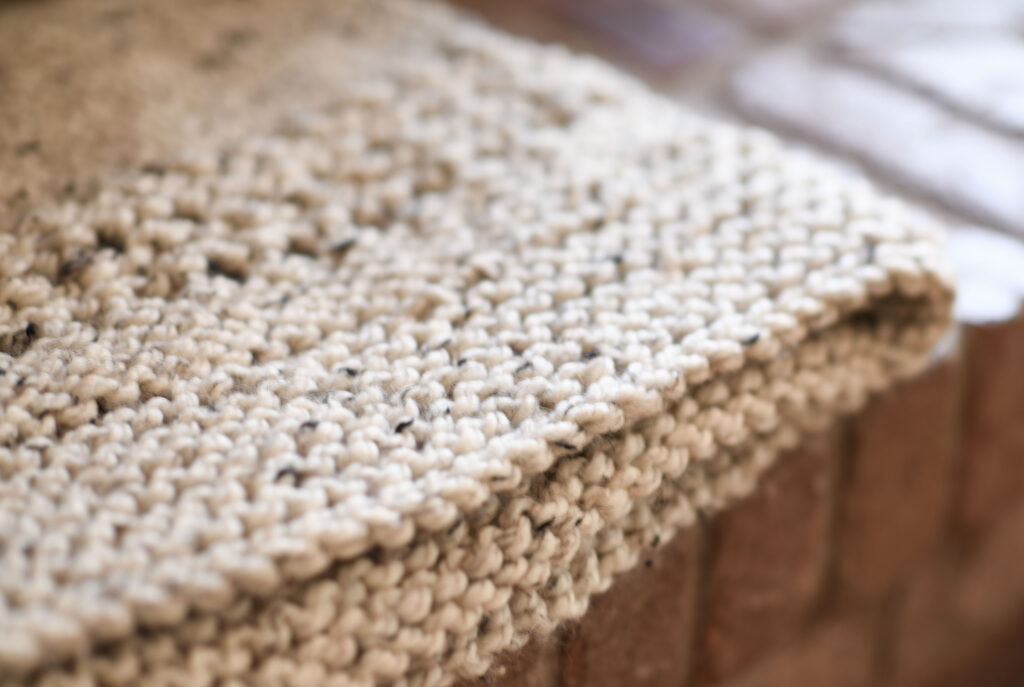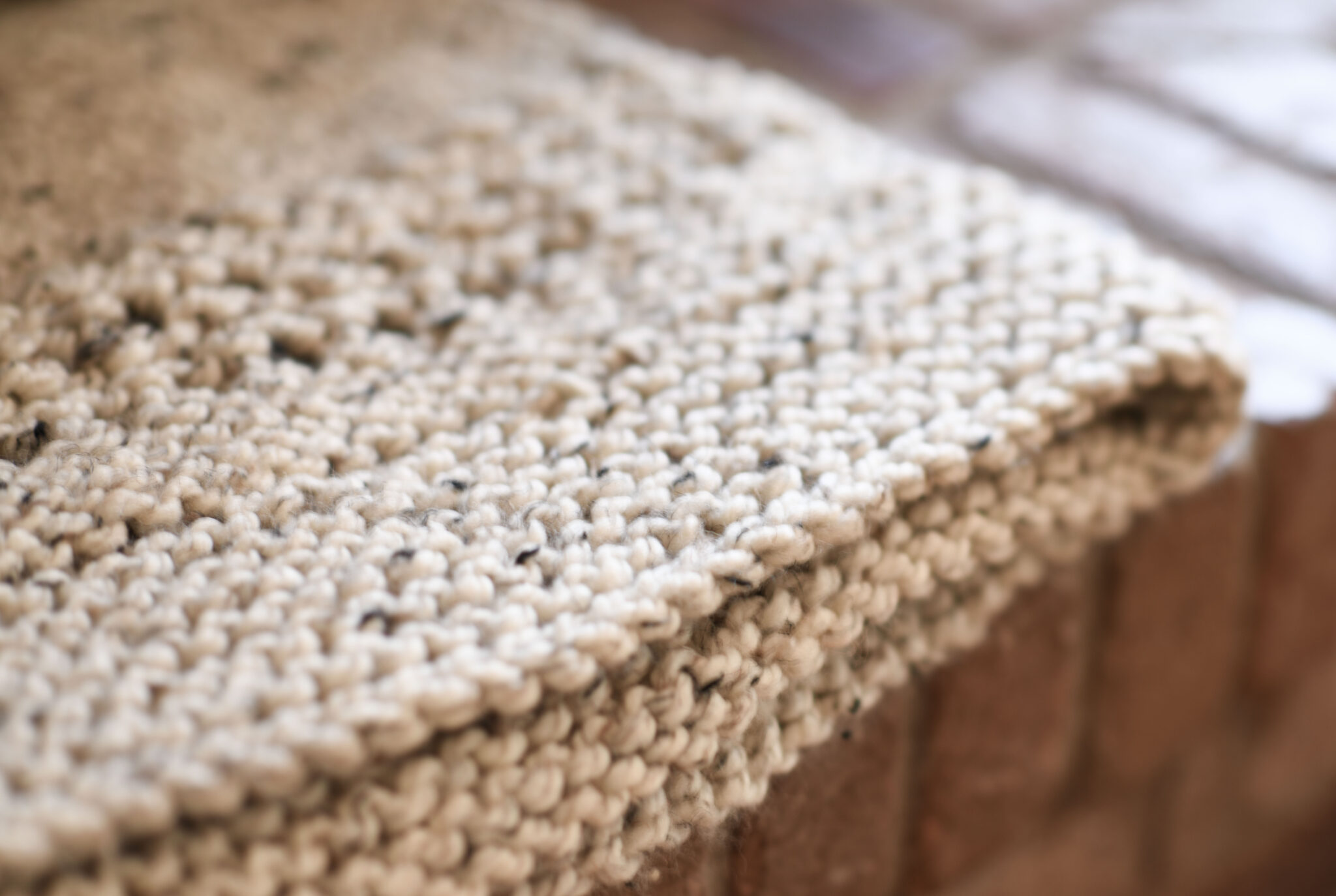 Pattern Notes
This blanket uses several different stitches, including stockinette stitch, double moss stitch, reverse stockinette, and eyelets on garter stitch. You can find tutorials for many of these stitch patterns by conducting a basic search on YouTube or Google.
If you would like to adjust the width of the blanket, keep in mind that the center pattern must be a multiple of 4 stitches (excluding the garter stitch edges for the border, 7sts, on each side).
To adjust the length, simply knit more or fewer rows while following the stitch pattern. For best results, just repeat rows 19 – 78 to create a longer throw blanket. The blanket is knit from the bottom up.
Onward!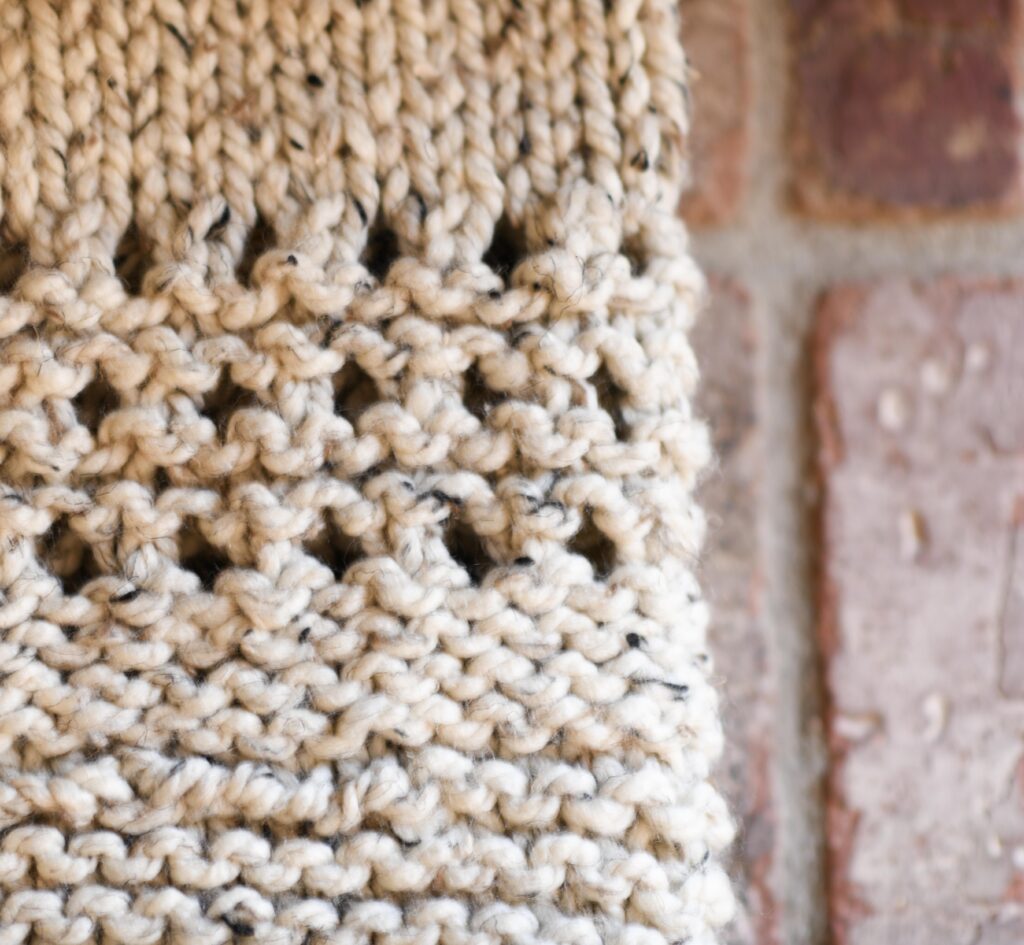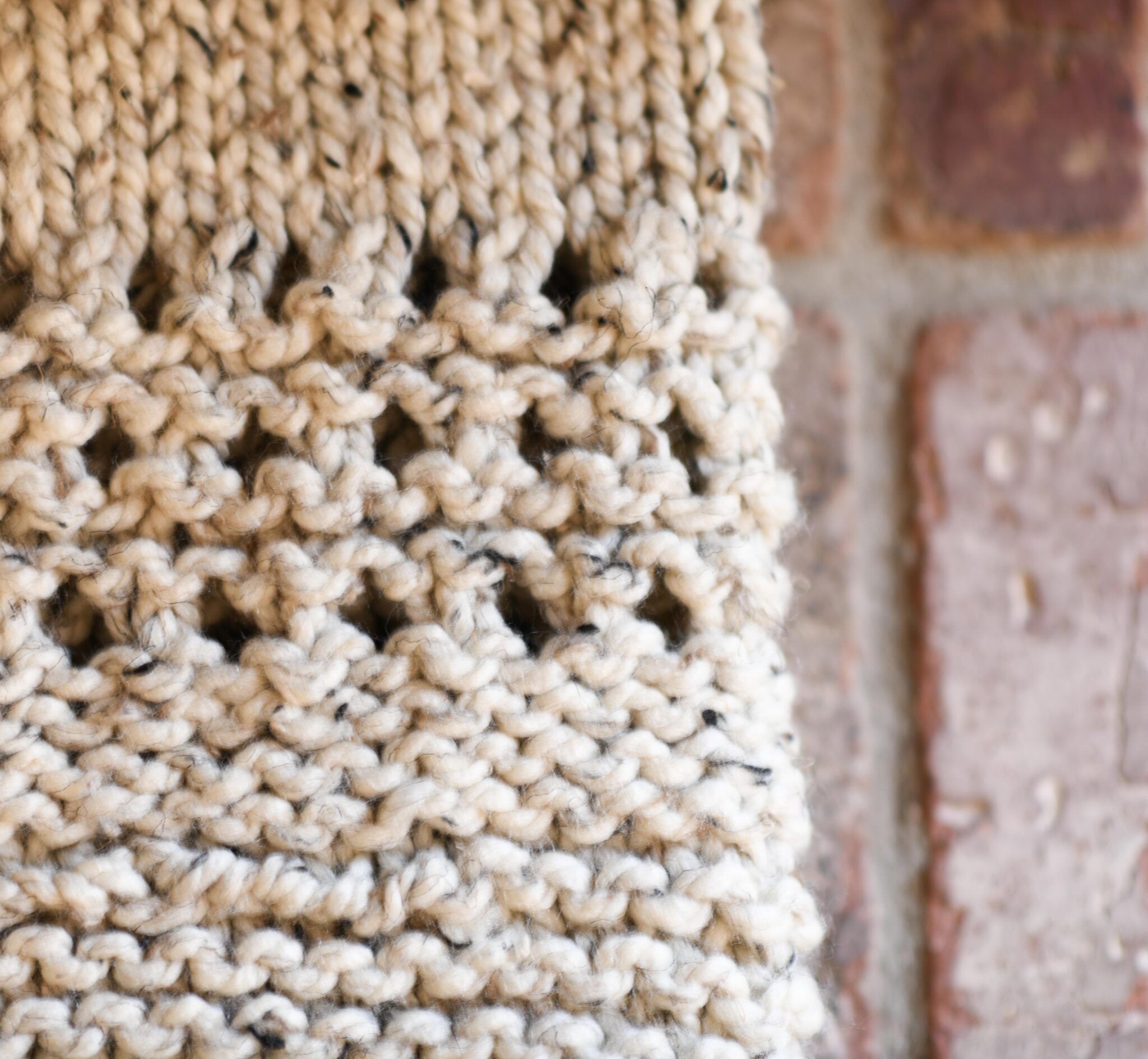 Fall Cuddler Chunky Blanket Easy Knitting Pattern
Cast on 82 sts
The blanket features a 7 stitch border on each side. Place a stitch marker if helpful!
Beginning Garter Edge
Rows 1 – 14 K across each row
Stockinette Section
Row 15 (RS) Knit across the row
Row 16 (WS) K7, purl across to last 7 sts, k7
Rows 17 – 18 Repeat rows 15 – 16
Double Moss Stitch Section
Row 19 (RS) K7, *k2, p2; repeat from * across to last 7 sts, k7
Row 20 (WS) K7, *p2, k2; repeat from * across to last 7 sts, k7
Rows 21 – 42 repeat rows 19 & 20, in that order
Reverse Stockinette Section (beginning on the RS)
Row 43 K7, p across the row to last 7 sts, k7
Row 44 K7, k across to last 7 sts, k7 (in other words, knit across entire row)
Rows 45 – 62 Repeat rows 43 – 44
Garter Eyelets Section (beginning on RS)
In this section, you're still working the 7 stitch border, as well as an extra knit stitch to make 8 knit stitches on both sides.
Row 63 K8 *yo, k2tog, repeat from * across to last 8, k8
Row 64 K across the row
Row 65 K across the row
Row 66 K across the row
Row 67 K8 *yo, k2tog, repeat from * across to last 8, k8
Row 68 K across the row
Row 69 K across the row
Row 70 K across the row
Row 71 K8 *yo, k2tog, repeat from * across to last 8, k8
Row 72 K across the row
Row 73 K across the row
Row 74 K across the row
Stockinette Section
Row 75 (RS) Knit across the row
Row 76 (WS) K7, purl across to last 7 sts, k7
Rows 77 – 78 Repeat rows 75-76
Repeat rows 19 – 78, 1 more time
Final Garter Edge (both sizes)
Knit across each row for a total of 14 rows.
Cast off, and weave in ends.
Optional Tassels or Poms
Block to shape and size as desired. Add large pom-poms or tassels for a playful, trendy look.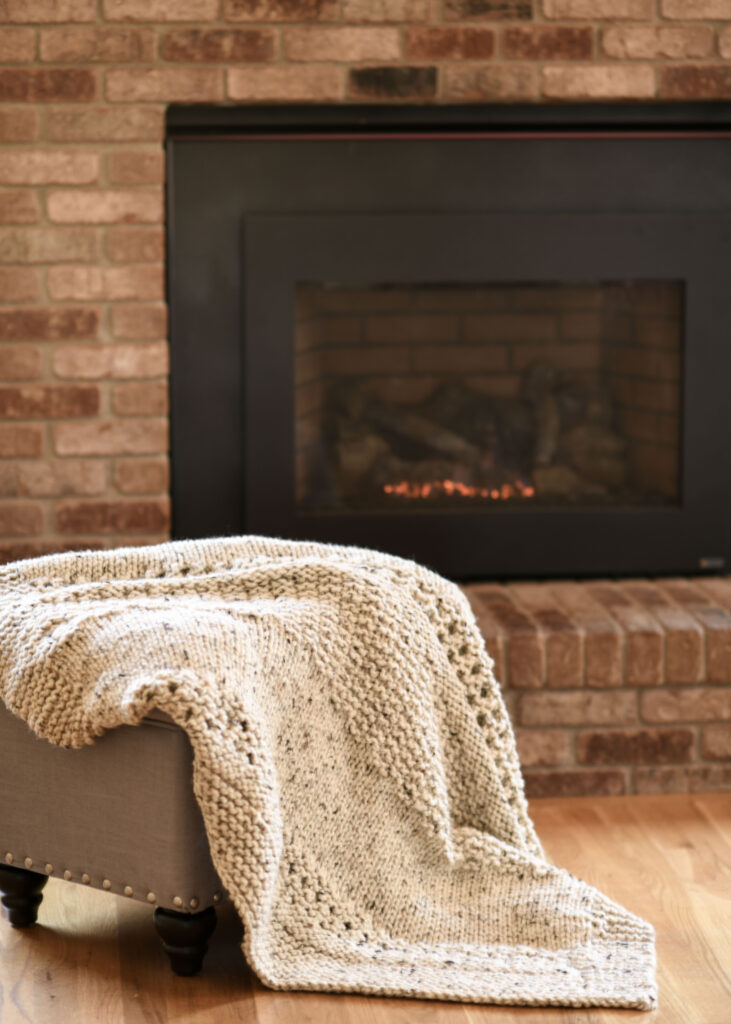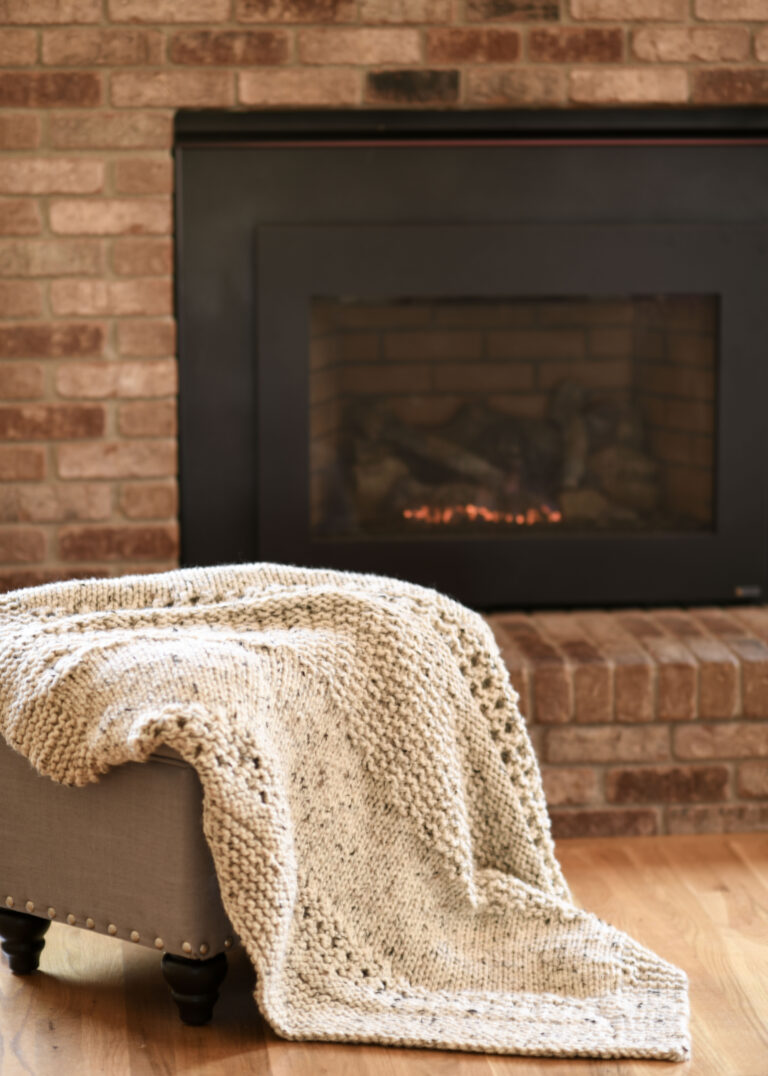 FAQs
If you have any questions, check this section to see if the answer is already there. If it isn't, feel free to leave your question in the comments!
How do I clean my knit chunky blanket?
Refer to your yarn label for detailed information. However, I recommend spot cleaning your knit fall throw blanket with mild soap and warm (not hot) water. I don't recommend tossing your chunky blanket into the washing machine (or the dryer) because it may lose its shape, shrink, or get damaged.
How much yarn do I need for a chunky knit blanket?
This is a fairly large blanket, so you'll need 7 skeins of yarn to complete it. You can adjust that amount based on how big you want to make it. If you make your blanket larger, be sure to grab more skeins.
I hope you enjoy your new textured blanket! It'll look great whether it's on your couch or your lap!
And that's it, my friends! Who else is ready for fall and winter?
If you make a Fall Cuddler, I'd love to see it! Feel free to tag me on Instagram @mamainastitch #mamainastitch.
Have fun knitting!
XO,
Jessica
More Knitting Patterns You'll Love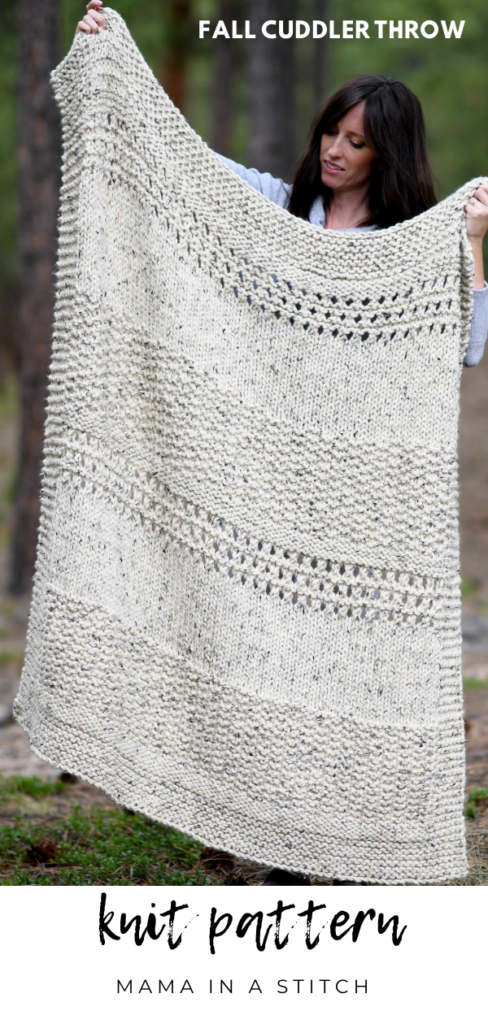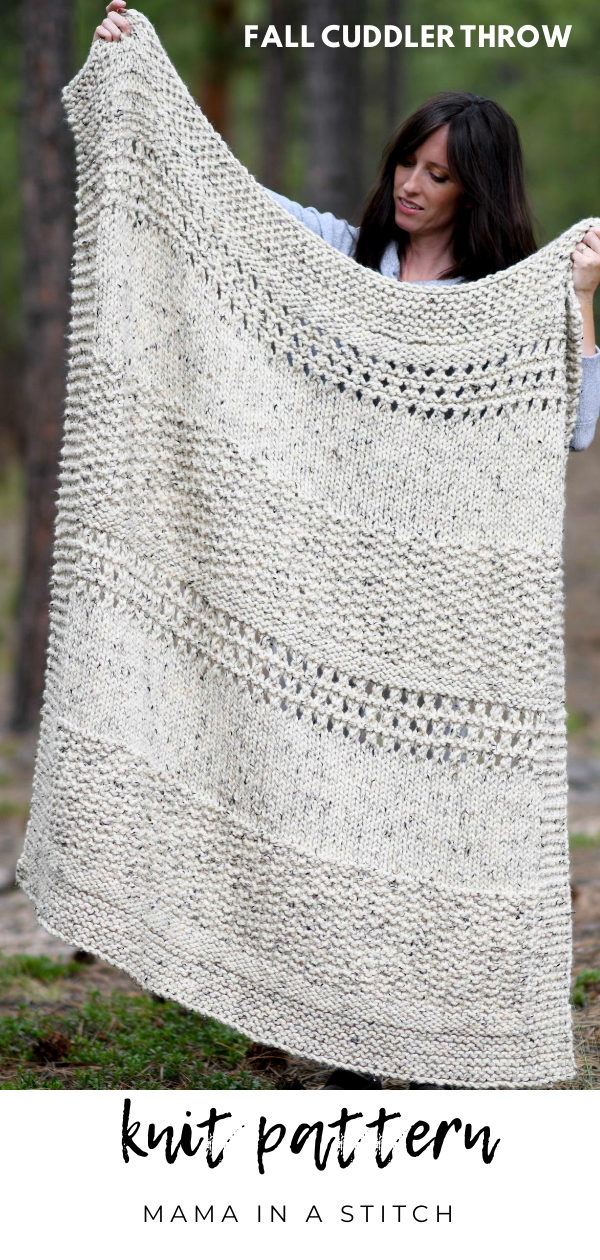 Have fun knitting!
XO,
Jessica
PS See all my free knitting patterns HERE!