This chunky hat knitting pattern is so fun, easy and PERFECT for complete beginners. It's knit flat and the only time you really have to count is when you're casting on stitches. It also works up very quickly since it's knit on size 15 needles and uses super bulky yarn (here). I made this hat in one evening while watching Netflix and finished seaming it up the next day! The shape is one that's very "in" right now with popular beanies having a cool sort of slightly slouchy, rounded top. If you know how to knit and purl, you will be able to make this with no problem. This size will fit women and children, and it works for both boys and girls. The blue is also perfect for winter wear as it doesn't show dirt and it goes with anything. Fun, right? And this hat was made for a great cause, the #HatNotHate campaign – read more below!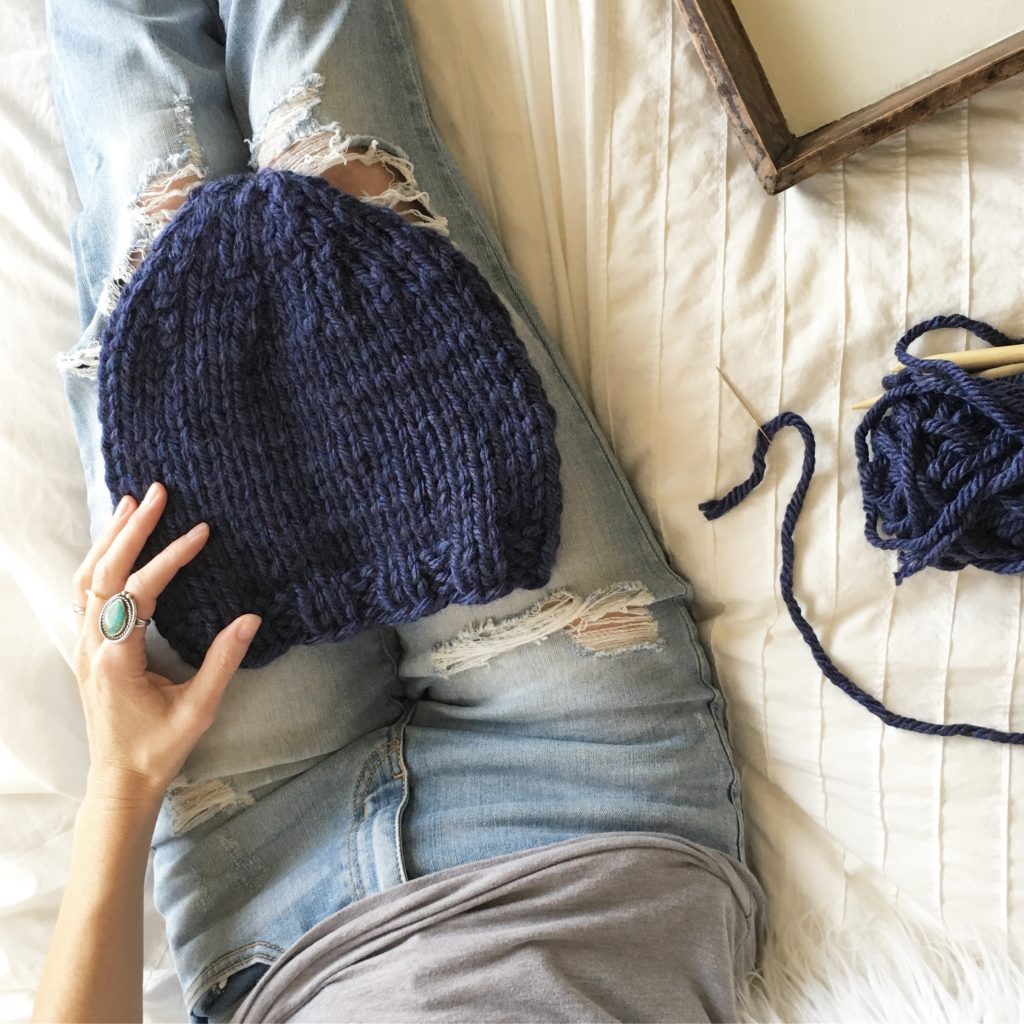 The hat is my project and contribution for the #HatNotHate campaign which is being promoted by Lion Brand Yarn as they've teamed up with Stomp Out Bullying. Essentially, anyone who would like to be involved can make blue hats to wear come October in order to bring awareness to stop bullying. Folks are also making them and donating them or giving them away to friends at school or even co-workers! So join in on the fun and be part of a great cause. 😉 You can make the one I've shared here, or you can find 23 more free "HatNotHate" patterns (both KNIT & CROCHET) on the Lion Brand website (here). There are so many cute choices! Lion Brand also has set a goal that they'd like to donate 1,500 blue hats to a local New York City school by September 24th. If you'd like to make a hat for these kiddos, you may mail it to:
Lion Brand Yarn Company
HAT NOT HATE
135 Kero Road
Carlstadt, NJ 07072
Look at my baby in her blue hat! It fits her just fine and it fits me as well. 🙂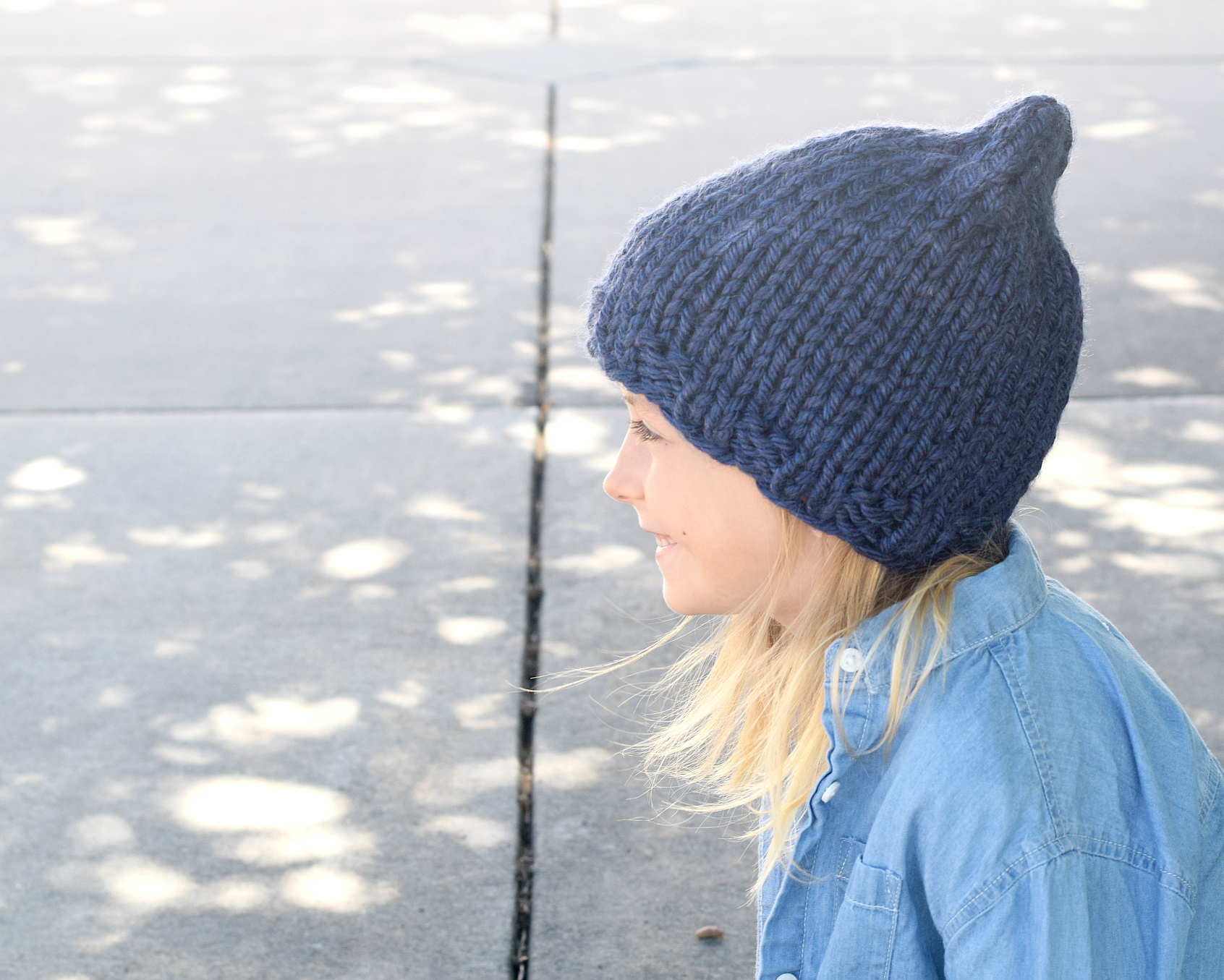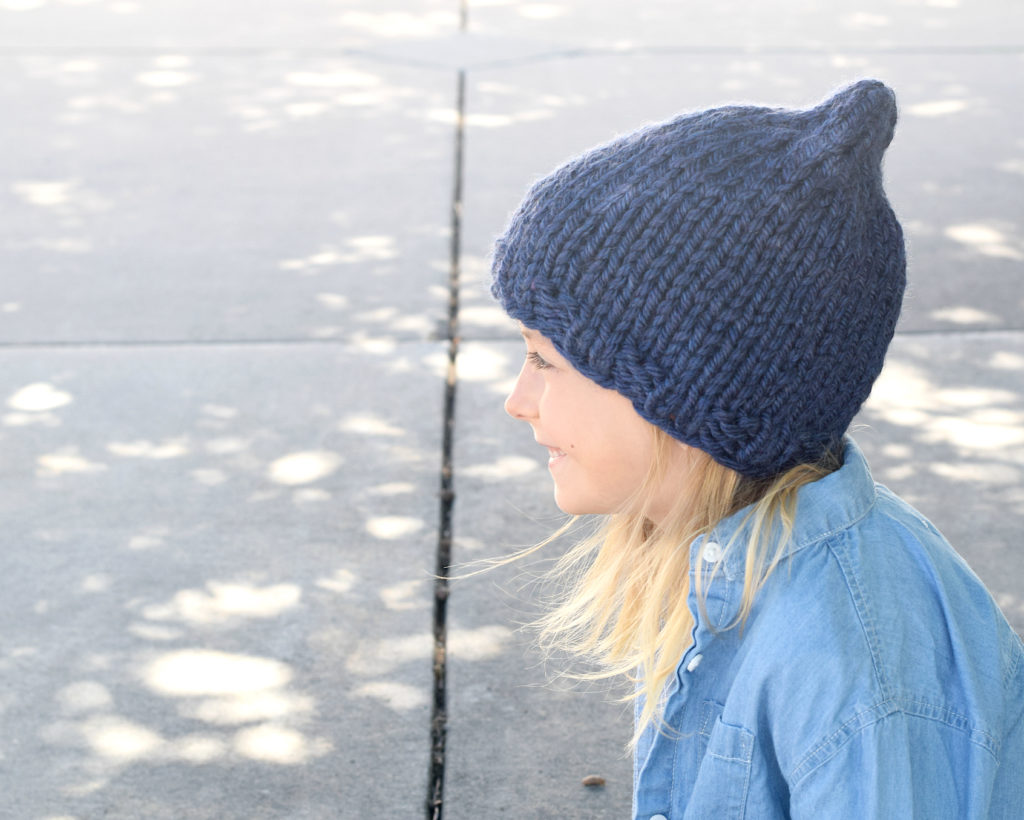 Most all of us have been hurt by someone's harsh words at some point in our lives. I'm so excited to be involved with this anti-bullying campaign as a reminder to simply be kind to one another. Now that my daughter's in school I'm especially concerned about the way in which kids interact with each other. As a former special education teacher, it was also apparent that while most of the time kids are very kind, it is devastating to see kids hurt by their peers. And bullying is not just about children, is it? It can show it's head in so many ways – within the workplace, parents to children, adults to children, adult to adult. Let's just be nice to each other!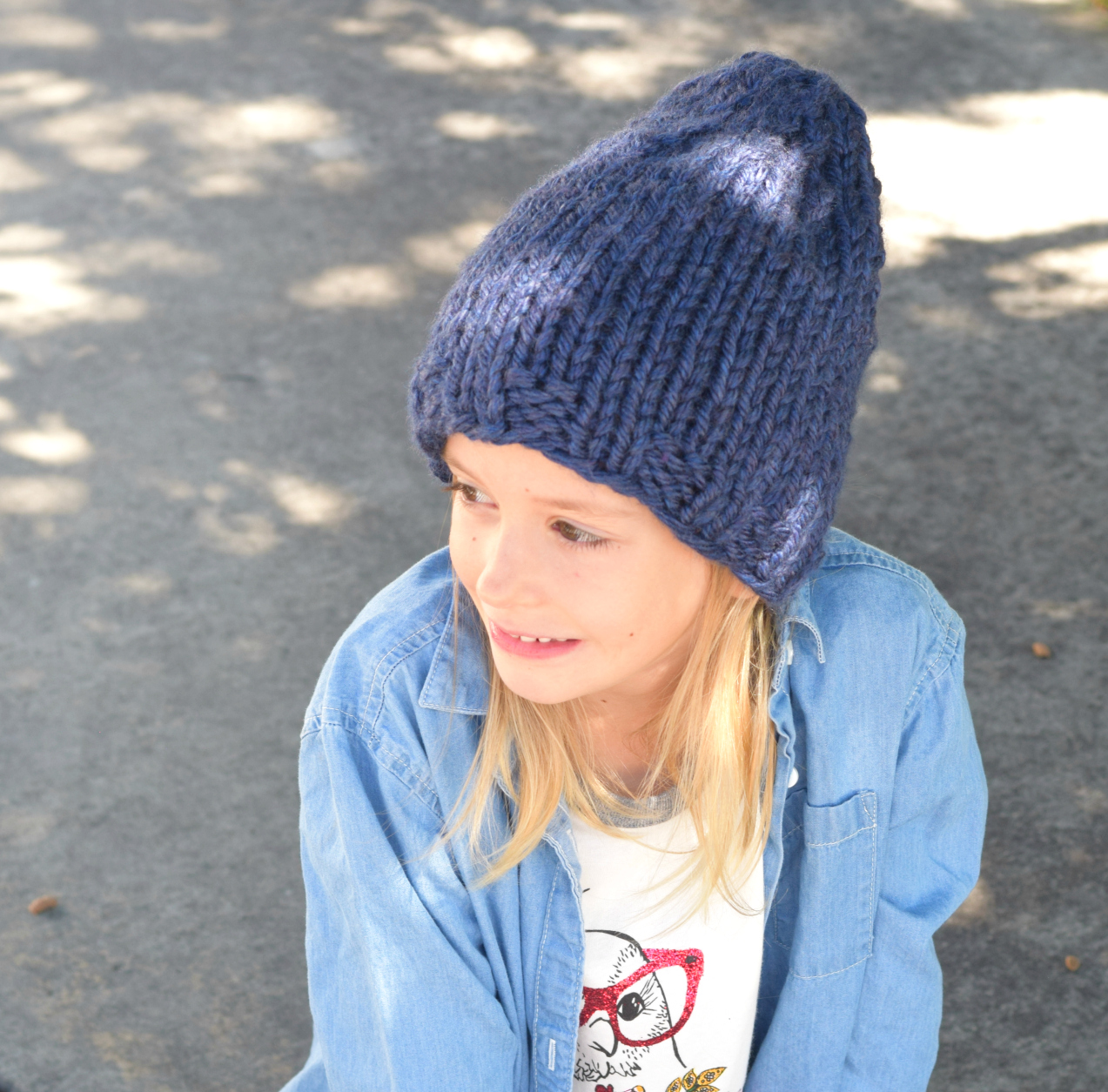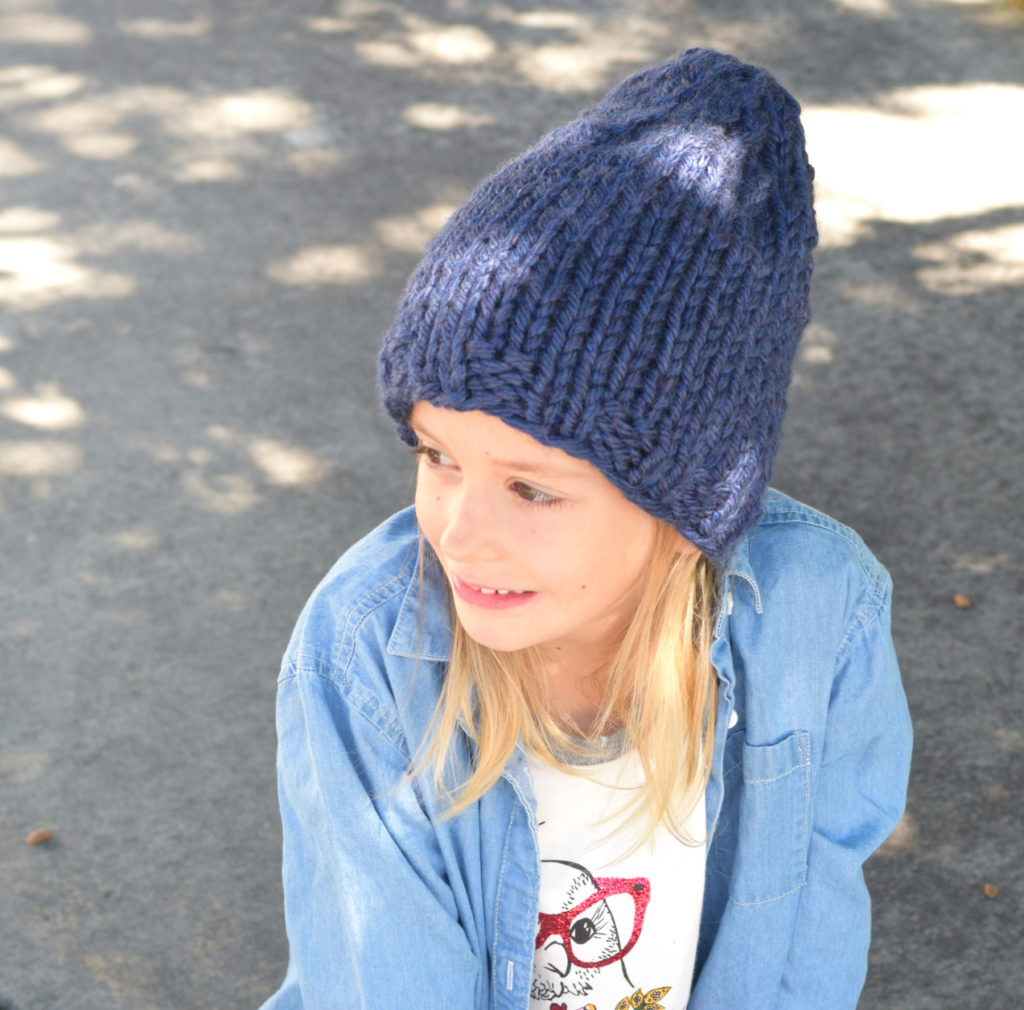 So here's how I made my hat. It's simple as can be, but I really like how it turned out. Like I mentioned previously, this pattern is meant for a total beginner. When you get to the decrease section, don't get caught up on which stitch your row ends with. You will simply be purling two stitches, then purling two together across the row. If you've never decreased by purling two together, just do a quick online search in YouTube to see how it's done. Soooo easy! And if it's totally scary to decrease, you can still make this hat – simply continue the stockinette pattern until it's approximately 10″ tall, pull your yarn through the stitches on your needle and cinch it closed. It's seamed at the end with the mattress stitch which is a completely invisible. Voila!
You Will Need:
US Size 15 Knitting Needles
1 Skein Lion Brand Yarn Hometown USA in San Diego Navy (HERE) 142 g/skein
Scissors
Tapestry needle to weave in ends
Skills & Abbreviations:
CO-Cast On
k – knit
p – purl
p2tog – purl two together to decrease
st – stitch
Beginner "Blues" Chunky Hat Knitting Pattern
CO 40 stitches
Row 1 – 3 K2, p2 across each row (40)
Row 4 Knit each st across the row (40)
Row 5 Purl each st across the row (40)
Row 6 – 20 Repeat rows 4 & 5, working stockinette stitch (end on a knit row) (40) (hat should be close to 6.5″ tall at this point – feel free to continue pattern until it's this length, ending on a knit row)
Decrease
Row 21 *p2, p2tog; repeat from * across the row (30)
Row 22 Knit each st across the row (30)
Next, repeat rows 21 & 22, in that order, until hat is approximately 10″ tall (On some rows you will end with an extra stitch, simply purl that stitch. Some rows end with p2tog, some end with p2. This pattern is meant to be for total beginners and there's no need to worry about which stitch to end with)
Cut yarn, draw the yarn through the loops left on your needle and cinch the top of the hat closed.
Seam up the side using the mattress stitch.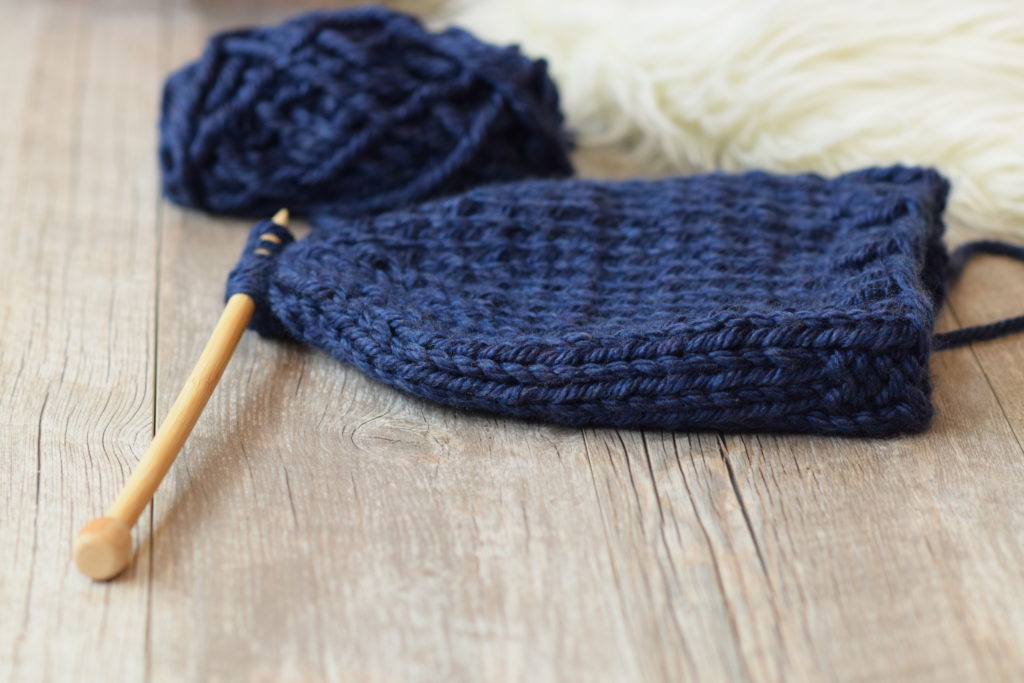 I hope that you've enjoyed this project, and I'd love to see if you make a blue hat for this campaign! Feel free to check out other hats on social media with the tag #HatNotHate and share yours as well!
XO
Jessica
Like knit hats? You might also like these: